Enterprise asset management (EAM) represents a complex feat, requiring coordinated labor resources and inventory systems to keep assets in good working condition. Traditional paper work orders, spreadsheets and other manual processes simply don't make the cut any longer. Among other issues, they can be time-consuming, error-prone and lead to incomplete information.
The scale of industrial data management has utterly changed, too, with the average smart factory now generating 1 petabyte (1,000 gigabytes) of data daily. Adopting a digital asset management strategy can lower equipment downtime, increase labor utilization and reduce inventory needs.
So why haven't more organizations moved to digital asset management? In the past, device reliability, durability, security and ongoing management concerns have made IT decision makers tepid about jumping into digital asset management. Additionally, because asset management is not customer-facing, many IT departments have put mobilizing asset management as a lower priority on their digital transformation to-do list. However, given the potential of a digital asset management strategy to make significant improvements in labor utilization, reduce equipment downtime and slash inventory, it's time for organizations to consider making the shift sooner rather than later.
Here are some of the most important benefits mobile devices create for the EAM space:
1. Easy and Accurate Data Capture
Because mobile devices can be used at the point of performance, they enable organizations to capture and access information across all their facilities in real-time. Mobile devices with support for glove mode, a stylus for precision, and a high-resolution camera for scanning or image capture improve data entry. Benefits of this approach include a mobile-friendly form factor, which allows employees to enter information about the work performed while still on-site, reducing errors and better capturing information. In addition, workers can leverage real-time access to parts inventory and the ability to order parts directly from the device, which saves time by reducing the need to sift through order forms at a desk later.
Modernize Your Factory With Mobile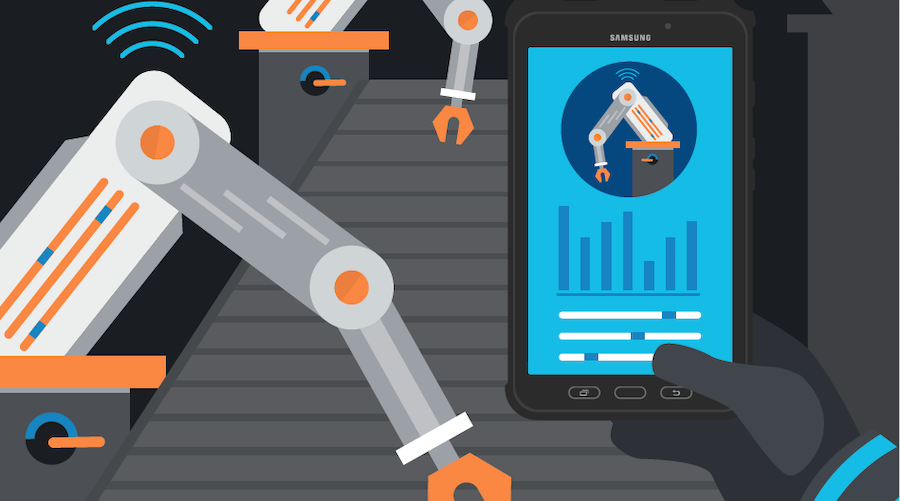 Get your free guide to the mobile technologies that will accelerate your smart factory journey. Download Now
2. Increased Worker Productivity
Equipped with precision tracking tools, devices like the Samsung Galaxy Tab Active2 and Tab Active Pro can run third-party apps that enable easier, faster inspection and deployment. The ability to access internet of things (IoT) data from assets and utilize that data for predictive maintenance and troubleshooting drives better organization and more efficient management. While some enterprises access their asset management tools only in a desktop environment, your organization won't get full benefit from going digital if you don't also go mobile. Today, that likely means leveraging tablets and an EAM app to gather data at the point of performance.
3. Enable Efficient Asset Maintenance With AR
Augmented reality (AR) is still an emerging technology, but it bears great promise for complex applications in manufacturing and beyond. The ability to overlay information, instructions and data onto real-world images can change the way professionals work and record information. To that end, spatial sensors built into the Galaxy Tab Active2 and Tab Active Pro enable powerful AR capabilities for smarter, preventative asset maintenance.
4. Stay Productive in Any Environment
The environment that asset management employees work in can determine whether a ruggedized tablet or standard device with a case is best. In harsh, industrial environments, a rugged device that can endure cold, water, dust, dirt and humidity is the best choice for achieving the highest total cost of ownership value. The IP68-rated Galaxy Tab Active2 and Tab Active Pro have passed 21 rigorous tests against the MIL-STD-810 standards, so your team can use it worry-free, anywhere.
5. Streamline Workflow With Built-in Functionality
Stopping the workday due to inefficient technologies like additional security measures, drained batteries or fumbling with multiple devices can be frustrating. Samsung's Tab Active series provides biometric authentication — using physical data such as facial recognition, fingerprints or iris scanning — which is the new gold standard for protecting personal and corporate data. For manufacturing and preventative maintenance professionals, these features bring more benefits than the top-line priority of securing data. Field workers work under tight schedules, and biometric authentication makes it easier to log into the device hands-free.
Halting processes due to a drained battery can be extremely frustrating. A long-lasting battery is key to work day efficiencies and streamlining workflow. In addition to including a 15-hour battery, the Tab Active Pro also offers pogo pin charging — imperative for workers operating forklifts, in the field or simply on the go.
Juggling devices, cameras, writing utensils — everything you need to document assets appropriately — also takes away from productivity. Utilizing an all-in-one device with glove mode or a built-in stylus, plus a high-resolution camera to add images to work orders, can speed up and simplify processes and keep information organized.
6. Manage Devices Easily
To ease device management and security concerns, IT admins should select devices built on a secure platform and pair them with enterprise mobility management (EMM) tools. The Samsung Knox platform, which Samsung devices are built on, provides defense-grade security from the chip up, as well as support for a variety of mobile management solutions. This means that IT can have peace of mind that asset management data on the device is encrypted and protected from jailbreaks or rooting.
Another ongoing concern with a digital enterprise asset management program is the amount of time required by IT to enroll, configure and manage devices. To address this, the Knox portfolio includes Knox Mobile Enrollment, a free tool that makes it quick and easy to automatically enroll hundreds of devices into your EMM solution. This eliminates time spent manually enrolling devices and ensures they are managed from deployment on. Being able to easily configure a large number of devices at once will help IT mobilize asset management with minimal resources and time. Meanwhile, Knox Configure allows IT to remotely provision and configure a large fleet of mobile devices. Knox Configure can be used to lock down other functionalities on the device so employees stay focused on using the devices for what they were intended: asset management.
Implementing the Mobile EAM
The final and most important consideration should be how the mobile devices, platform and management tools can support the EAM you choose to use in managing your assets. No matter what solution you're using, make sure you have the support and integrations required for a seamless process. Assets are an important and expensive part of an enterprise's balance sheet. With mobilized asset management, businesses gain the real-time data and insights necessary to lower equipment downtime, increase labor utilization and reduce inventory needs. Ultimately, they ensure that their assets are managed properly to maximize their investments.
Learn more about how Samsung's rugged tablets can help solve your toughest business challenges.