In business, simplifying collaboration is crucial. At Samsung Developer Conference (SDC) 2019, I spoke with Sandra Krief, Samsung's vice president of B2B carrier sales and channel management, about Samsung's new partnership with BlueJeans. Together, the two have elevated video conferencing by taking advantage of the power and innovation packed into Samsung's latest smartphones.
Samsung-BlueJeans Partnership Improves Video Conferencing
"It's about [eliminating] the surprise factor," explains Krief. "When you go into a conference room, even though you're ready and you have an executive presentation to give, sometimes the equipment [in the room] is older. Thanks to what we've built with BlueJeans — and the power of Samsung DeX — I can go into any conference room, hook up my Galaxy S10 5G or Note10 5G device and — using the wide-angle camera — see the whole room displayed on video conferencing."
Go Mobile-Only With DeX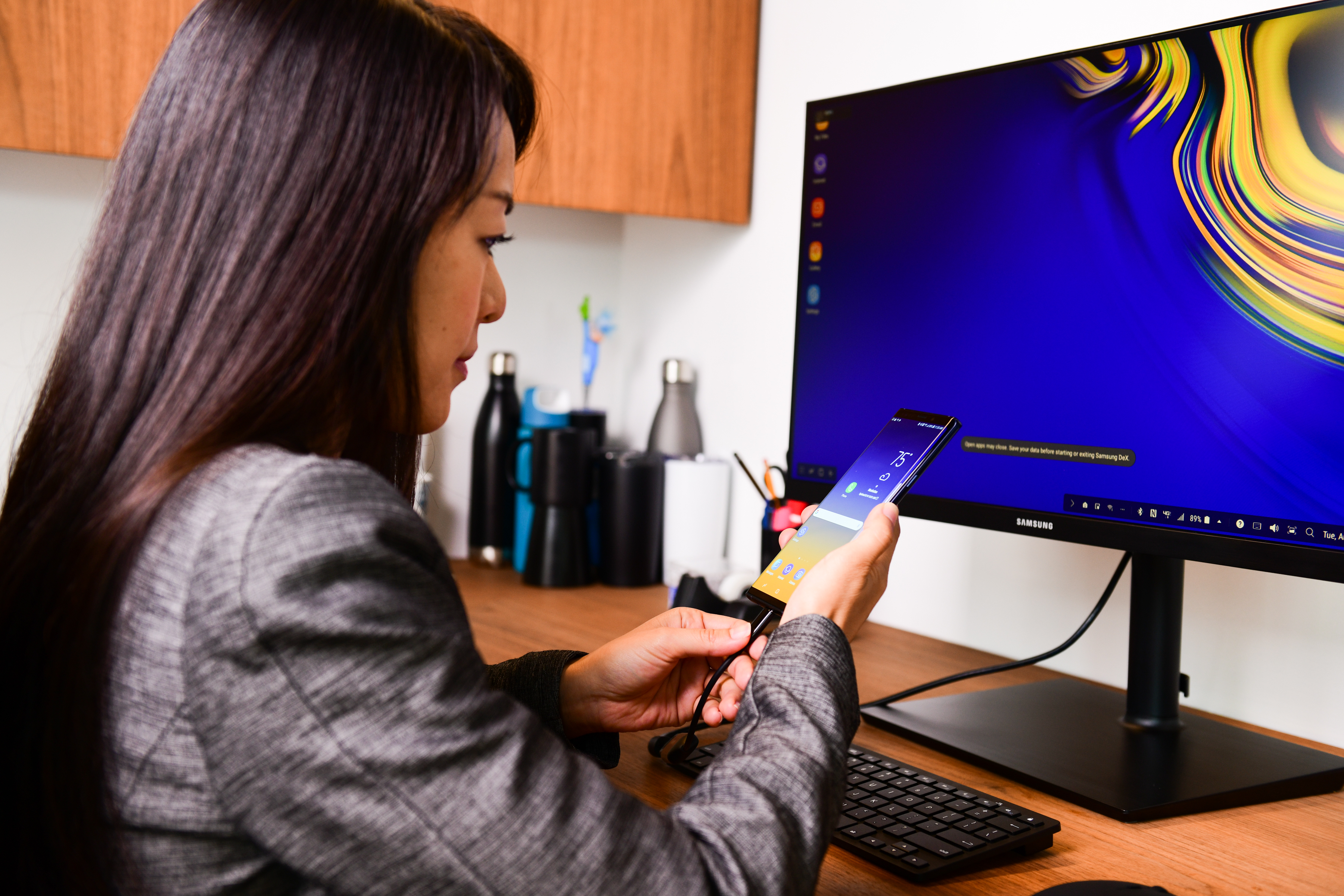 Your comprehensive guide to rolling out a mobile-only solution for your workers. Download Now
It's unlike anything that's been on the market before, and it means you never have to worry about the technology in a meeting room.
This Partnership Made Possible by Knox
"Our partnership with BlueJeans is taking a third-party application and leveraging the Knox suite APIs [application programming interfaces] to go deep inside the mobile platform," Krief says. "For example, we use the wide-angle camera to see the whole room, we use the time-of-flight measurement features to do the blurring effect, and we use the S Pen to control the conference room."
Improved Collaboration in the Field With the Galaxy Tab Active Pro
"The ruggedized space is extremely important in business," says Krief. "The Galaxy Tab Active Pro is great for verticals like manufacturing and everything that has to do with potential repairs. Imagine now with BlueJeans, you can have a video conference where I am in the field looking at the equipment, and I can video conference in my manager and fix it on the spot.
"Instead of sending photos back and forth over email or through text message, I can now have a video conference with a manager or expert in real time and solve problems in the moment. In a manufacturing business or the aviation industry, those precious minutes saved can turn into hundreds of thousands of dollars in revenue — or even prevent lost profits."
Learn more more about Samsung's collaboration with BlueJeans Network, announced at SDC 2019. Discover which phone is best for your business needs with this short assessment.
---