Unrelenting demand to reduce the time from order to delivery means warehouse and logistics operations are under more pressure than ever to keep goods moving quickly — without losing any ground in accuracy and visibility. Technology is making that possible with unprecedented new capabilities to track and manage warehouse logistics operations through innovative mobile applications.
Operations managers now have the ability to bring more versatile, powerful devices into the warehouse at a lower cost. Rugged smart devices such as phones and tablets are replacing legacy, limited-function scanning devices to help meet escalating demands.
Warehouse managers can now choose from a broad array of smart device sizes, form factors, features and levels of durability. To meet today's high demands, it's important to match the device to the specific needs of each warehouse and logistics role.
Surviving in Today's Fast-Paced Warehouses
The plain exteriors of many of today's massive warehouse and logistics facilities hide a beehive of activity inside. Delivery expectations that have rapidly narrowed from several days to same-day are pushing warehouses to work ever faster to fulfill individual orders, which require highly labor-intensive order picking. Many facilities are also being asked to support more frequent case and pallet shipments to limit inventory investments.

They must do all this while facing high real estate costs and labor shortages: 90 percent of warehouse operator respondents say they are struggling to hire, according to Lucasware. It also means each employee must work as efficiently as possible.
Many operators employ continuous improvement experts to drive out costs and work more intelligently. Together with the sunsetting of support for mobile operating systems commonly used in warehouses, that goal has drawn increased attention to upgrading the mobile devices workers use.
Matching Device to Need
Not all mobile computing devices are the right fit for today's fast-paced warehouse. Warehouse and logistics operators have some important choices to make to ensure new mobile devices fully meet current needs and allow for future ones as well.
Carefully evaluating the full set of device features prior to embarking on a mobile deployment can help ensure a successful transition. Here are some of the key factors to consider.
Form Factor
The first decision to make is often around form factor. It's important to choose the device type that works best for the task at hand — whether a smartphone, tablet or even a smartwatch. Pickers, for example, spend a lot of time on their feet and benefit from lightweight devices that fit easily in their hand, such as Samsung's rugged Galaxy XCover Pro smartphone. A shift supervisor or forklift operator may be better suited to a tablet with a larger 10.1-in. touchscreen, such as the Galaxy Tab Active Pro. More compact tablets — like the 8-in. Galaxy Tab Active2 — fill the middle ground, offering a larger screen than a smartphone but still easily held in one hand.
The Definitive Guide to Warehouse Efficiency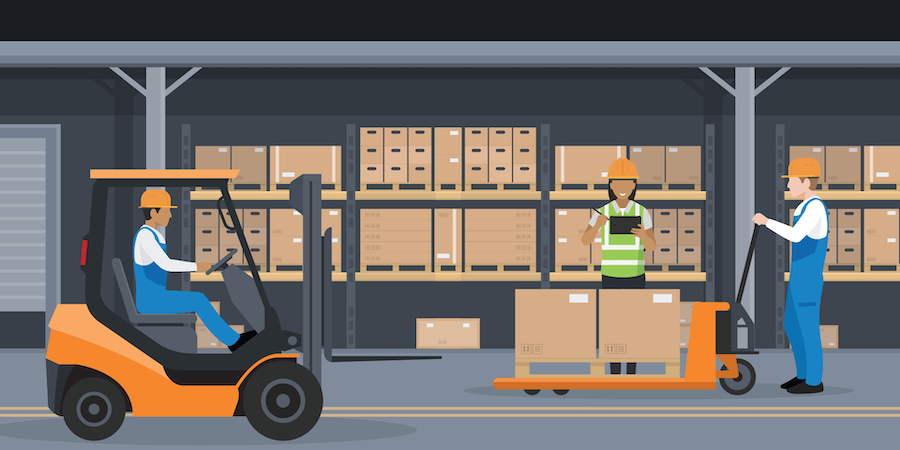 White Paper
Get your free guide to increasing warehouse efficiencies and cutting costs with mobile processes. Download Now
Durability
Warehouses are full of concrete and steel, as well as fast-moving vehicles, conveyors — and people. Mobile devices must be able to endure drops, dust and debris, moisture, and many other insults.
Choosing devices that have been tested against MIL-STD-810G is a smart move. The widely used military standard, MIL-STD-810G requires testing against a series of environmental criteria, including repeated drops, vibrations, low pressure, extreme temperatures and more. Also, look for IP68 specs indicating water and dust resistance.
Samsung's Galaxy Tab Active series tablets and the new Galaxy XCover Pro smartphone are all tested against a comprehensive set of MIL-STD-810G conditions and have received IP68 certification.
Use With Gloves
Your devices must be able to function in a variety of temperatures — from out in the hot sun to inside refrigerated portions of a facility — but your team has to be able to function in those extreme conditions too. Most members of warehouse teams work wearing gloves, which can make using touchscreens a challenge.
When evaluating mobile devices for the warehouse, look for features like glove mode that provides enhanced touch sensitivity, as well as tactile buttons and pen accessories, for a safe and comfortable user experience.
Long-Lasting, Replaceable Batteries
Warehouse and logistics shifts are intense. Long battery life is critical to ensure workers can operate without disruption. Devices in Samsung's rugged portfolio feature long-lasting, easily swappable batteries, so they can be shared and used continuously across multiple shifts. Heavy-duty pogo pin connectors make throwing these devices on a charger quick and easy.
Shortcuts for Repetitive Workflows
Tasks such as order picking are performed repeatedly, hour after hour. It's essential that the scanning device be lightweight and ergonomically designed so employees can work comfortably through an entire shift.
Scanning accuracy is also key. With the ability to scan as well as or better than dedicated scanners, smart devices with high resolution cameras enable workers to get every scan right the first time. Devices like the Galaxy Tab Active Pro and XCover Pro feature programmable physical buttons that can be configured to instantly launch your go-to apps, shortcutting those repetitive workflows so you can keep moving.
Push-to-Talk Communications
Working efficiently and seamlessly at a fast pace requires frequent communications across the team. If you are replacing two-way radios in your warehouse, look for a mobile device that's designed for Push-to-Talk (PTT).
Workers who are used to carrying two-way radios will appreciate the familiarity of pressing a tactile PTT button to initiate instant voice communications across the group. Workers can quickly resolve issues, report problems or coordinate activities without dialing and waiting for pickup, and cloud-based PTT apps require no integration with a private branch exchange (PBX). For PTT communications in the warehouse, Samsung's XCover Pro ticks all the boxes.
Flexibility
Today's warehouse and logistics jobs require access to a broader range of applications and capabilities so workers can switch tasks, resolve problems and make informed decisions on the spot. Interacting with these applications requires a large touchscreen, as well as a versatile platform that enables each worker to do more with a single device.
As legacy devices age out, warehouses are switching from C++ and Windows CE to more versatile mobile operating systems. DC Velocity found more than half are choosing Android. This opens access to a broad variety of modern applications to drive warehouse and logistics efficiency via a rich ecosystem of third-party partners. Android devices are easier and more affordable to secure and support, providing a strong platform for warehouse operators to build on.
Security and Manageability
Organizations must shield their networks from unauthorized access, and endpoint devices are often particularly vulnerable. Warehouse devices require robust, multilayered security such as Samsung's Knox platform, along with effective access control features such as facial or fingerprint recognition. It's also critical to have access to enterprise-grade tools to configure, manage and support the fleet of devices — capabilities also provided by the Knox services stack.
Identifying an Enterprise Mobility Partner
Picking the right mobile solution goes beyond the design and features of a device. To ensure successful implementation and ongoing use of a mobile investment, warehouse and logistics operators need a trusted partner with enterprise-level expertise. Samsung is helping warehouse and logistics operators transition to the next generation of smart devices with a portfolio of rugged devices to meet today's rigorous environments.
Discover all the paperless workflow solutions Samsung's devices can provide. Ready to future-proof your warehouse with maximal efficiencies while cutting costs? Get started with your free guide.