When San Diego's Sycuan Casino Resort got the green light from state authorities in 2015 to expand its gaming facilities and add hotel and meeting space, the owners knew display technology would be a key tool in enhancing guest experience.
The $225 million resort expansion was unveiled in March 2019. Some 700 displays were strategically positioned around common spaces and in all of the guest rooms in Sycuan's new 12-story hotel tower.
Screens fill the AAA Four Diamond resort's gaming floor and common areas, displaying targeted messages, promoting upcoming events and celebrating winners. Other screens feature menus and dining specials, and screens in meeting spaces help attendees locate rooms and events.
Broader reach, simpler management
Sycuan's expansion allowed resort owners and executives to rethink and future-proof the resort's communications technology mix, which had been a "hodgepodge" of technologies and vendors.
"It gave us the opportunity to build out our infrastructure so that it was adaptable to whatever we wanted to do in the future," says Pat Tinklenberg, Sycuan's VP of information technology.
Impress Your Guests With Digital Signage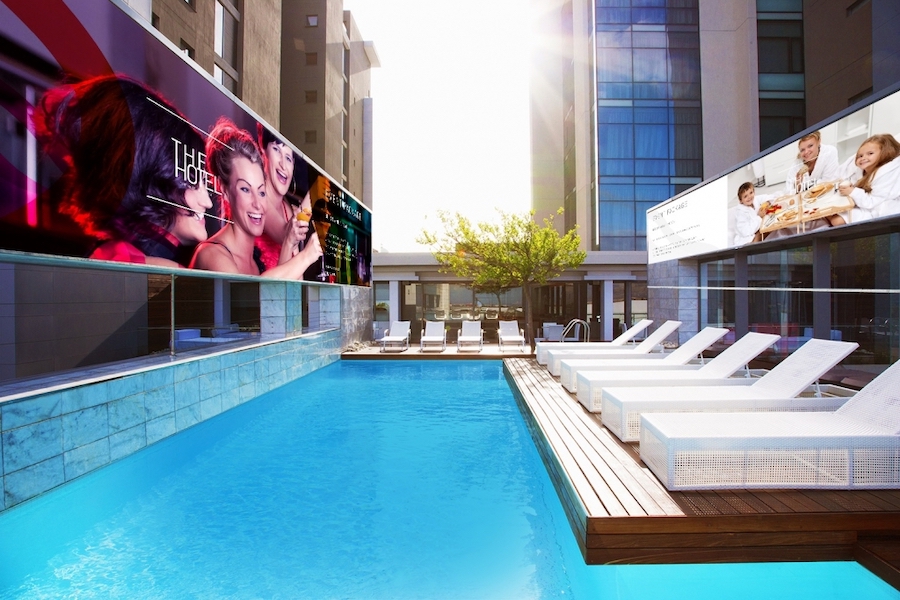 Learn how to redefine the guest experience with digital signage opportunities around every corner. Download Now
With hundreds of screens and a wide variety of messages to manage and distribute around the property, the management team assumed additional staff would need to be hired.
"What we found out," Tinklenberg says, "is that once we had all those displays in, it was very, very easy to manage content across all of them, so we actually ended up saving in terms of labor, time and effort across the team."
Casino manager Sam Bonner says the new screens and management platform have made messaging around the gaming floor fast and easy. Prior to the expansion, when casino screens needed a message change, Bonner's team had to request help from IT, and changes usually took five to 10 minutes to take effect.
With Samsung's digital signage technology solution, a casino manager can push content revisions and screen- or room-specific targeting right on the floor, using nothing more than a handheld Samsung Galaxy tablet. Changes are instantaneous. "It has made casino messaging much more operationally efficient," says Bonner.
Custom in-room viewing — and service
Sycuan's innovative display technology is evident immediately upon guests' arrival. Behind the registration counter, a jaw-dropping 32-ft. wide, 18-ft. high, 2.5-mm. thick Samsung direct view LED video wall features a steady mix of iconic regional scenes and aerial views, as well as ambient experiential content.
The resort's guest rooms feature a total of more than 350 hospitality TVs, some as large as 65-in. They all have System-on-Chip (SoC) intelligent media processors on board and H.Browser software installed, allowing network content delivery and removing the need for costly, often sluggish set-top TV boxes. Guests can watch broadcast or streamed TV, and they can also use the screens to order room service without picking up the phone. That same experience is replicated on screens around the property, even in poolside cabanas.
Tinklenberg says customers are thrilled with the expansion. A facility that started as a bingo hall now rivals Las Vegas' top resorts in its technology, design and overall guest experience.
Take a deeper look at how Sycuan uses digital displays and signage technology to drive experience around its casino property. And figure out your hospitality business' next step in its digital transformation journey.