Delivering great customer experiences is critical to business operators, and it starts from the moment people walk into a store, waiting room or office.
The same sophisticated technology suites that drive messaging in big retail, hotels, airports and office towers are now available, affordable and easy-to-use for all types and sizes of business operators.
Samsung's all-in-one Pro TV digital signage technology solution can help businesses reach their customers with high-impact visuals — the second they enter an establishment — and continue to message and influence throughout their time on site.
All-in-one simplicity
The Pro TV bundle includes an affordable 4K display that has a smart, embedded media player for visual messaging; built-in Wi-Fi; and content management, creative and control software. The difference maker for Pro TV is it puts customization at its users' fingertips, as the content management software has been streamlined, simplified and made accessible via mobile app.
This means restaurant operators can use on-site displays to promote specials or menus that change during the day. Using a dedicated mobile app, managers who rarely slow down during open hours can make these changes in seconds.
If the head chef says the kitchen is running out of a specific menu item, it can be removed from the on-screen promotions instantly.
Modernize Your Workplace With Digital Signage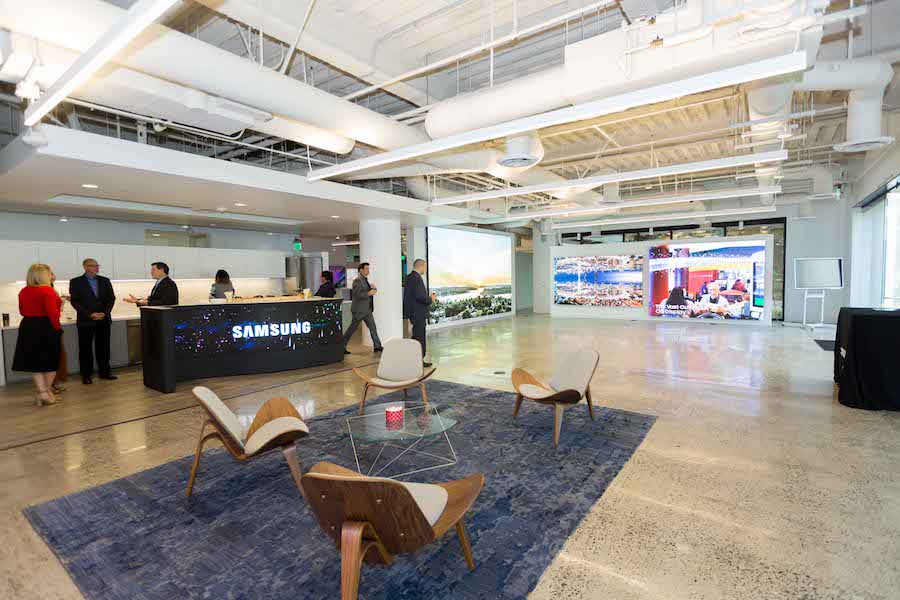 Explore how corporate offices are producing dynamic, engaging content for workers and clients alike. Download Now
Or when an insurance broker knows a couple in their 50s is coming to the office at 2 p.m., the screen at reception can welcome them by name and run product and services messaging that's likely to align with their interests and needs.
For the younger professionals coming in at 3 p.m., a few seconds spent in the Pro TV mobile app can change the welcome message to use their names and swap the on-screen text and images to match their demographic and interests.
Digital signage can be difficult
Business owners and managers have been using digital signage for many years, but the enthusiasm for it has been tempered by some difficult realities.
It's not always simple: Many entry-level solutions have had limited capabilities, and making changes can turn out to be far more involved than expected.
Sophistication can be overkill: Most digital signage platforms have been designed to suit the needs of many different kinds of companies and situations. That means a lot of features, and a lot to learn and do — from a laptop or desktop PC browser. Often, business operators find themselves using just 10 percent of a platform's capabilities but paying 100 percent of what can be very high monthly software subscription fees.
Getting started is difficult: Most digital signage solutions are developed and marketed by software companies completely unfamiliar to business owners and operators. Sorting through all the available options to find one that's suitable takes a lot of research and time.
It's easy to get it wrong: Choosing the wrong technologies — both software and equipment — can lead to embarrassing and costly failures. Screens may go dark. PCs may stop playing. Software may prove too complicated and time-consuming to use, or too buggy to keep running.
Samsung Pro TV makes business signage easy
Samsung developed Pro TV to address a need in the digital signage marketplace for a solution that resolves pain points like high costs, complexity and reliability.
Pro TV is a bundle built around what the display industry calls a "prosumer" TV — a hybrid product that applies the most important signage-centric attributes of professional displays to a consumer TV product. It offers premium Crystal UHD clarity and full 4K visuals, but at an attractive price point.
The new Pro TV series comes in a variety of display sizes: from 43-in. to 75-in. It's smart, with a built-in media player that can handle images, motion graphics and full HD video. The management and media playback software is tuned and optimized for the device, and Wi-Fi is also built in.
That all-in-one bundle means Pro TV displays install easily and quickly. No external devices (like a PC) need to be hidden behind the screen, and the only cable is the one for power.
Controls in your hand
Most digital signage management platforms are built to run on web browsers, and the optimal user experience is on a computer screen. Some platforms make limited controls also available on a web app for phones, but typically, running complicated, involved software on a 6-in. screen is a squinting, pinching and zooming nightmare.
Pro TV was designed, from inception, with smartphones as the main control device. Everything needed to run a digital signage screen or screens, from activation to ongoing operation, runs on dedicated Android or iOS apps.
This even extends to developing custom messaging. The app comes with more than 100 professionally designed, web-friendly creative templates that can be selected, modified, scheduled and pushed to on-site screens with a few finger taps.
In three easy steps, a user can upload dynamic, eye-catching content to a Pro TV, without needing any graphic design or technical skills. If you can do banking by smartphone or use social media apps, you can easily run a Pro TV signage solution.
Multitasking power
Pro TVs also have flexible capabilities to meet business owners' needs. They can run pure digital signage all day long, or use zoned layouts to easily embed and run third-party video content such as YouTube. And when there's a big game or event that customers and staff want to see, Pro TVs' built-in tuners allow them to be used just like regular TVs, while pinpointed messaging can remain on screen in rails or banners.
Stress-free signage
Business owners and operators understand the importance of marketing and targeted messaging, but few have the time and resources to learn and introduce complicated new systems into their businesses. Pro TV makes getting the most from digital signage technology simple and stress-free.
Enhance your retail technology with digital signage solutions. Or learn more about how to deploy digital signage solutions for business communication.