We've seen the evolution of mobile computing technology firsthand over the past few years, appreciating how it has increased our productivity at work. Not so long ago, a "lucky" employee might have been issued a chunky notebook computer. Eventually, that was joined by a bulky cellphone. Over time, though, the laptops got sleeker, and the phones got smarter. The busy professional's mobile computing arsenal converged and became simpler, lighter and more powerful — especially on the smartphone side.
Forget the oft-cited statistic that today's smartphone is more powerful than the mainframe computer NASA used to send astronauts to the moon. Today's smartphones are faster than the mid-'80s Cray-2 Supercomputer, faster than the computer onboard the Orion spaceship NASA is currently testing to go to Mars and — perhaps most significantly — faster than the laptops most of us are carrying around.
When it comes to the power in our primary computing devices, we haven't just reached a tipping point — we've already tipped.
Powering mobility
Consider the Samsung Galaxy Note20 and Note20 Ultra, which were just unveiled at the Samsung Unpacked event.
The Note20 comes standard with 8GB of RAM and 128GB of storage, while the Note20 Ultra comes with 12GB of RAM and 128GB of storage, and even comes in a version with 512GB of built-in storage. The Note20 Ultra also has a microSD slot that allows you to expand storage up to 2TB — so you're futureproofed for the advent of even larger memory cards. To put that in perspective, our first Galaxy S smartphone released in 2010 had just 512MB of RAM and 8GB or 16GB in total storage.
Choose the right phone for your growing business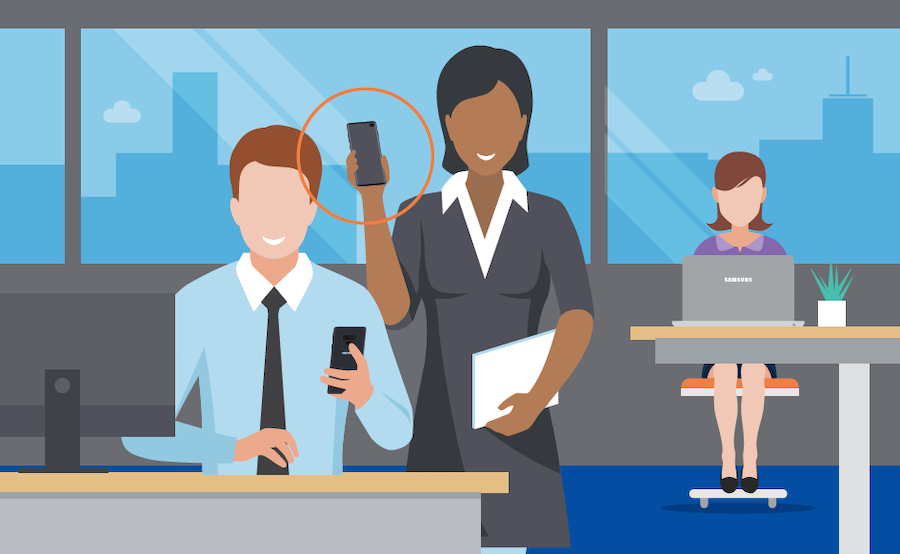 Get your free guide to matching the right smartphone with your business and employee needs. Download Now
Both Note20 and Note20 Ultra feature full 5G connectivity (mmWave and Sub 6) that rivals the throughput you'll achieve on your laptop over most Wi-Fi networks. The Note20's adaptive Dynamic AMOLED 2X display maximizes your productivity with smooth motion and fluid scrolling, and few laptops can compete with its all-day battery life.
Beyond that are all of the smartphone features that most laptops lack, including a 108MP camera capable of recording up to 8K video, and biometric sensors for fingerprint and facial authentication.
No more compromises
It makes sense that smartphones should now serve as our primary computing devices. The performance gap between smartphones and laptops keeps widening, as users upgrade their smartphones at a faster rate than their notebook PCs. In other words, anything laptops can do, smartphones can already do better.
An estimated 4.3 billion smartphones were in use globally at the end of 2017 — three times the number of PCs. The smartphone-using population is expected to keep growing 9 percent per year and hit 7.2 billion by 2023.
Workers in every industry are increasingly relying upon smartphones. According to 2017 GfK research commissioned by Samsung, mobile workers spend, on average, one-third of their working day using their smartphone. When asked which computing device they would keep if they had to pick just one, a plurality of 42 percent opted for their smartphone over desktops, laptops, tablets and other choices.
Not all the same
Still, most smartphones are better geared towards consuming content than generating it. When it comes to creating reports or other sophisticated work tasks, the flagship Galaxy devices — especially Samsung's latest iteration, the Note20 — give you the creative control and flexibility you need to stay on task throughout the day.
Take the S Pen. This advanced stylus already allows you to annotate, translate, progress through slides and snap photos. The refined S Pen on the Note20 Ultra is more powerful than ever, providing a truer pen-to-paper feel when you're taking notes or sketching out your ideas. Now you can also access four new gestures anywhere on your Galaxy device, allowing you to access apps and features whenever you like.
The more intelligent Samsung Notes app gives you the power to create professional documents while you're out of the office. You can create a presentation and then save it across your devices from on the go. Or, use it to annotate a PDF just as you would a paper document. Seamless integration with Microsoft puts the office at your fingertips, making your work accessible across all your devices. That's the kind of laptop-level productivity workers used to dream about getting from their smartphones.
Forget your laptop — on purpose
At Samsung, we're driving forward the convergence of PC and phone via our Samsung DeX platform.
Built into our latest flagship phones, Samsung DeX gives busy professionals a mobile-powered desktop experience that helps them stay productive and secure wherever their work takes them. Users can turn any space into a workspace by connecting to a monitor, keyboard and mouse. DeX delivers an intuitive desktop experience that's optimized for your productivity apps, with all the core desktop functionality like multiple resizable windows, keyboard shortcuts and drag-and-drop with your mouse.
Now with DeX on the Note20, you can transform working from home by using your TV — wirelessly. All you need is a TV or display that supports Miracast. In DeX mode, you can use the processing power of your Note20 combined with a mouse and keyboard to work while checking texts, taking conference calls and seamlessly multitasking on your phone, all without the hassle of various wires and attachments. This way, you have two screens to do twice as much.
Samsung DeX offers an exciting opportunity for enterprises, particularly those with remote workforces, to leverage the power of smartphones and move to a mobile-only computing strategy.
A long-term mobile strategy
Given the power of today's smartphones and their critical importance to workforce productivity, why do so many organizations still rely on Bring Your Own Device (BYOD) strategies? For many enterprise IT leaders, BYOD has been motivated by short-term cost savings. But in the long term, mobile is a great factor in business value, so proactive investment pays off.
Samsung's recent study with Oxford Economics sought to provide hard data in the BYOD versus corporate-issued debate. The study looked at the totality of enterprise mobile investments — from device and carrier connectivity to in-house management overheads, outsourcing, mobile device management (MDM) software and employee mobile stipends. It turns out the device is just a small part of the equation. BYOD represents a savings of just 11 percent compared to providing employee devices.
When it comes to mobile's perceived business value, the study found that BYOD companies are the least satisfied. Senior IT professionals and business leaders surveyed were less happy with how BYOD supported collaboration, communication, access to work-critical information and everyday business responsibilities.
While each organization has different needs, CIOs and other business leaders need to look long-term, viewing mobile as a core driver of productivity and revenue.
As for employees and other end users: If you're not sure whether it's time to upgrade your smartphone, consider how much you rely on it to get things done quickly and securely. It's probably already replaced your desktop or laptop PC for a lot of purposes and become your primary computing device.
You owe it to yourself and your colleagues to use the best available tools for powerful on-the-go connectivity. With the Samsung Galaxy Note20, the even-more-productive DeX experience and refined S Pen capabilities, that's exactly what you'll get.
Discover more mobile business solutions that can support your updated workflows during COVID-19 and beyond. And find out how Samsung predicts workplaces will change in the "new normal."