When you think of large cities and popular urban destinations, perhaps you think of places like New York City, Dallas or Las Vegas. While each is different in their own regard, all of the destinations have something in common: Their landscapes are being shaped and revitalized by cutting edge digital video boards and LED displays. We're not talking just billboards, either. We're talking larger-than-life displays with irregular shapes and moving pieces.
These spectacular displays are shaping new environments across the country, and we're taking a deep dive into some of the most unique installations operating today.
Storytelling in a different environment
Storytelling in an outdoor environment is a complex thing, and spectacular digital displays are an animal all their own. Because these installations are typically singular in their sizes or layouts, there are often few best practices established for users. Which presents both exciting new usage opportunities and difficult challenges.

These larger-than-life installations also create new challenges when it comes to ad partnerships. Advertisers and board owners have to create special content for digital screens.
"It's not a banner ad. It's not a TV ad," Says Warren Levy, EVP of Business Development at Show+Tell. "Companies go to their creative agencies and want to create something larger than life, but don't understand all the possibilities or limitations." Limitations can include factors like lack of audio, use of text and the unique context of the environment around the displays.
Times Square is the perfect example of a challenging environment for spectaculars and their advertisers. In a typical setting, one large-scale board is enough to catch the attention of passersby. With almost 40 LED boards, Times Square is a wash of visual stimulation. On such a large stage, each board is competing for mere seconds of attention. "We call this short-attention-span theater," says Warren.
So what do you do when one board isn't enough? You use them all. Called dominations, this tactic refers to when advertisers rent space on multiple available boards to display the same message in several places at once. It's next-level storytelling in an urban environment that's ahead of the LED curve.
Optimize your outdoor signage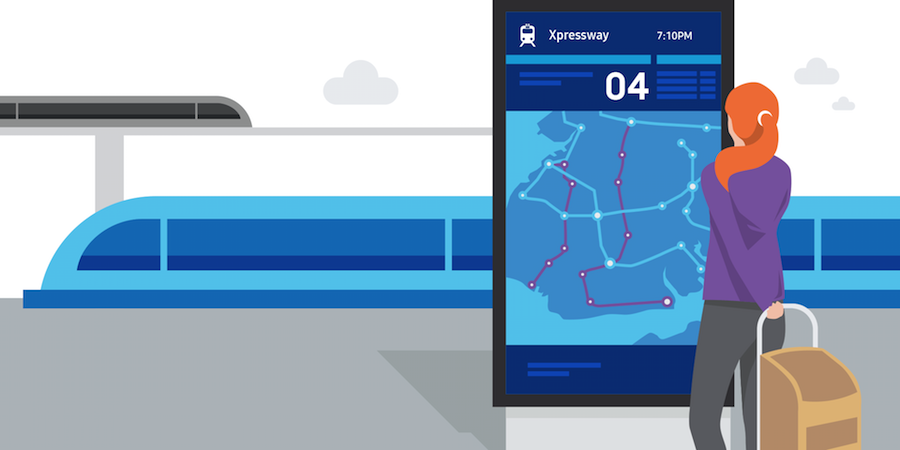 Leverage high-brightness displays to deliver clear, compelling communications in any weather. Download Now
From advertising to the arts
It's not just advertisers that feel the impact of these signs. Experiential displays shape their communities as well.
Flamingo Point
Take a look at Flamingo Point, a luxury condo complex in South Beach. The complex sought a creative way to enhance an otherwise unused space and add value for guests.
A colossal digital mural was installed last year in the community's parking garage. Stretching 29 feet long and 7 feet tall, the high-end visual display scrolls through art, plays music and delivers engaging entertainment around the clock.
"The display compliments the space while serving as a living art piece for our residents," said Aimco, the company that installed the board. "[It] adds color, dynamic sounds and moving pictures that help the building feel alive even in the late hours."
Midnight Moment
If you've been in Times Square at midnight recently, you likely experienced Midnight Moment — the largest and longest-running digital art exhibition in the world. For three minutes, from 11:57 to midnight, the billboards are taken over by creative content and deliver a unique viewing experience for those in the square. An estimated 2.5 million people view Midnight Moment every year.
Engagement gets more personal
Experiential LED displays aren't just there for viewing. They're a great way to interact with viewers and potential consumers. Brands all over the country are using their displays to provide a one-to-one experience with fans.
Fashion Show
Take a look at Fashion Show in Las Vegas. This large shopping mall on the Las Vegas strip owns eye-catching column displays at their entrance. In addition to branded content and third-party advertising, they developed an Instagram app that allows users to snap a fashionable selfie to be featured on the displays — giving everyone a chance to see their face larger than life on the big screen.
H&M
H&M used their Times Square board for a similar interactive endeavor. They invited people to sign up, try on clothes and walk a short runway — at the end of which several still and video cameras captured them striking a pose. Once finished with their catwalk, guests could review the shots and see when they would be featured on H&M screens. The campaign was extremely popular with fans, who posted the experience to social, sharing it with friends and giving the brand wide exposure.
When it comes to digital displays and video boards, standard sizes and safe choices may draw the eyes of potential customers, but spectacular installations and experiential endeavors are sure to leave a lasting impression and bring something special to urban environments. These radical projects are transforming communities across the country, and we've only seen the beginning.
Get your free guide to creating something groundbreaking with outdoor LED signage.