To showcase your brand and messaging effectively, your digital signage needs to deliver clear, vivid visuals. Samsung's quantum high dynamic range (HDR) signage solution, The Wall for Business, reproduces the vibrant, realistic LED imagery you want your customers to see.
As clients enter your lobby or foyer, digital signage often delivers their first impression of your business. And customers are drawn more to lifelike video content. Foot traffic, dwell time and interactions all increase — and this impact is most pronounced on the highest-quality displays, like The Wall for Business, which allows intricate details to jump into focus.
Creating a more welcoming atmosphere, The Wall for Business shows your clientele the best version of your brand, culture and services, from the moment they walk through the door.
Cutting-edge microLED
The key to creating incredible imagery is detail. The Wall for Business is supported by microLED technology, formed from "flip chip" LEDs with submillimeter chips of 93×182 microns. These pixels are assembled from semiconductor wafers in a mass transfer process (pick and place) onto a back plane, which increases the sidewall emission intensity from diode to diode and broadens the deliverable color and dynamic range.
With lower power consumption, microLED delivers a longer lifetime and a higher dynamic range than any previous direct view technology. Highly detailed images are visible from a wider field of view — so you, your customers and your colleagues can see the on-screen content clearly from any angle.
Car manufacturers, for example, are installing The Wall in showrooms to highlight features like the grain of leather on the dashboard, or the new engine and aerodynamics — increasing demand for the best add-ons.
The massive array of LEDs that comprise The Wall delivers the highest visual clarity from the pixel level to the full screen, so your content looks stunning in any resolution.
Black Seal Technology
The science behind displayed images involves mixing light, adding different amounts of red, green and blue to create the full spectrum of color. To make a digital image as lifelike as possible, there needs to be concise separation between the colors, and the ability to discern a great amount of detail and differences between color wavelengths. With built-in Black Seal Technology and Ultra Chroma color management, The Wall's LED screen starts from the most perfect black and then manage the wavelength and intensity of each point of illumination.
How to plan and deploy direct view LED signage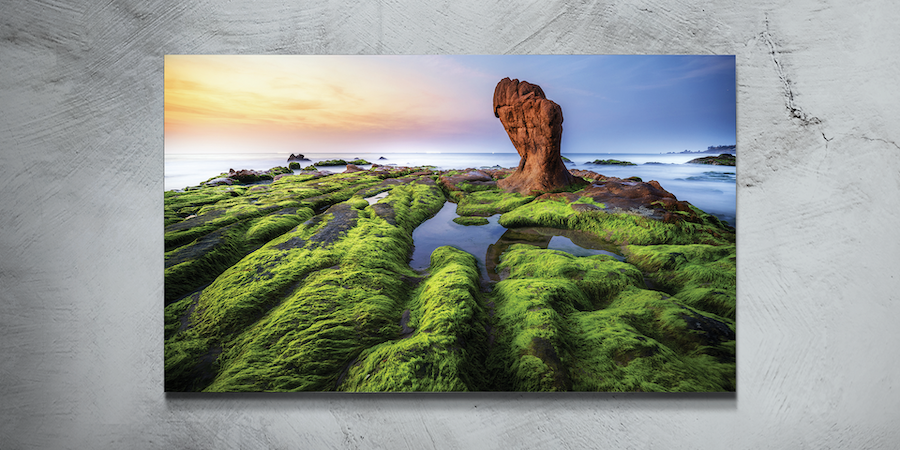 Everything you need to know about choosing your LED displays for optimal viewing indoors and out. Download Now
Black Seal Technology delivers the deepest possible black between individual pixels, creating unsurpassed color contrast. Combined with built-in Ultra Chroma Technology, this intense differentiation between individual pixels clarifies the narrowest wavelengths of color. Each individual pixel stands out yet merges into a cohesive, compelling image. Amid surrounding lighting, Black Seal's glare reduction offers high contrast and color purity, enhancing the image quality and producing pure black shadows rather than murky grays.
Black Seal Technology also makes The Wall more energy efficient, since it generates less heat than other display technologies. Plus, the Black Seal creates a protective layer around the display's individual LED modules, making the video wall more durable in everyday use.
AI-powered images
In every business environment, vibrant and realistically detailed images encourage the audience to appreciate the quality of the displayed products and services. Supported by AI, The Wall's algorithms can enhance lower-resolution content by populating additional pixels and then scaling the resolution to 8K, ensuring the visuals never look stretched or warped.
The Wall also has practical applications on the operational side. In control rooms and situation rooms, operators need to see the finest details in order to monitor each moment or mission-critical processes. Every pixel counts, and higher resolution makes critical information easier to understand.
Crisp and captivating colors
Combining its microLED technology with HDR image enhancement and AI processing, The Wall's color and image reproduction are unprecedentedly realistic.
HDR works by manipulating a range of color and brightness data and storing these values so they can be reproduced in every detail accessible to the human eye. Even still photos have more impact when their color palette is precise — across trillions of shades and tones — even in the highlights and the shadows.
Businesses that use The Wall can be confident that their logos, branding, product images and marketing messages will look exactly as intended.
Flexible design and installation
The Wall for Business is designed with flexibility in mind. It can be configured in a standard 16:9 aspect ratio or customized to any size and shape, to fit wherever you need it. It's more than a display; it's a limitless digital canvas that can wrap around walls, pillars and even your ceiling.
Since there's no need for time-intensive on-site calibration, installation is far easier than you might expect for a display of this size. As you design and install your version of The Wall, you can rely on Samsung as your partner throughout the entire process.
Easy to manage
All of Samsung's digital signage solutions, including The Wall for Business, offer the same easy-to-use management tools. With the MagicINFO content and device management system, you can schedule content remotely and monitor your display's performance. Users can toggle The Wall on or off and change the displayed content intuitively.
A secure solution
Security is essential to everyone, whether it's your personal information or confidential businesses data and assets.
The Wall is TAA compliant and uses the same underlying technology as Samsung Knox, the defense-grade enterprise security solution that provides Device-Unique Hardware Key (DUHK) encryption and decryption to reliably protect all your mobile devices. Acknowledged by government and corporations alike through their integration of The Wall, Samsung is continually providing innovative, impactful and secure displays for every user.
By choosing The Wall for Business, enterprises small and large can deliver branded images with impressive impact — translating to more engaged customers and passersby.
Find everything you need to know about choosing LED displays for optimal viewing indoors and out in our free comprehensive guide. And discover Samsung's other direct view LED display options, built for outstanding visuals at any scale.