As warehouse managers face increasing fulfillment pressures and other pandemic-related challenges, they're often restricted by outdated legacy systems. Internet of things (IoT) devices could be the answer.
Warehouses are an essential link in the supply chain. Every company needs to keep up with customer demands for fast shipping while lowering operating costs and addressing special safety requirements, such as food and pharmaceutical regulations, and now coronavirus transmission concerns.
Over the past five years, manufacturers' top operational challenges have included improving internal production processes, strengthening customer relationships and increasing productivity and responsiveness, according to The Future of Manufacturing: 2020 and Beyond report by IndustryWeek and Kronos. These trends are expected to continue in coming years.
Companies have rushed to respond to the demands of e-commerce — which have skyrocketed during the pandemic — but many manufacturers have opted to tack on new capabilities to their existing technologies, rather than upgrading to a more strategic plan. This leaves fleet managers without a holistic view of their operations, limiting their capacity for growth.
For warehouse management teams, this presents new challenges — and opportunities. In fact, 74 percent of industrial manufacturing CEOs agree that improving operational efficiencies is their best chance to grow revenue over the next year, according to PwC's Global CEO Survey. The IoT, coupled with mobile devices, can help them achieve it.
Keeping the warehouse on the cutting edge
With the most up-to-date mobile and IoT solutions, warehouse managers can elevate warehouse operations so that everyone in the supply chain is truly connected. Mobile technology solutions like smartphones, tablets and wearables deliver greater productivity in warehouses and distribution centers through integrated communication and management tools. And a smart warehouse doesn't just increase productivity; it reduces costs.
The definitive guide to warehouse efficiency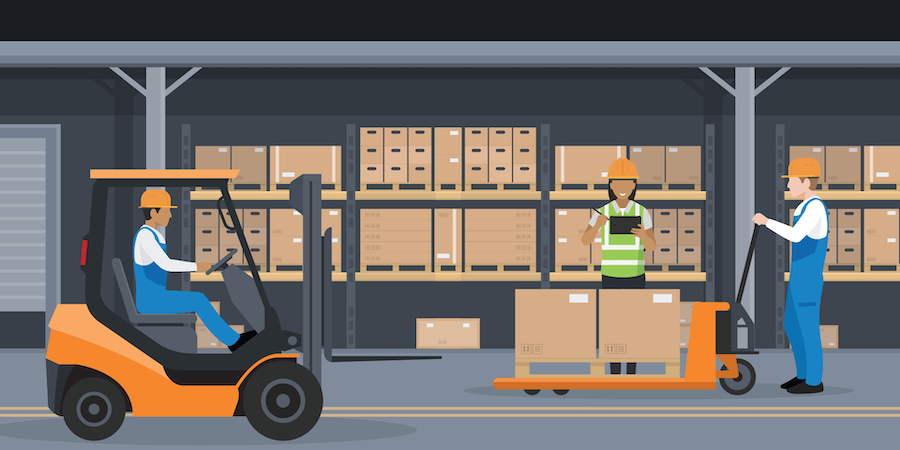 Get your free guide to increasing warehouse efficiencies and cutting costs with mobile processes. Download Now
Various types of sensors enable automatic identification and data capture (AIDC) in warehouses, employing technologies such as radio frequency identification (RFID) or Bluetooth for proximity detection, ultra-wideband for location tracking, biometrics for authentication and mobile-based barcode scanning or optical character recognition (OCR) to support the growth of warehouse management solutions — all the way down to pallet/item-level tagging.
Many warehouses still use printed pick lists, or technological aids like voice-activated picking. But with IoT devices, pickers are directed to the right spot faster, and better informed. With increased efficiency, workers can pick more items in less time, which allows for easier social distancing, since fewer people are needed to get the job done.
An IoT-equipped warehouse might also upgrade their vehicles to retrieve items automatically. Strategically placed sensors or smart tags in the warehouse can detect the locations of people, vehicles and merchandise and then transmit locations and events to warehouse managers and their online systems. What's more, employees using smartphones or tablets can better ensure that they're loading boxes and pallets onto a truck in the correct order for shipping.
Mobile devices can also help warehouse managers re-engineer outdated processes. For instance, a mobile device can allow directed put-away of inbound material to incorporate inventory consolidation automatically — reducing the steps and time required to accomplish these tasks separately.
Integrating mobile devices
The IoT makes a warehouse management system (WMS) more valuable than ever, filling it with useful data from digital sensors, devices and IoT-enabled machines. The next step is modernizing human access to your WMS. As they upgrade legacy technology to IoT devices, forward-thinking warehouses leaders are trading green screens for powerful, flexible Android smartphones. The benefits are coming through in three key aspects of their operations:
Optimized processes: Wearable technology, especially technology that enables hands-free work, reduces the number of steps required to complete tasks such as picking, sorting and staging. When employees no longer have to handle clipboards or larger handheld computers, they save a significant amount of time, especially in a high-volume warehouse. Mobile devices also allow managers to remotely prompt employees to perform other services. Reducing employees' reliance on shared devices and physical paperwork also helps protect their health and safety.

Reduced cost: With IoT devices' improved efficiency, employees' time is smarter spent, and the saved time can be redeployed to higher-value tasks. In tough working environments like the warehouse, using rugged mobile devices like the Samsung's Galaxy XCover Pro, Galaxy Tab Active3 or Tab Active Pro can also reduce the costly risk of breakage. The XCover Pro smartphone and Galaxy Tab Active tablets meet the Department of Defense's MIL-STD-810 specifications for hardware durability, including a shatter-resistant screen that can withstand repeated drops from 5 feet up. The Tab Active line also earned IP68 certification for dust and water resistance.

Reduced errors: In a properly equipped smart warehouse, mobile devices can eliminate paper-based processes entirely — and significantly reduce the opportunities for human error associated with manual data entry. Eliminating these errors boosts warehouse efficiency and can increase the warehouse's capacity without physical expansion.
To incorporate IoT devices in your warehouse, experts recommend using a system that supports both new smart devices and the legacy devices still in use. Your warehouse should support both wired and wireless connectivity, and the support infrastructure should include mobile device management (MDM) systems for device setup and maintenance.
With IoT devices, warehouse managers gain access to real-time data, so they're better informed about managing their product, overseeing employee workflows and interfacing with other aspects of the supply chain, such as shipping and transportation. Thanks to improved efficiency, flexibility and nimbleness, warehouse managers are better poised to meet evolving consumer expectations — while boosting the bottom line.
A connected IoT warehouse doesn't just cut back on paperwork — it can also digitize your forklift operations. Learn more about all the ways mobile devices can streamline warehouse processes and cut costs in this free white paper.