Retailers have rarely had to evolve as quickly they did heading into 2021. To understand the emerging technologies and services that will now affect their businesses, North American store operators looked to the annual National Retail Federation trade show, and major technology exhibitors like Samsung.
The annual trade show was conducted virtually in 2021. Hundreds of vendors — from startups to major multinational corporations — shared their new products and education efforts to show stores and brands how to adapt to dramatically shifting shopper behaviors.
Samsung highlighted a variety of new products and services designed to allow retailers to deliver compelling in-store experiences — while ensuring shoppers and staff are kept safe.
Necessity, the mother of digital transformation
Retailers of all sorts and sizes were planning their digital transformation and implementing omnichannel marketing before the 2020 global health crisis developed. As retailers adjusted to mandates and restrictions, many of their plans were dramatically accelerated, which came with workflow disruptions in everything from supply chain reliability to staff availability.
Enhance the buyer's journey with digital signage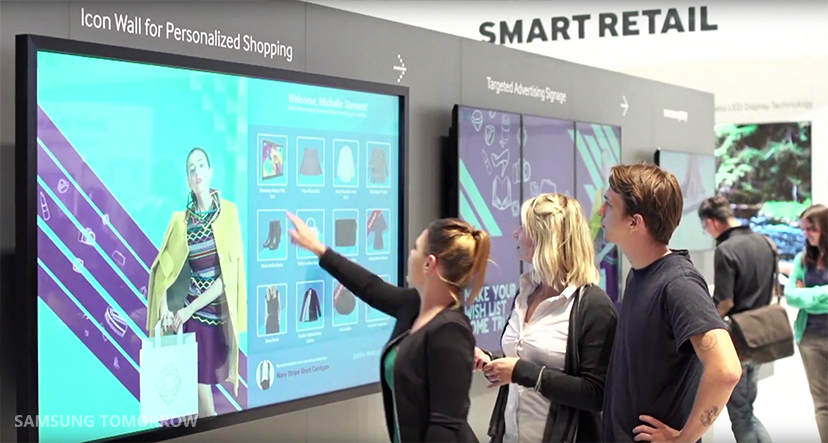 Get your free guide to the what, where and how of digital signage in retail environments. Download Now
Research now shows that 124 million Americans — more than 1 in 3 consumers — shopped online in 2020, having their purchases delivered, picking them up in store or getting them at curbside. Retailers as large as Best Buy have redesigned their store layouts to allocate space and staffing for fulfilling curbside and in-store pickup orders.
Similar research shows 75 percent of shoppers who recently started using services like curbside pickup intend to keep using those services, even when it becomes safe to shop among crowds. According to Mastercard, e-commerce activity, year to year, was up nearly 50 percent in Q4 2020.
Keeping up with the competition
In a digitally transformed shopping landscape, retailers find themselves competing with brands that sell directly to customers, as well as with online marketplaces that offer vast catalogs of products and convenient one-click purchasing. Well-positioned dynamic digital displays — paired with relevant, timely messaging — help retailers stay competitive. Displays can optimize store performance and deliver the kinds of personalized and engaging shopping experiences consumers have come to expect.
"The global pandemic has forced the retail industry to reexamine the customer journey," says Parrish Chapman, Samsung's U.S. director of sales in B2B retail, "and optimizing store operations is paramount to success in the future."
Addressing shopper needs and expectations
As retailers try to effectively communicate their new store policies, displays in and around stores are key to informing, guiding and motivating customers. At NRF 2021, Samsung announced a series of displays and related technologies built for contemporary retail needs:
Up close and personal: The new QBR series of small signage displays allow retailers to put high-resolution digital signage displays in optimal locations, close to relevant products and at stores' key decision points. With compact 13- and 24-inch displays, retailers can maintain updated in-store messaging without sacrificing product space. A version of the QBR displays comes with interactive touch, so customers and staff can look up product information and inventory on the spot.
Premium visuals: Products that are all about quality and detail can be shown at their very best using Samsung's series of 8K QLED displays. On 8K displays, with the rich colors and deep contrast produced by quantum dots and HDR technologies, you get the image granularity of glossy print, but allow marketers to add motion and change visuals based on a schedule, or on demand.
Interactive displays: With staff and shoppers discouraged from interacting one-on-one, interactive displays are more useful than ever. Touch-driven 4K displays allow shoppers to navigate large stores, locate items, check inventory and review product details and options without needing to speak with staff directly. While touch-interactive surfaces present a transmission risk, they're easy to sanitize and safer than face-to-face conversations.
Outward-facing screens: Samsung's window and outdoor LED displays are highly visible, easy-to-manage tools for attracting foot traffic, promoting new offers and communicating logistical changes such as store hours and access limits.
Pro TVs: Geared toward busy small businesses on tight budgets, Samsung's indoor and outdoor Pro TV displays let retailers share personalized, data-driven content and memorable experiences — on 4K displays. Specialized management software allows staff to create, schedule and update on-screen messaging right from a smartphone app.
Smart software: MagicINFO 8, Samsung's content management software (CMS), makes it easy for retailers to create, schedule and display content across a diverse digital signage network — in a single store or in thousands of locations. The software is optimized for Samsung displays, and an AI module allows retail marketers and merchandisers to schedule store promotions and campaigns based on real-time data.
Seamless shopping experience
Retail's digital transformation has put a premium on shopper experiences that are quick, simple and seamless, while still informative and memorable. Samsung has the technologies, the services and the experts to help retailers adapt and thrive.
Stores have had to create safer and easier shopping experiences during the pandemic. Digital signage can help ease the transition. Or, you can learn how to unify an omnichannel marketing from the storefront to point of sale in this free webinar.