Healthcare providers are always trying to improve patient outcomes, and decision makers have seen the profound impact of modern information technology on quality of medical care. As a result, healthcare organizations today are more tech-enabled, mobile, security-aware and budget-conscious than ever.
Health workers need constant access to electronic health records (EHRs), especially in high-capacity hospitals. And medical staff are increasingly working with patients in the field, where they need access to files stored in the cloud and centralized administrative systems via the internet. To meet these needs, administrators look to deploy the latest mobile healthcare technology.
Chromebook adoption in healthcare
Built on Google's Chrome OS, Chromebooks deliver fast, secure, cost-effective access to medical systems, records and services, making them an attractive healthcare IT solution compared to conventional laptops and desktop PCs.
Already seeing stellar adoption rates in the consumer and education sectors, Chromebooks are poised to become the new go-to mobile solution of the burgeoning healthcare IT market, which Gartner estimates topped $140 billion in 2020.
Modernize your hospital with mobility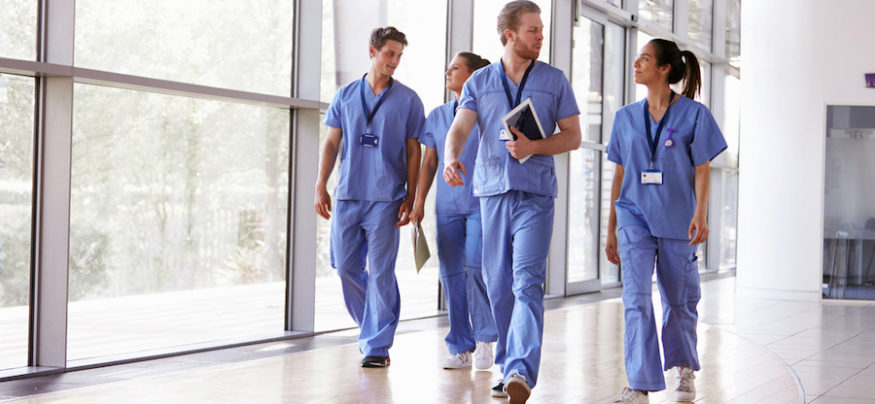 Discover the latest mobile solutions and best practices for clinical communications in this webinar. Download Now
Businesses, including healthcare providers — from local doctor's offices to large regional facilities — are expected to deploy more than 40 million Chromebooks in 2021, more than doubling shipments from just two years earlier, according to market research firm TrendForce.
Hospital-grade privacy and security
As telehealth grows exponentially, providers need healthcare solutions that ensure patient information remains secure. With HIPAA compliance and EHR incentives for the promotion of interoperability top of mind, most providers have already embraced a cloud-centric approach to healthcare workflows. Chromebooks provide a highly secure platform to access cloud-based EHR and other healthcare applications.
The latest Chromebooks feature multilayered, built-in security the keeps protected health information (PHI) secure and mitigates malware attacks. Chromebooks use a sandbox design to contain threats — but go a step further, ensuring all app and operating system (OS) processes are kept separate from one other. Medical personnel have enhanced security control: Google Safe Browsing warns the user of malicious sites before loading them. And premium devices like Samsung's Galaxy Chromebook feature fingerprint readers built into the keyboard to further heighten device security.
Healthcare IT can also leverage the intuitive admin console that's included with the Chromebook Enterprise Upgrade to manage their fleet of Chromebooks.
These enhanced security features ensure patient records are kept confidential. And it's good for the bottom line, helping healthcare technology administrators reduce the expense associated with securing multiple device deployments.
Added productivity tools with Google Workspace
Healthcare providers who adopt Google Workspace can also take advantage of a full suite of natively integrated productivity tools on their Chromebooks. Google Meet and Gmail give healthcare practitioners a safe and encrypted way to connect patients with other medical professionals. Doctors and nursing staff can use Google Drive to store and share digital copies of test results such as X-rays and CT scans, as well as voice and video messages.
Chromebooks combined with Google Workspace also help healthcare providers be more responsive to their patients, who can check in for appointments using a Chromebook kiosk loaded with digital intake forms. Google Sheets helps staff keep track of the patient queue, and caregivers can add administrative information to Sheets during a patient's appointment.
A case of highly secure, widely accessible data
Chapters Health System, which provides post-acute, palliative and hospice care in west central Florida, uses Chromebooks to provide its team of nurses and clinicians with more secure and affordable access to EHRs and charts — which they can use in the field and as they make their rounds in hospitals, nursing homes, assisted living facilities and patients' homes.
"Luckily for us in IT, Chromebooks are also the easiest devices to deploy and manage, freeing up our own time for other projects," says Chris Williams, director of IT and support services at Chapters Health System. "The biggest change we've heard about so far is improved speed. With a traditional Windows notebook, caregivers faced three- to four-minute boot times, plus multiple logins to Windows, their VPN [virtual private network] and then finally Citrix and the applications." Chromebooks start up within seconds, "so caregivers can access clinical data right away," he adds.
With speed, security and always-available, cloud-native access to patient records, Chromebooks are the ideal choice for healthcare providers to maintain high-quality patient experiences — while staying on budget.
Evaluate your hospital's clinical communications technology in this short assessment. Then find out more about how Samsung supports mobile transformation in hospitals.