Shortly after the Biden administration took office, a hidden message appeared in the source code for the White House website. The message said simply, "If you're reading this, we need your help building back better."
Two months later, the White House announced the appointment of Clare Martorana as Federal Chief Information Officer. While seemingly unrelated, both events are instructive regarding the emerging roadmap for federal IT efforts. The events also have something in common: Martorana began her federal career with the U.S. Digital Service (USDS), the agency responsible for the hidden message.
To understand where a new leader is likely to go, it's helpful to understand what drives them. Martorana most recently served as the CIO of the Office of Personnel Management. Last year, while appearing before Congress, she said her passion is "using innovative technology and human-centered design to create products, services and experiences that improve people's lives." She had actualized this passion during her USDS work, when she played a key role in the digital transformation of the Department of Veterans Affairs.
Protect your agency from IoT cyberattacks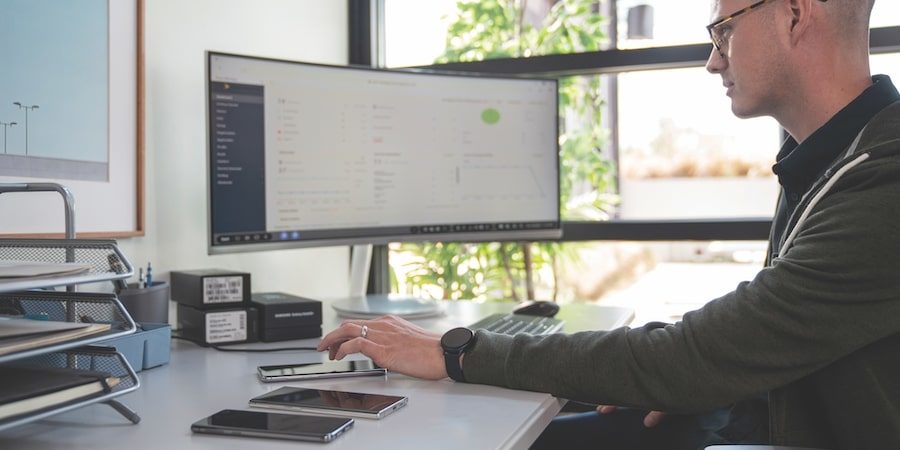 Watch this free webinar on managing employee IoT devices using Samsung Knox and Zero Trust. Download Now
Another key indicator of federal IT priorities is the current budget. During Samsung's 2021 V/X Live event, Dan Snyder, Director of Contract Analysis at Bloomberg Government, identified the following FY2021 IT priorities: cloud computing, cybersecurity, web-based digital services, artificial intelligence (AI), telecom infrastructure and — consistent with the USDS outreach — hiring and developing the federal IT workforce. Snyder noted that the two fastest-growing IT areas are AI and cloud services, which are increasing by 50 percent and 28 percent, respectively, based on projected Pentagon spending.
What's on the Federal IT roadmap?
To get a clearer picture of the Federal IT priority set, combine the above indicators with these recent tech trends and events:
The SolarWinds breach affected hundreds of businesses and at least nine U.S. agencies, including the Department of Homeland Security. The damage is still being assessed, and it is extensive — a dramatic reality check that underscored how critical it is to be vigilant with cybersecurity.
Cloud computing is rapidly expanding, thanks to cost and operational efficiencies. The latest federal strategy for moving to the cloud is known as Cloud Smart. Its predecessor, Cloud First, directed agencies to move to the cloud but lacked guidance. Cloud Smart provides specific action items to help drive cloud adoption and implementation.
Cybersecurity Maturity Model Certification (CMMC) defines cybersecurity standards and best practices, establishing comprehensive levels of compliance for the Defense Industrial Base. CMMC requires verification (you cannot self-certify) and will be phased in over a period of five years. The goal is to protect controlled unclassified information within the entire supply chain supporting the Department of Defense (DoD). While CMMC is specific to DoD, its additional layer of cybersecurity infrastructure will likely serve as a model for other federal agencies. At a minimum, agencies outside DoD may benefit from the assurance that a potential vendor has achieved CMMC compliance.
The rapid move to remote work, driven by the pandemic, dramatically increased the complexity and vulnerability of digital systems. As employees transition back to a traditional work environment, remote work will remain a popular option, if not a part-time requirement — and it's likely a broader challenge will emerge. This hybrid digital footprint will expand the threat surface with more points of vulnerability.
More workers now expect powerful mobile capability for working on the go, driven by the knowledge that smartphones are powerful computers that offer ready access to essential information regardless of location. Employers should embrace and integrate this move toward mobility; it's now key to productivity and efficiency. Facilitating a mobile work environment will increase overall productivity — and improve retention and recruitment.
A convergence of technologies — the cloud, 5G, mobility, virtual workplaces, AI and the internet of things (IoT) — presents synergistic opportunities to transform governmental services. Expectations will be high because these technologies will be readily visible and available to the masses.
Better services more tightly secured
Two common threads are inextricably woven through the areas outlined above. One is reflected in the stated mission of USDS: Deliver better government services to the American people through technology and design. The second is the absolute need for resolute cybersecurity that proactively addresses emerging threats and provides platforms and operational environments that are dependable and secure.
Every day, Samsung's smartphones and tablets are used by government workers — from police on patrol to soldiers to IT managers. These folks depend on us for devices that can reliably deliver mission-critical information. Protecting our customers' data is the top priority for Samsung, beginning with a secure supply chain and supported by multilayer defense-grade security that's built in from the chip up.
Over the past decade, we've worked closely with Federal agencies to introduce advanced new data protection technologies to address emerging threats. Samsung's Dual Data-at-Rest (DualDAR) encrypts data twice using two separate crypto modules. These features and more provide complete compliance with the NSA's Commercial Solutions for Classified Program. We recognize that information safeguards have to be both powerful and practical, as demonstrated by our ongoing work with continuous multifactor authentication. And Samsung's Knox Platform for Enterprise (KPE) makes Galaxy smartphones among the most secure and easily manageable mobile devices available.
Here's the bottom line: changes are coming, challenges are already here, and with both come opportunity. You'll need a trusted partner; Samsung is at the ready.
Taking chances is fun for people, but not for your data. Get more expert tips on securing your mobile data before, during and after a breach in our free guide to cyber incident response. And see how federal officers can benefit from increased situational awareness with defense-grade mobile solutions.