For those of you who know me, I'm a bit of a history buff. Last year, I spoke about the history of Las Vegas' reinvention over that last 50 years or so, and I said that reinvention is part of our DNA at Samsung Display.
What's interesting about today is that we're all making history together. Last year brought an inflection point in business. It will reshape all sectors of our economy for years to come. Inflection points take companies in new directions.
Businesses of all sizes have pivoted to survive. We saw business models reinvented on the fly. Digital transformation shortened innovation cycles from years to weeks. The changes we've seen so far are just the beginning.
History has a long arc. In the early 2020s, a lot of history will be made. This decade will be remembered as one of intense reinvention. History will look at this moment as the start of a new era of doing business. Our purpose is to meet this moment — and we're going to build it together.
That's why this year's V/X theme was Business Reimagined. Let's take a look at what we covered:
Why Business Reimagined?
We know we're in unprecedented times. There's massive change across entire industries as companies rethink their business models. This is disruption at a scale and speed we haven't seen since the dot-com boom.
Let's look at history again and see why some companies didn't fare so well. These examples show that businesses who don't reimagine face real consequences:
Kodak: In the 1980s, Kodak had more than 145,000 employees. At its peak in the following decade, Kodak had $16 billion in revenue and a market cap of $30 billion. In its full year 2019 earnings, Kodak's annual revenue was $1.2 billion, a mere fraction of their peak revenues. We know what happened here. Kodak failed to embrace the digital age on two fronts: how the mobile phone became people's everyday camera, and how consumers came to prefer sharing photos electronically rather than printing them. The company filed for bankruptcy in 2012, before reorganizing and emerging from Chapter 11 in 2013.
Modernize your workplace with digital signage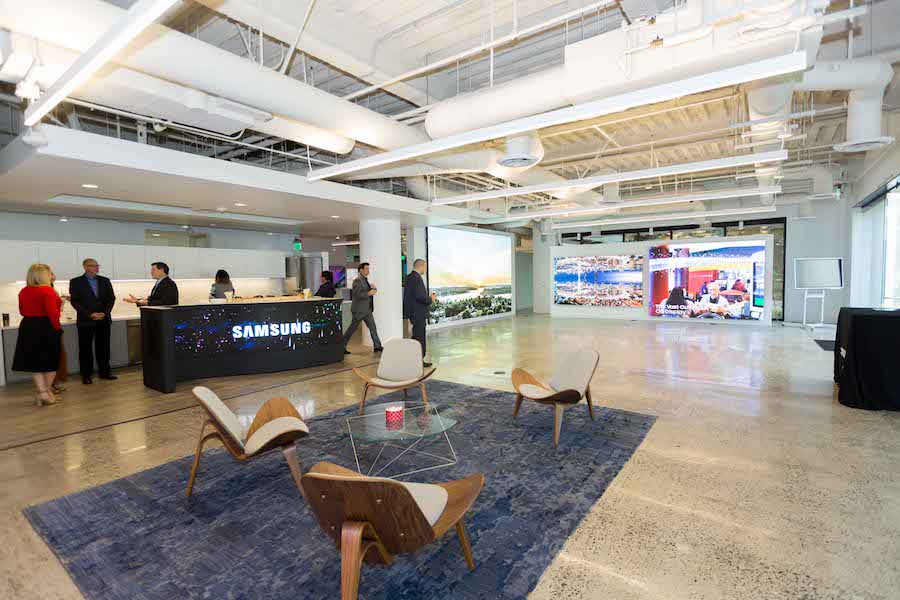 Explore how corporate offices are producing dynamic, engaging content for workers and clients alike. Download Now
GNC: In 2020, GNC, a leader in the $50 billion vitamin and dietary supplement space — filed for bankruptcy. The pandemic negatively impacted its already struggling business. Started in 1935, GNC had grown to more than 9,000 outlets with 12,000 employees. But the company faced immense competition from big-box retailers like Walmart, Target and Amazon, in addition to grocery stores, and so GNC failed to reimagine their business.
These companies are a few examples of companies who lost — who were leaders in their sectors and didn't make the right moves in the face of a changing market landscape. However, there are many companies who did it right. They pivoted when they were thrown a curveball and took bold steps to reinvent themselves.
American Airlines: Back in 1981, American Airlines launched the first frequent flyer program. This was a few years after the airline industry's deregulation. The airlines were looking for ways to gain competitive advantage. American Airlines was first to market in seeing an opportunity to reward repeat customers and brand loyalty. Other airlines quickly followed suit. Over the years, loyalty programs continued to evolve, and American Airlines was always out in front. Even today, despite the travel disruption caused by the pandemic, American Airlines stepped out first to launch its 2021 loyalty program. American Airlines continues to reimagine its business and understands the value of first-mover advantage.
Peloton: The pandemic brought more demand than Peloton could handle. Gyms closed, more exercising happened at home, and Peloton sales soared. Peloton couldn't deliver bikes fast enough, and wait times grew long. Connected fitness subscriptions soared by 134 percent to 1.67 million. And paid digital subscriptions — people who subscribe to classes on smartphones and other mobile devices — grew 472 percent to 625,000. Peloton reimagined their business —recently acquiring Precor to mitigate supply constraints, gain U.S. manufacturing capabilities and make greater inroads into the commercial market. Peloton just reported their first $1 billion sales quarter.
What do these companies have in common? They're reinventing themselves and changing their business models to adapt to the current environment. It's not just these companies, but also whole industries experiencing seismic shifts — across retail, restaurants, hospitality, healthcare, education and more. Ten years from now, entire industries will be reimagined.
Samsung's role
In Business Reimagined, display technologies take center stage as the new connection points. Connection is more important than ever these days, and screens serve as the conduit. Samsung is helping its customers reimagine the customer experience, reimagine solutions for the workforce and reimagine the future of business.
Many of you know Snowflake — one of 2020's hottest IPOs and the largest software IPO ever. The pandemic accelerated cloud adoption in the enterprise. With more than 3,400 customers, this cloud data warehouse company saw explosive growth in a very short time. They needed display technologies and an AV solution that could rapidly scale as their business grew. They wanted to integrate display technologies that were cloud-enabled. Snowflake also wanted the flexibility to support a global footprint from a centralized hub. The result to Snowflake's business? Cost savings, streamlined processes, easier onboarding and white glove service if they needed it.
Another Samsung customer doing some innovative things is Batteries Plus. They are the nation's largest battery, light bulb and smartphone/tablet repair franchise with a nationwide network of stores. The company sought to modernize the front counters in their stores with digital signage that replaced antiquated print signage. They also wanted the flexibility to customize messages by region and franchise. Edits to static, printed signs proved to be inefficient and costly. By choosing Samsung, Batteries Plus improved the shopping experience while customizing offers important to each particular store and region, thus maximizing profits.
Sustainability
At this year's Consumer Electronics Show (CES), Samsung highlighted sustainability and its focus on "think clean and go green." This is about respecting our environment and our future. We're not just talking about it; we're doing it.
As displays get bigger, packaging gets bigger. Samsung is steering the industry in a new direction with eco-friendly packaging. This goes beyond recycling to upcycling. We give new life to plain old boxes. As an example, you can creatively repurpose our boxes into functional tables or shelves for your home or office.
Another area where Samsung is leading the market is with our new solar cell remote, which is powered by sunlight or indoor light, eliminating the need for batteries.
If each display has an average 7-year life, we've saved the world from 99 million batteries. That's significant. Our remote is also made in part from recycled plastics.
Samsung is committed to decreasing our carbon footprint and reducing waste. We bring products to market with sustainability baked into their designs. We understand our responsibility to do what's good for our planet.
Moving forward, together
I hope you can sense my excitement about what's ahead. Samsung is here to help you reimagine what's possible and think boldly for the future. As we innovate forward, let's do it together.
Screens are the new connection points that bring together your customers, partners and employees in new and exciting ways that make a difference in your business.
Join us for business reimagined, as we reinvent our futures together.
As you strategize how to update your business to keep shoppers coming back, consider adapting your store signage to keep them safe — and maximize your returns. Or discover other ways you can make retail shopping more engaging with digital signage.