According to Grand View Research, warehouse management will be an $8.1 billion industry by 2028 — and for good reason. Warehouses are the central hubs of today's high-speed commerce. Forklift operators form a critical arm of warehouse management, as they oversee the thousands of touchpoints of daily shipping transactions, both incoming and outgoing.
Forklift operators receive incoming shipments on pallets and have to accurately document the bill of goods, noting any damage or missing units. They need to decide how and where to store the pallets using a complicated system of fixed and floating slots for stock-keeping units. Warehouse forklifts also handle order picking and shipping, record actual time of departure (ATD) and determine active and surplus stock amounts as necessary.
While efficient warehouse management is critical to business operations, forklift-mounted solutions aren't just about receiving and shipping goods. They're also about forecasting supply and demand and adjusting stock accordingly. Forklift operators have the potential to play an essential role in inventory management and asset tracking, which are both critical aspects of warehouse operations.
Inventory management for forklift operators
Forklifts in warehousing are critical to the movement of goods, but operators who continue to rely on manual methods of documentation risk process inefficiencies. Pen-and-paper clipboard solutions to warehouse management are problematic for a variety of reasons.
Shop special offers
Find out about offers on the latest Samsung technology.
see deals
Speak to a solutions expert
Get expert advice from a solutions consultant.
Talk to an expert
For one thing, manual record-keeping is labor-intensive. Forklift operators have to record incoming freight on a paper clipboard before transferring it to the warehouse management system, requiring unnecessarily repeated labor. A two-step process might become more complex depending how many times a single pallet is handled. That extra labor is expensive and time-consuming.
Manual processes also increase the potential for inaccuracies. Shippers and companies demand that a whole range of variables be recorded, including actual time of arrival, surplus shipment, customs regulations and compliance. Forklift operators record every transaction multiple times. With each repeated entry, the chances for inaccuracies increase. Paper documents also easily get lost or damaged, in which case more time has to be spent tracking down and reentering missing information.
Altogether, manual processes make inventory management more challenging than it needs to be. A forklift operator must find an appropriate slot for each pallet. Floating and fixed slots and cross-docked merchandise must all be reconciled efficiently — and quickly — before a domino effect wreaks havoc on inventory counts. Manual systems make these processes harder to implement.
How mobile devices help
Mobile devices such as the Samsung Galaxy Tab Active3 and Tab Active Pro help forklift operators by digitizing everyday warehouse management processes at the point of use. These tablets are rugged enough for the rigors of the warehouse environment and can be fixed on forklift mounts, such as those from ProClip or RAM Mounts.
The definitive guide to warehouse efficiency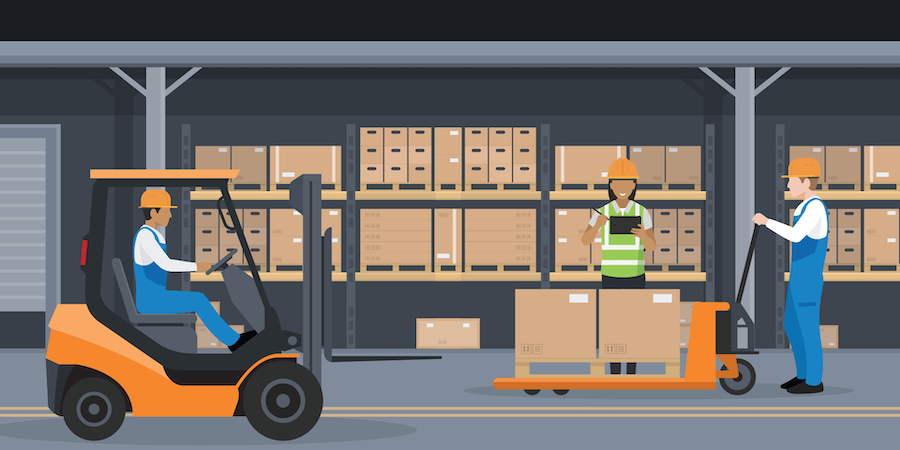 Get your free guide to increasing warehouse efficiencies and cutting costs with mobile processes. Download Now
A ready-to-use rugged tablet can also integrate with dedicated scanning solutions, such as those from ProGlove and Koamtac. Alternatively, Samsung devices can be equipped with Knox Capture, which transforms your tablet into an enterprise-grade scanner. Tablets can also integrate with legacy warehouse management systems using frameworks such as Ivanti Wavelink.
Here are five ways rugged mobile devices support warehouse forklift solutions:
Automate data entry: Forklift operators can scan barcodes on pallets upon receipt and as they ship orders. Detailed information about the goods auto-populates in your warehouse management software, saving time and increasing accuracy. With Knox Capture, for example, workers can instantly inject captured data into any apps, in various configurations, without the need for additional development.
Fulfill orders faster: Digitizing forklift operations with mobile tablets speeds up transactions and makes shipping, handling and receiving more efficient. Automating manual warehouse transactions saves time that used to be spent reconciling, locating and fulfilling shipments.
Increase accuracies in shipping and receiving: More accurate records of back orders, active stock and floating and fixed slots help forklift operators pick and pull orders for more accurate fulfillment. About 30 percent of online orders are returned, and 23 percent of returns are not the items customers ordered, according to Invesp. Companies need to do everything they can to increase their fulfillment accuracy and efficiency. Mobile devices make the job easier.
Extend inventory management capabilities: Since mobile devices deliver forklift warehousing solutions that scan inventory at the point of handling, companies get a speedier picture of current inventory and where goods are in transit. With more efficient inventory management, you downstream processes, such as forecasts, are also more reliable, because they're based on accurate, real-time data.
Reconcile damaged goods claims more efficiently: When a customer receives a damaged product, it's vital to rectify the situation with excellent customer service. To aid in the process, a mobile device's camera can capture photos of damaged goods quickly and effectively. Workers can also better document the details by annotating pictures with digital notes.
In a busy warehouse environment, forklift operators' pain points can decrease efficiency and productivity. Tablet-based forklift solutions digitize everyday operations and help forklift operators do their jobs more efficiently — and effectively.
As you plan a rugged mobile rollout for your warehouse, you can take the opportunity to accelerate your entire smart factory journey with the mobile technologies outlined in this free guide. Or, discover how you can make your supply chain more efficient and effective than ever with Samsung's other innovative transportation and fleet management technologies.