Warehouse operations have evolved significantly from where they were even five years ago. A combination of rapidly advancing technologies and an explosion of e-commerce-driven orders has upended traditional warehouse processes, practices and tools used to manage and fill orders. The primary challenge: how to do more with less, and redesign picking processes to be faster and more accurate yet less physically demanding and safer for the employee — particularly in the context of social distancing.
That's the challenge ProGlove's wearable scanning devices were built to solve. Compact, high-performance scanning units, ProGlove MARK scanners clip conveniently into a wrap on the worker's hand. Warehouse associates just point their arm in the direction of a barcode and tap the ergonomic index trigger with their thumb. The scanners use Bluetooth to pair with a smartphone or tablet, which in turn connects with the warehouse management system (WMS) and communicates the product pick data and instructions to the user.
Using ProGlove devices, BMW logistics shaved off four seconds per scan which — multiplied by thousands of scans — saved the organization more than 66 hours every day.
ProGlove in the e-commerce-driven warehouse
Warehouse work has shifted toward e-commerce orders, which are smaller, far more frequent and demand faster fulfillment, with workers often pulling and packing multiple items together.
"It really requires an intuitive scanning device which does not interfere with or interrupt the normal picking process in a warehouse or the sorting process of a courier," notes Charlie Grieco, ProGlove's chief revenue officer. "In this environment, if you could take three to four seconds out of the pick process for each order, by the end of the day, over hundreds of picks, you are literally saving hours."
The definitive guide to warehouse efficiency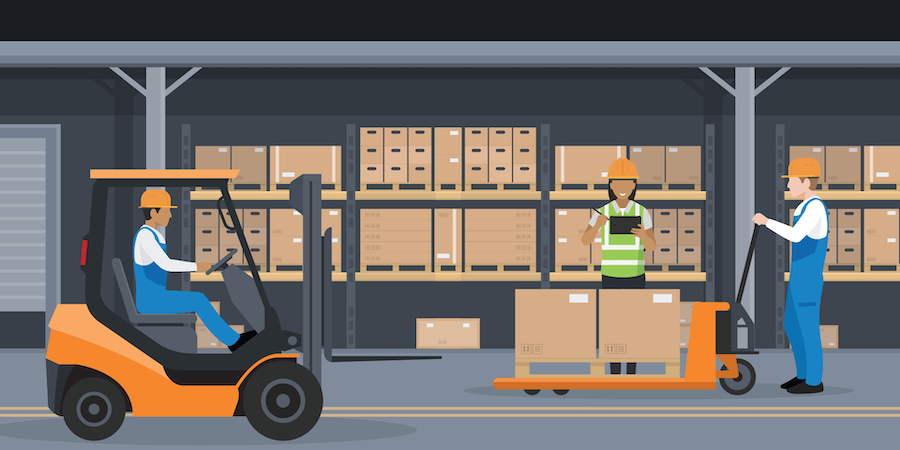 Get your free guide to increasing warehouse efficiencies and cutting costs with mobile processes. Download Now
Previous scanning devices were mostly pistol-grip "brick-on-a-stick" designs or ring-mounted, which required nonintuitive movement. "You'd pick up the scanner, shoot the barcode, put it down, pick the item, then pick the scanner up again," Grieco explains. "A lot of time-consuming, physical movement of hands and arms."
Built for efficiency
The latest addition to the ProGlove wearable scanning lineup, the MARK Display, further streamlines the user experience by adding a 1.54-inch screen to the scanning unit. The screen displays additional information and instructions for the picker, reducing errors and increasing productivity and efficiency of pick activity.
Preventing workplace injuries is a key consideration for warehouse picking operations. The ProGlove MARK Display scanner weighs about 1.7 ounces, compared to an 18-ounce pistol-grip device. It's the smallest, lightest wearable scanner on the market, enabling 100 percent mobility.
"When you add up the constant and repetitive lifting of the pistol-grip device — and its added weight — over the course of a shift, the worker is lifting the cumulative equivalent of 1.5 tons. That takes a toll on the body," Grieco notes.
Making the work less stressful and more fulfilling and performing to the highest safety standards is critical to retaining and motivating those warehouse workers who are the foundation of e-commerce.
"When we think about analytics, data is king, even in the warehouse. How do we make the worker more efficient? How do we identify practices that improve safety and limit exposure to potential injury?" says Grieco. The device helps track the number of scans they are doing on a shift. Accelerometers, which are built into the MARK Display, provide new data which can open yet other avenues for advanced measurement and analytics, leading to new insights improving safety and productivity.
"Enabling accelerometers means we can look at things like step count, distance covered and the worker's walking path. These are all insights which will help us figure out ways to tweak workflows to route employees in a more efficient manner, or find opportunities to rearrange the layout of the warehouse," Grieco adds. "Then there are fresh insights into better safety practices. It's exciting."
Creating an integrated warehouse solution
To help warehouses operate as efficiently as possible and ensure they stay safe, Procensis, ProGlove, Samsung and Ivanti have come together to offer an industry-leading solution bundle that helps get warehouses ahead of the e-commerce wave.
Linking it all together is the Samsung Galaxy XCover Pro, a rugged smartphone ideal for warehouse fulfillment operations. Its replaceable battery eliminates the downtime needed to recharge, and it can be configured with programmable buttons to quickly access warehouse management apps to further increase efficiency.
"Retailers have had to pivot their model, adopting omnichannel strategies, receiving and fulfilling more and more online orders from different points with different employees," Grieco explains. "We want to help them be productive in this accelerated environment, repurposing staff that may have been on the sales floor and now deploying them in fulfillment."
Get additional tips on creating a more efficient warehouse with this free guide. And find more paperless workflow solutions that can save your company time and money.