With many people in the U.S. now working from home, our average daily screen time is up 16 percent. The average adult now spends 13 hours a day looking at their computer monitor, mobile device and TV. Without an ergonomic workstation, the extra screen time is liable to strain your eyes, neck and back, as well as increase fatigue and absenteeism. Ergonomic desks and chairs definitely help, but at the center of most every work setup is a desktop monitor.
In choosing a monitor for a single home office — or an entire workforce — buyers should consider more than just size, shape and visual quality. Details like height and tilt adjustments and built-in technologies can make full-day computing easier on the eyes.
Samsung's new S Series (S6, S7 and S8) of desktop monitors — a diverse range of high-resolution displays — is packed with ergonomic features designed to maximize productivity and counteract the effects of extended screen time. The collection of high-resolution monitors feature vivid colors enhanced by the latest High Dynamic Range (HDR) 10 technology.
Assessing your business needs
As you look for the desktop monitor that best suits your business needs, consider these key factors:
First, establish who will be using the monitor. For a single user working from home, or in a permanently assigned workspace like a private office or cubicle, their monitor's height, tilt and other physical adjustments can generally be set once and forgotten about.
Desktop monitors are full production hubs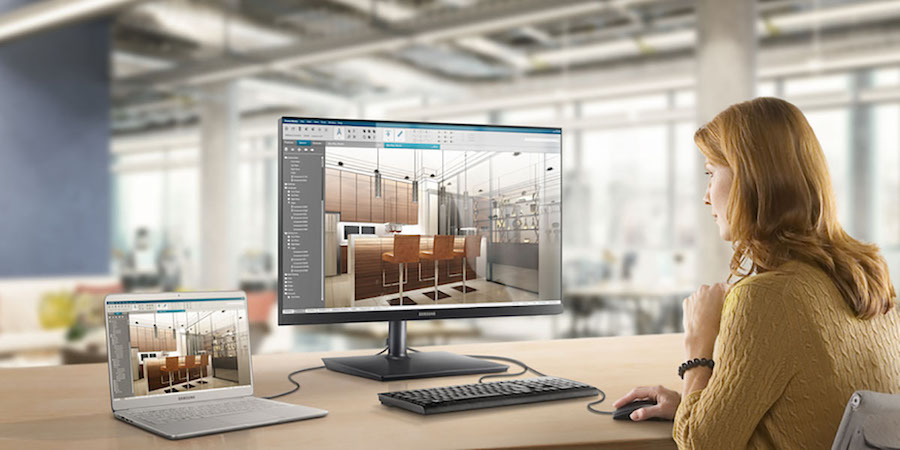 Monitors aren't just displays. Learn how USB-C, HDMI and Thunderbolt 3 enable complete workstations. Download Now
But for workplaces that are switching to "hoteling/hot desk" models — where desks are assigned on the fly to staffers who may only come into the office part time — monitors need to be easy to adjust for viewing height, tilt angle and pivoting, which will likely be tweaked by each user. The S Series' auto sourcing switch, which scans for and displays active inputs, provides ease of use in a flexible workspace.
Next, establish each role's working needs. For example:
Project management and creative production teams may want ultra-wide screens to see their timelines on a fuller scale.
Multitaskers may want the largest display possible so they see multiple application windows at once.
Finance and operations teams may want multiple daisy-chained monitors to track real-time information in a macro view.
Sales and business development teams may want smaller screens for their correspondence, to free up precious desk space.
Then, evaluate employees' physical workspace and work style. Software coders, for example, may want a single widescreen monitor set in portrait mode so they can view as many lines of code as possible, and a second display in landscape mode to preview their code's results and serve more conventional needs, like correspondence.
Remote workers who spend much of their time away from their desk want simple, streamlined connections so they can connect and disconnect quickly. With USB-C technology, they can use a single cable to provide a signal for their monitors, power their laptop (or other smart device) and connect several peripherals that plug into and run off the monitor.
Finally, your monitor choice should also factor in the physical constraints of each workstation. A widescreen monitor provides a large visual work canvas, but if it's too big for the desk, the monitor may consume more space than it's worth. Displays like the Samsung S Series and its compatible mounts make personalization easy with simple, intuitive adjustments for variables like height, tilt and pivoting.
Easy on the eyes
Samsung's new S Series displays are packed with underlying technologies that contribute to healthier workspaces. Several built-in features reduce users' eye strain, including:
Adaptive picture technology, which dynamically adjusts brightness levels, using ambient light sensors
Low blue light technology, which reduces the amount of visible blue light and eases eye strain
Flicker Free technology, which eliminates the imperceptible rapid on-offs of backlights that can cause eye strain and headaches
Curved widescreens offer two related benefits for power users. The display's curve equalizes the focal distance of on-screen information so that viewers don't have to constantly refocus their eyes as they move around the screen. The curve also allows workers to use their peripheral vision, so they have to pivot their head less to view information. The screen's curvature also makes it more immersive, helping users focus on the job at hand.
Choosing a desktop monitor is easier with expert guidance. Find the monitor best suited to your unique business needs with this free, short assessment. And if budget is a factor — which it usually is — discover your various options for a value-tier Samsung monitor.