Businesses can receive immense benefits from outdoor digital LED signage. But when making the investment, it's not just about finding the right hardware for your budget. Management of the content and device is half the battle.
In short, businesses need a simple, powerful and intuitive content management system (CMS). Numerous business types, from airports and hospitals to fast-food franchises and federal buildings, can benefit from LED signage by making communication with their customers more immediate and personal, influencing their customers' decisions, and telling the story of the organization in the most direct, engaging way.
But without a CMS capable of exploiting them, these benefits are difficult to measure and may simply be theoretical — and without high-quality content to display, even the most reliable, responsive high-definition sign isn't worth the outlay.
The content you want
A worthwhile CMS allows content to be easily scheduled and updated, both on-site and remotely. It should be accessible via computer, tablet or smartphone. And it should make content creation as simple and intuitive as possible.
MagicINFO is a state-of-the-art CMS that Samsung has been refining and enhancing since 2008. In its current incarnation, MagicINFO 9, it's the most effective, straightforward way to develop and manage the content that will make LED signage relevant, engaging and ultimately, cost-effective.
Bright displays, brighter bottom line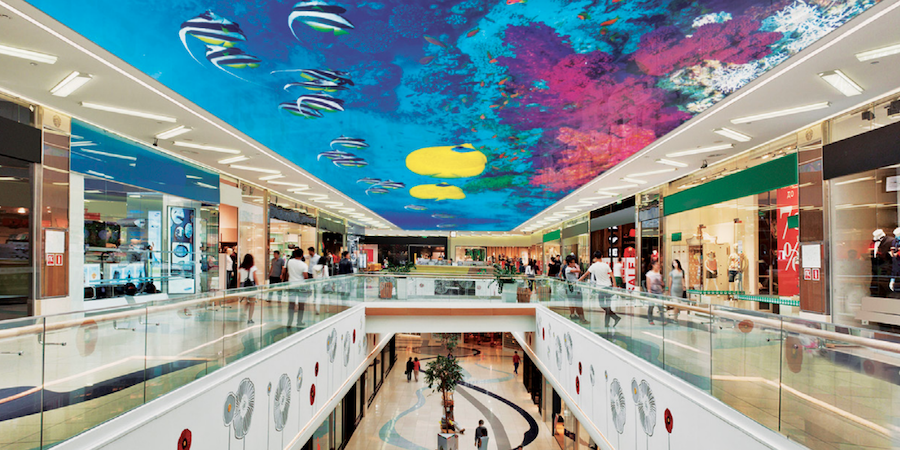 See why LED displays outshine LCD and learn the right ways to make the upgrade in this free guide. Download Now
At every stage, MagicINFO helps digital signage work to its full potential and makes it more compelling for customers as a consequence. Messaging can be updated quickly and easily, so it's easy for a restaurant to update its menu based on what's most appropriate for the time of day. It allows retailers to instantly promote strategic content, even in response to arbitrary events like changes in the weather. Content creation and publication is a smooth and intuitive process, and dynamic scheduling means content is always relevant and up to date. Want to promote limited-time offers to boost sales? MagicINFO makes it simple.
Sign management
MagicINFO is equally accomplished when it comes to managing LED signage itself. Its remote management solution (RMS) allows access to devices (to diagnose issues, for instance), even at multiple locations, from a single platform. ISO and IEC certification guarantees your business data and personal information are kept secure at all times. In fact, MagicINFO is the first digital signage CMS to be ISO/IEC 27001 and ISO/IEC 27701 certified. Error notifications, comprehensive hardware control and easy remote monitoring ensure digital signage is always working hard, and always working smart.
Data that matters
MagicINFO makes data management as uncomplicated as possible, too. Routine tasks can easily be automated, and relevant data is simple to harvest. MagicINFO presents all appropriate data in the form of an easy-to-understand visual report, so that the most pertinent information is available in the most accessible manner. In sports stadiums, for example, digital signage can be used to maximize the fan experience, but it's also invaluable for improving communication, increasing safety and driving revenue.
The complete package
Using the Samsung MagicINFO all-in-one solution to support content, data and device management will make your new or upgraded digital signage productive and engaging. Use MagicINFO to control a Samsung XHB outdoor LED signage screen, and you'll have the longevity and performance to match.
The XHB series delivers crisp, vibrant images, regardless of atmospheric conditions or prevalent lighting. It supports HDR10+, or high dynamic range imaging, so brightness and contrasts are constantly optimized for accurate, realistic images. Despite this, though, the XHB series runs at a mere 700W/m2 so power consumption is appreciably lower than that of competing products.
Slim, lightweight cabinets mean setup is fast, easy and a one-person task. They are also IP66-rated (both front and back), and the internal components are waterproof for ultimate reliability. The heat-dissipating design, meanwhile, prevents overheating. Rigorous testing in real-life conditions, including the harshest sunlight and the wettest environments, ensures XHB displays can withstand whatever the weather has to offer.
And because XHB outdoor LED signage is available in a number of pixel pitches (depending on if it's required for near- or far-field viewing) and numerous versatile cabinet designs, it's ready to meet any number of installation requirements as well as environmental circumstances.
The applications, from sports stadiums and hospitals to hotels and even casinos, are diverse. No matter where you implement your digital signage, though, choosing the right CMS to control a cutting-edge digital LED screen means a first-class experience for clients or customers. And by extension, it means your business or organization presents itself in the best possible light.
Get started on your business's digital signage project — or enhance what's already been deployed — with this free white paper. And learn all the ways MagicINFO elevates the power of your displays and improves business performance.