The rise of omnnichannel commerce means that consumers expect the same level of service and accessibility from brick-and-mortar stores as their online counterparts. Retailers, however, continue to face labor scarcity and high turnover, as the U.S. job market tightens and inflation rages on.
One way to ease the effects of these challenges is to equip retail associates with rugged smartphones and integrated software solutions custom-built for a retail environment — like Samsung's Galaxy XCover6 Pro.
With this sturdy, familiar device, employees can accomplish all their daily tasks with a single piece of technology — a smartphone, the same technology they use in their personal lives daily. This includes clocking in and out, conducting price/product lookups, scanning barcodes, and even processing payments. And being able to do it all on a single device helps eliminate the hassle, expense, and training requirements of using multiple single-purpose devices and legacy IT infrastructure.
Galaxy XCover6 Pro not only maximizes operational efficiency but also improves the customer experience. Here are some of the most effective retail use cases for this multifunctional rugged smartphone.
Time management
Galaxy XCover6 Pro is small and light enough for retail associates to keep the device in their pocket for an entire shift. No need for a clunky time clock or waiting in line at the point-of-sale (POS) station to punch in. Associates can now clock in right on their smartphone, as soon as they enter the workplace. Logging in is both secure and efficient through facial recognition or fingerprint scanning.
Shop special offers
Find out about offers on the latest Samsung technology.
See Deals
Speak to a solutions expert
Get expert advice from a solutions consultant.
Talk to an Expert
Associates can also save time by staying in touch with other members of the team without having to run back and forth between different aisles and stockrooms. With both 5G and Wi-Fi 6E, Galaxy XCover6 Pro can keep everyone connected. It even supports CBRS, which can be useful for organizations that want to set up a private network to streamline warehouse logistics and real-time asset tracking.
Barcode scanning and inventory access
Through tools like Samsung's Knox Capture — or partner solutions such as Scandit — retail employees using an XCover6 Pro can enjoy enterprise-grade data capture performance, including barcode scanning and text recognition.
Galaxy XCover6 Pro can use these apps to read barcodes that are torn, wet, warped, or otherwise damaged. The camera can adjust to glare from in-store lighting and more easily read barcodes that are tiny, curved, far away, or even in a dark or poorly lit stockroom. It can also capture multiple barcodes with a single scan — helping your team speed up processes, and track sales and inventory anywhere and in real time.
Scandit Smart Data Capture alleviates the need to search for a shared scanner. Instead, associates can scan barcodes on the spot and easily alternate between tasks such as inventory management, receiving, and shipments using the same Galaxy XCover6 Pro.
Assist customers at the point of decision
Unpriced or misplaced items can result in lost revenue. Shoppers may not have the time or the energy to walk to the front desk (and possibly wait in line), or they may simply assume the item is too expensive. Galaxy XCover6 Pro lets retail associates quickly assist customers at the point of decision, right when they need a price check or product lookup.
If a customer is looking for shoes in a particular size, for instance, an associate can use their Galaxy XCover6 Pro to quickly scan all the barcodes of the boxes on the shelf. The device then provides a visual indicator of the available item through augmented reality (AR) to help the associate find it. If a customer wants to compare two products, the items can be overlayed on screen simultaneously. Associates can also help customers find out-of-stock items online or at a neighboring location, increasing customer satisfaction right from the sales floor.
Perhaps best of all, Galaxy XCover6 Pro supports technologies like TEEgris and near-field communication (NFC), which means associates can use their device as a mobile point-of-sale (mPOS) station and accept contactless payments from anywhere. And using hot desking technology like Samsung DeX, they can connect their smartphone to a larger display and create a mobile checkout station.
Seamless two-way communications
Integrating with communication platforms like Microsoft Teams and Verizon Push-to-Talk (PTT), Galaxy XCover6 Pro functions as a two-way radio. Retail associates can communicate quickly and privately, instead of disrupting shoppers with loud intercom announcements. A programmable key allows them to access those kinds of apps, or any other tools they use regularly, with a single click. The louder speaker, meanwhile, allows retail employees to hear each other better, even in noisy environments.
Rugged, durable devices retail associates actually enjoy using
In even the most demanding retail environments, the rugged Galaxy XCover6 Pro can handle the pressure — it's water-resistant and dust-proof, built with the durability to withstand extreme temperatures as well as repeated drops on hard surfaces. The strong but lightweight hardware houses a long-lasting, replaceable battery built for reliable performance through an entire shift.
Despite its built-tough nature, Galaxy XCover6 Pro makes retail work gentler on associates. Its design is lighter and more ergonomic than bulky scanning machines of the past, so there's no need to twist and turn into uncomfortable positions. Simply use the intuitive aiming feature to make workflows like checking prices and scanning inventory more efficient and comfortable.
The touchscreen even works while associates are wearing gloves, keeping them warm, dry, and safe in every season. Galaxy XCover6 Pro's touch sensitivity also lets associates use the device when their hands are wet. The screen is even sanitizer-safe, so associates can clean their devices without fear of damage.
How mature is your in-store mobility?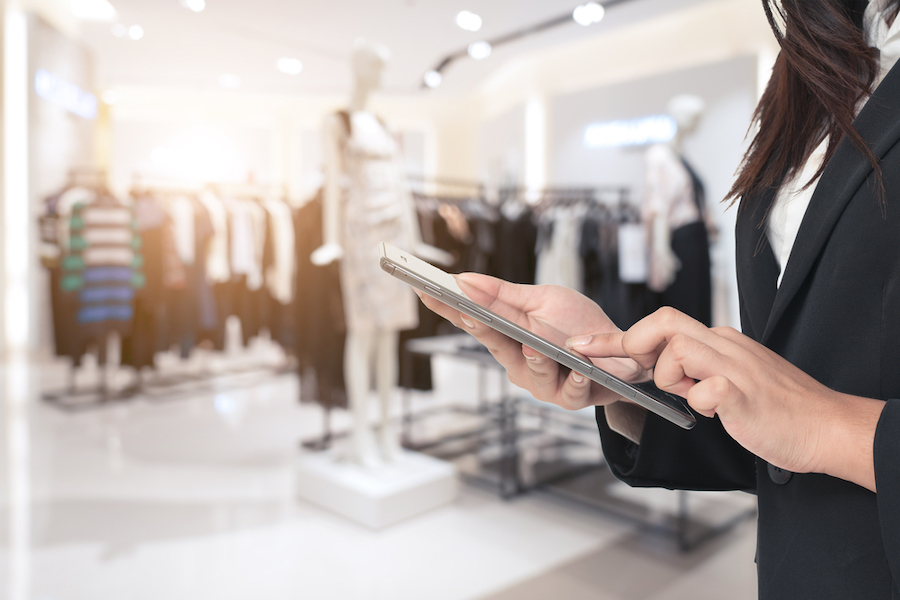 Samsung's partner ecosystem offers plenty of accessories to enhance the way associates use Galaxy XCover6 Pro, from cases and mounts to belt clips and charging cradles.
Transform retail associate performance
Galaxy XCover6 Pro is an ideal solution for retail data capture and customer service. Diverse functionality on a single rugged device eliminates the need and expense for clunky devices that perform only one task. It's an Android Enterprise Recommended (AER) device, which confirms its readiness for large retail environments.
Protection by Samsung Knox — a defense-grade security platform built into Galaxy devices from the chip up — means retailers and associates alike can rest assured that their private data and communications will stay private. And the addition of Knox Suite lessens the time retail IT teams would otherwise spend deploying, securing, and managing a fleet of devices. Samsung is ensuring Galaxy XCover6 Pro will go the distance by offering two years of hardware availability and five years of software updates.
The business case for adopting Galaxy XCover6 Pro in retail is simple. Employees can spend more time on the sales floor and communicate with colleagues in real time, while customers can receive assistance and pay for products on the spot. For both associates and customers, Galaxy XCover6Pro creates opportunities to deliver a positive and efficient retail experience at every stage.
Sign up now for a Samsung Business Account and gain access to exclusive offers. Buy Galaxy XCover6 Pro with a Care+ for Business plan at 50% off and get 50% off select accessories. Plus, get bulk trade-in value, volume discounts and 50% off Knox Manage.