Over the past several years, control rooms — the epicenter of situational awareness and decision making — have become more important than ever, especially in mission-critical situations. Today's control rooms must be technology-forward and able to ingest, visualize, and analyze massive amounts of data.
Because of their critical role, control rooms, especially those in federal command and control or emergency operations, require cutting-edge visual technology. Today, that means access to the most responsive, crisp, clear images, the ability to access multiple data streams in real time, and ironclad accuracy and reliability. For federal use, they also must be compliant with the U.S. Trade Agreements Act (TAA).
What is microLED display technology?
MicroLED is the most advanced, feature-rich type of LED solution available today, overtaking even OLED display technology. It works in a more efficient way due to advanced technology. A single microLED consists of tiny LED devices — each a semiconductor that receives electric signals. Together, these microLEDs form a module, and multiple modules are combined to form screens. MicroLED technology results in exceptionally efficient, bright, and crisp displays with better contrast, response times, and energy efficiency.
Why control centers should invest in microLED
Decision makers rely on fast, accurate, and uninterrupted visual data to monitor quickly changing situations and coordinate the efforts of staff on the ground. In the federal realm, this includes tactical operations, threat assessment, public safety, emergency response, security and surveillance, and air traffic management.
MicroLED technology is quickly becoming a critical component of control rooms to:
Ensure that no detail, no matter how small, is overlooked. Because microLED has a much higher maximum pixel per inch than other types of displays, they provide a wider array of colors, better contrast, deeper blacks and overall better image accuracy than LCD and OLED displays. They also provide much faster response times — as fast as two-billionths of a second — and last a long time. These features are critical for control room personnel, who must see the most current information clearly to make effective decisions.
Focus on the situation at hand instead of issues like durability, reliability, and quality. Control room personnel have enough on their mind without worrying about whether their technology will get in the way of their work. Today's microLED technology provides brighter, more energy-efficient performance with better refresh rates and longer life than OLED and LCD technologies.
Integrate digital signage in the control room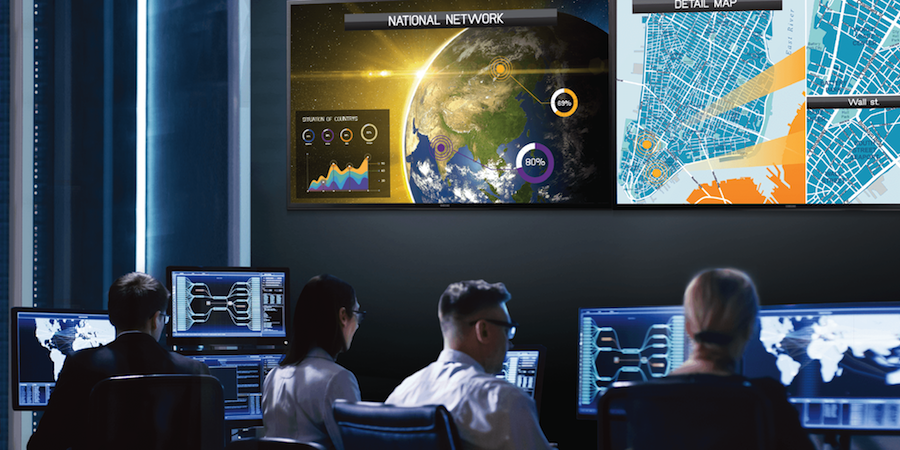 Streamline mission-critical workflows and content management with secure, large-format displays. Download Now
Video wall: A necessity in today's control rooms
Today's control rooms are embracing microLED technology in the form of video walls, which display dynamic, real-time information in a variety of formats, providing up-to-date information to manage operations. MicroLED-based video wall technology enables control rooms to:
Take in multiple information streams and keep up with continuously changing information. To be effective, control center teams need to be able to rely on up-to-date information from various video feeds from security cameras, drones, CCTV, handheld devices, and other sources. This data must be displayed in real time on a single screen and visible to everybody in the control room simultaneously. With these capabilities, decision makers are better able to monitor, assess, and respond quickly to developing situations.
Provide the flexibility to configure as required. Modern video walls can be configured in almost any design. They can display content across just part of the video wall or the entire wall. Some, like Samsung's The Wall, have no limits at all on size, shape, and structure.
Foster collaboration. When it comes to making quick, effective decisions, collaboration is crucial. Modern, microLED-based video walls that integrate with videoconferencing, webcams, and online video meeting platforms make it easy for everybody to see the same information at the same time, thus improving decision making.
State-of-the-art video wall control room technology
As a vendor at the forefront of microLED innovation, Samsung was the first to introduce a modular video wall display with microLED technology in 2018. From the beginning, The Wall delivered unprecedented definition without restriction to size, resolution, or form, along with very high brightness, wide contrast ratio, clear color, and low reflection. It also can display multiple video feeds on a single screen, an important feature for control rooms. The Wall can be customized to any size or shape, even wrapping around corners.
Since that time, Samsung has continued to improve The Wall. Today, it takes advantage of HDR10+, a new format of high-dynamic range (HDR) that provides even higher levels of brightness and contrast, as well as true-to-life colors and details. It also features Black Seal technology, providing purer black levels with enhanced depth and details along with Ultra Chroma technology, which produces RGB colors twice as pure and more accurate than conventional LEDs. Other features include 20-bit processing for excellent contrast ratio and natural tonal gradients, and a micro AI processor to enhance image contrast while removing noise instantly.
Earlier this year, Samsung unveiled its newest video wall product, The Wall All-in-One, which comes in three configurations, each with all inclusive-components built in from control box to speaker. This enables organizations to install the unit in about two hours.
Finding the value in microLED technology
Control room operators need up-to-date information at their fingertips from multiple sources without worrying about responsiveness, reliability, or visibility. Today's video walls, powered by microLED technology, provide those capabilities, enabling control rooms to meet their missions.
Learn more about large-format displays at government agencies in this free guide. If you're not sure what sort of displays are best suited to your work environment, explore Samsung's diverse range of innovative business displays.