Imagine watching your favorite sports team in crisp, clear, larger-than-life detail like music mogul Clive Davis, who watches his beloved New York Yankees on The Wall in his home. Or take Phil Trubey, who hosts movie nights in his home theater that boasts its own marquee, ticket booth, and concession stand.
The Wall has revolutionized the large-format display market with its sleek, futuristic look and user-friendly interface. From grand cruise ships and casinos to high-end showrooms, The Wall provides the perfect way to showcase products and services in extraordinary detail. But why not incorporate it into your own home to elevate its design and enhance the visual experience?
Today, individuals can create the same larger-than-life "wow" moments inside their private spaces, such as yachts and home theaters. Similar to its more business-oriented counterpart, The Wall All-in-One features state-of-the-art technology that delivers unparalleled contrast and immaculate detail. The Wall All-in-One, however, is designed for simple installation.
The ultimate LED screen for private residences
Most movie theater screens don't come close to matching the picture quality of The Wall All-in-One. That's because they still use digital projectors, which can't compete with high dynamic range (HDR) imaging and microLED technology.
Discerning differences in color wavelengths is essential to achieve the most lifelike and realistic images — and the greater that difference, the better. Black Seal Technology creates a perfectly uniform canvas on which Ultra Chroma Technology can produce vibrant, precise, and accurate colors. This renders optimum peak brightness and grayscale expression — a combination that creates unparalleled contrast for you to amaze your guests. Because it creates a protective layer around each individual LED module, The Wall All-in-One also generates less heat than other direct-view LED technologies, making it more energy efficient and durable than other large-format displays.
How to plan and deploy direct view LED signage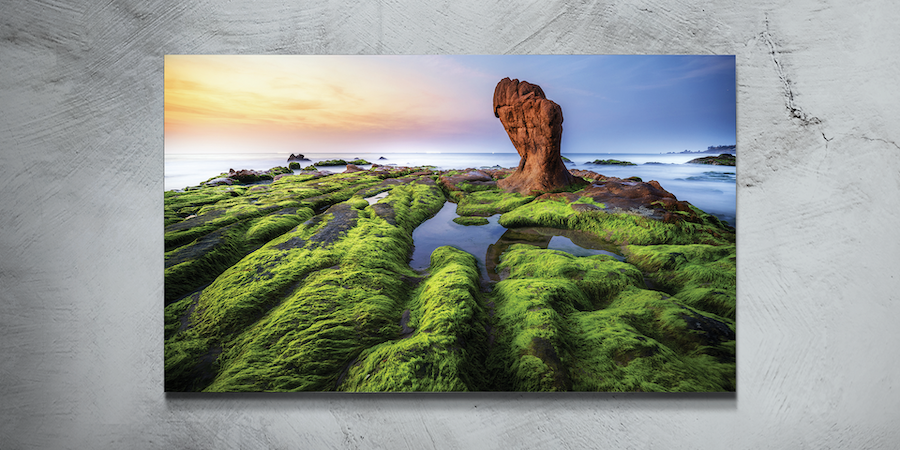 Everything you need to know about choosing your LED displays for optimal viewing indoors and out. Download Now
AI upscaling powers next-level detail and definition
The Wall All-in-One also boasts the newest and most innovative display technology on the market today, including the ability to upscale images using AI. The machine learning-based AI that is built into The Wall All-in-One analyzes and adapts content in real time rather than stretching it to fill a 4K display, as is the current industry standard.
Instead, Samsung's AI mimics the human neural network to automatically populate additional pixels, improve the display's resolution, and produce crisp, sharp visuals. In addition to upscaling video resolution, the display's built-in AI reduces video background noise and repairs distortions caused by file compression. Upscaling resolution may vary based on the resolution support of individual models.
Up and running with easy, seamless installation
Since there's no special equipment or components involved, The Wall All-in-One requires significantly less installation time, typically only taking two people about two hours. And while most video wall installations require separate components, The Wall All-in-One integrates the control box and speakers into the device, so there's no messy wiring or lengthy and confusing configuration to worry about, making it one of the best LED screens for the home theater market.
Most importantly, once installed, it operates like a standard television. You can watch live TV or stream movies, shows, and music from your favorite apps. Connect and mirror up to four devices simultaneously for collaborative meetings and events, or take video calls in style with integrated software features such as LogiTech cam, Google Duo and Cisco Webex.
The Wall All-in-One comes in just two sizes and two resolution types, which makes choosing the appropriate model for your space a fairly easy decision.
The Wall All-in-One gets you in the large-format game — fast
The Wall is geared for businesses and retail advertisements, which makes it slightly more complex to install and operate. Consumer-facing large-format video walls, however, are more accessible — especially with The Wall All-in-One, which delivers the ultimate viewing experience out of the box.
The Wall All-in-One includes everything needed to begin immediate operation. The speakers, control box, and wall brackets are all integrated directly into the display, so you can skip the confusing configuration process and simply focus on getting the display up and running quickly.
For discerning individuals with an appreciation for detail and an eye for quality, The Wall All-in-One provides easy installation, unrivaled picture quality, and effortless operation.
Discover the endless applications of Samsung's The Wall All-in-One, and deliver the ultimate viewing experience right out of the box. And find out everything you need to know about selecting LED displays for optimal viewing — indoors and out — in this free guide.