Many people seek careers in the public sector hoping to make a difference, whether it's providing essential services to fellow citizens or helping inform the development of new policies and programs. To truly support them in that work, however, the public sector may have to make a difference in how it equips employees to communicate and act as a team.
According to a 2023 survey of government HR leaders, for example, the call to serve is increasingly competing with the potential benefits of working for the private sector instead. In fact, 58% expect scarce talent and labor shortages in the public sector for the next two years. No wonder 65% said retention is among their top three priorities.
These concerns are borne out by data from the U.S. Bureau of Labor Statistics, which shows the number of U.S. government job openings has skyrocketed from 700,000 in 2020 to more than a million in March 2023.
Addressing this gap and winning the race for top talent will require government organizations to recognize the shifts in employee expectations. This was best summarized in a 2022 report that suggested, in addition to providing a sense of purpose, government employers need to offer increased flexibility in how, where and when people work.
Hybrid work, in other words, is here to stay within the public sector, and devices like the Samsung Galaxy Tab S9 will be integral to fostering collaboration across all levels of government.
Hybrid work in the government sector today
Though working in government can involve everything from managing permit applications to inspecting critical infrastructure, everyone needs to be able to stay connected to their team regardless of where they are. Fortunately, public sector employees have been quick to adopt smartphones and tablets that have allowed them to effectively share ideas, coordinate projects and solve problems together.
Shop special offers
Find out about offers on the latest Samsung technology.
see deals
Speak to a solutions expert
Get expert advice from a solutions consultant.
Talk to an expert
The critical importance of mobile technology in government was underscored in a 2023 survey that found 45% of U.S. public sector employees would consider looking for a new job if hybrid work policies were reduced. This isn't to suggest government staff want to be remote-only. The same research found 85% feel in-person working is best for team-building and integrating new hires, while 64% found working remotely helped them with tasks that require deep focus.
Researchers at Harvard University, meanwhile, found public sector employees cited improvements in personal wellness among the top benefits of workplace flexibility. As a result, they recommended governments make technology choices that facilitate hybrid work by default.
Security considerations for hybrid work in government
Of course, governments are making decisions around hybrid work policies at a time when cyberattacks are becoming ever more common and sophisticated. Besides nation-state threats, public sector organizations are much like other enterprises in being subject to phishing schemes, ransomware, and data breaches caused by rogue insiders.
The risks governments face are compounded by the fact that, according to recent research, 69% of public sector organizations do not encrypt devices and only 14% see securing the hybrid workforce as a top priority. Employees, on the other hand, are worried: 28% of government IT directors said staff fear a cyber breach when using technology to share data.
How Tab S9 helps public sector organizations embrace hybrid work
With devices like Galaxy Tab S9, Samsung is proving public sector organizations can put equal emphasis on maximum flexibility for their workforce and robust security and privacy protection.
As a Google Android Enterprise Recommended (AER) device, for example, the Tab S9 has been verified for delivering the kind of mobile computing experience public sector organizations expect. For ultimate peace of mind, however, the Tab S9's true differentiator is the robust security offered by Samsung Knox, which works at the hardware level from the chip up to defend against the most challenging threats.
Government IT departments also have access to enhanced security via Knox Vault, a combination of hardware and software embedded into select Galaxy devices to defend against physical and other threats. Samsung Message Guard fends off malicious attacks that stem from multiple permissions, and Secure Folder provides an, optional, fully encrypted space for personal apps and data with multilayered security. Finally, the Tab S9 supports bio authentication with a fingerprint scanner that public sector employees can use to unlock their devices with a single touch.
Enable your mobile workforce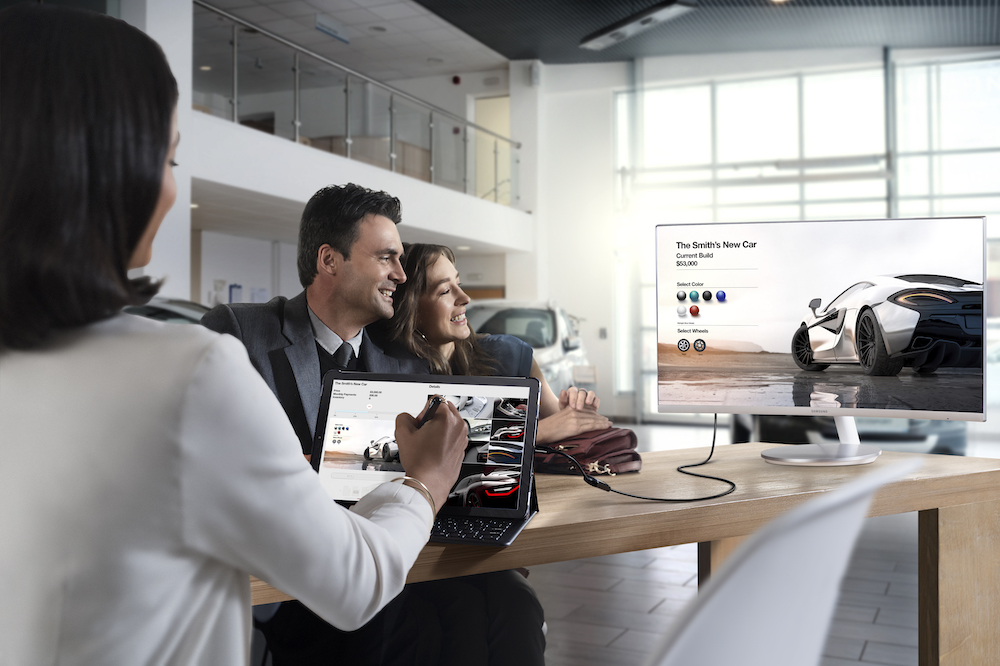 Get your free guide to equipping mobile workers with Samsung's Galaxy Tab S4 and DeX. Download Now
While government IT departments will appreciate the strength of Samsung Knox, employees will value how the Tab S9 streamlines hybrid working. This includes its powerful Snapdragon 8 Gen 2 processor, a large Dynamic AMOLED 2X display, dual SIM and IP68-grade durability. The Tab S9 also provides access to pro-level apps like GoodNotes, which government employees can use along with the S Pen Pro2 to mark up and annotate important documents.
True hybrid working also means easily moving from one mobile device to another. The Tab S9 delivers on this by offering a Galaxy Connected Experience, which means public sector workers can manage smartphone calls and notifications using their tablet. Then there's Samsung DeX, which allows them to connect their Tab S9 to a monitor or screen when they want a desktop-like experience or to present information to colleagues in person.
What secure hybrid work will bring to the public sector
Secure hybrid collaboration will transform the day-to-day life of government employees. With a device like the Tab S9, they can start off by checking their email and schedule during their commute, then prepare for fieldwork at the office.
Capturing insights on their tablet is easy when they're conducting research at off-site locations, as is using it to conduct videoconferencing sessions with their team to share fieldwork and get feedback. The Tab S9's long-lasting battery will also ensure they have power to spare when they need to prepare a report once they're back at home.
If the future of working in the public service is all about flexibility and collaboration, it has already arrived in Galaxy Tab S9. Government organizations will quickly see the difference the powerhouse tablet can make in the quest to attract and retain the talent they need.
Tap into your full potential and discover new working possibilities with the Galaxy Tab S9 series. And learn how you can get the most out of Samsung DeX on your Galaxy tablet.