Technology is sparking a digital revolution across many industries — including retail. Amazon is pushing the boundaries of digital retail further than many imagined by launching Amazon Go, a brick-and-mortar retail store that has no line and no checkouts; shoppers can simply pick up their groceries and go.
The first Amazon Go store, which is currently in a closed beta for Amazon staff only, will open to the public in Seattle in early 2017, the e-commerce giant said. Amazon is no stranger to disrupting retail, having done so successfully more than 20 years ago when it launched its first online store. It continues to test out new ideas, including warehouse robots, one-press Dash buttons and even a drive-thru grocery store.
"We created the world's most advanced shopping technology so you never have to wait in line. With our Just Walk Out Shopping experience, simply use the Amazon Go app to enter the store, take the products you want, and go! No lines, no checkout," the company said.
Millennials are changing the way we shop.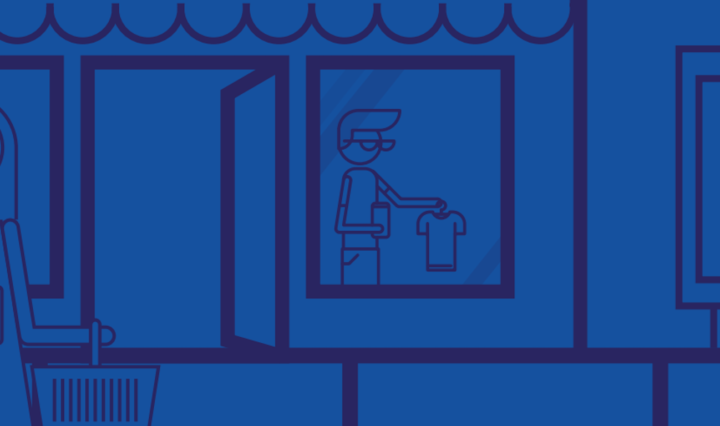 Get the eBook to learn how new retail solutions can help you win over millennial shoppers. Download Now
Amazon hasn't detailed just exactly how the technology works, but it says it mimics the technology being used in today's driverless cars, including deep learning algorithms, sensor fusion and computer vision. GeekWire reports that, according to patents Amazon has filed, the "sensor fusion" aspect of the technology would see inputs from various sensors (image, weight, etc.) combined to allow the Amazon Go store to know what items a customer has placed in their basket.
While Amazon's vision for the future of a digital retail revolution is still very much in the experimental stage, technology is already disrupting offline retail, and it's only going to increase in 2017. "Technology advances have created an environment in which the line between brick-and-mortar and e-commerce is blurred and fading fast," Mike Paley, senior vice president and general manager of shopper marketing at The Marketing Arm, told the Institute for Digital Transformation.
At National Retail Federation's (NRF) Retail's Big Show conference, which takes place in New York next month, an array of this new technology will be on show, highlighting just how retailers can take advantage of solutions such as:
Beacons: This Bluetooth-powered technology identifies customers' mobile devices and pushes content to them depending on their location in the store.
RFID: Radio Frequency Identification sensors can be used across all types of stores to create smart shelves and identify what stock is selling best, allowing businesses to adapt their strategy in real time.
Smart price tags: Replacing paper price tags with digital ones allows a store to quickly change prices based on real-time feedback from RFID sensors.
Digital displays: From touchscreen displays that show a store's layout and catalog, to magic mirrors that allow customers to virtually try on clothes, digital displays can add a wow factor to the retail experience.
As we look to the future of digital retail, brick-and-mortar stores must use new and engaging technology, such as that featured at NRF, to stay ahead of the competition and keep customers coming back.
Our retail solutions offer cutting-edge technology that will enhance the customer experience and keep your business at the forefront of the digital revolution.