The way we work has changed. Business professionals today are always on the go, constantly connected, and often working across multiple devices.
To stay competitive in a quickly evolving business landscape, your team must be able to work flexibly and efficiently from anywhere. With collaboration becoming ever more critical to your success, you need a smartphone that works at the speed of business — all while keeping your critical data safe. Is your current phone up to the task?
Whether you're a business professional, a small business owner, or an enterprise CIO equipping an entire workforce, the new Samsung Galaxy Note10 gives you the mobile productivity, performance and defense-grade security you need. In fact, with the next-level power of the Note10, you only need one device to power your productivity.
Here are 10 reasons to upgrade to the Galaxy Note10 today.
1. A Wand for Work
With the S Pen, your thumbs can take a break. Just pop out the S Pen from your Galaxy Note10 and you can immediately begin taking notes, automatically converting your handwriting to text, and sharing your creative ideas with colleagues.
Over the years, Samsung has refined the S Pen and accompanying productivity apps, adding new features and enhancing the user experience. For example, the Smart Select feature lets you quickly select, lasso and clip whatever grabs your interest. Screen Write allows you to instantly annotate anything that you are viewing on your phone. And Translate lets you hover over foreign language texts to get real time translations and check your pronunciation.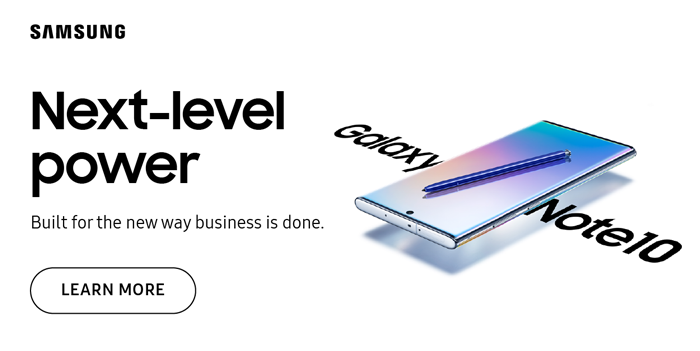 If you've used a Galaxy Note device before, you'll be familiar with the power and precision the S Pen gives you when interacting with your device. But with the Note10's arrival, the S Pen has received a powerful upgrade. It now includes Bluetooth Low Energy connectivity, a gyroscope and an accelerometer, allowing you to control your device using simple gestures, almost like a magic wand. So, the next time you're taking a photo, you can simply circle your S Pen to zoom in and press the button to take your shot. Or, when giving a presentation, you can use the connected S Pen to advance your slides — from up to 30 feet away from your phone.
2. See More, Do More
The more screen time you rack up on your phone, the more essential it is to have a screen that actually works with you. With the Galaxy Note10's Cinematic Infinity Display, you can see and do more than ever before. View and edit documents on the go or multitask between different apps with ease. Quickly review presentations, examine photos in brilliant color or pinpoint the fine print in a contract.
Samsung has introduced two sizes with this edition of the Note, both featuring near bezel-less designs. The smaller Note10 has a 6.3-in. display, while the Note10+ gives you an impressive 6.8-in. screen — the largest on a Galaxy Note device yet.
These large screens are particularly beneficial when working with two apps simultaneously. If there are two apps that you regularly use together — like email and calendar, or Samsung Health and Spotify — you can also create an App Pair to launch them instantly in split screen.
3. Desktop Computing, Mobile-Powered
The Note10's computing power extends far beyond the palm of your hand. You can connect your Note10 to a monitor, or a PC or Mac, to take advantage of the Samsung DeX platform.
DeX is short for "desktop experience," and that exactly what you get. Connect your Note10 to a monitor via an HDMI adapter, pair a keyboard and mouse, and you can get work done in an intuitive desktop environment that is entirely powered by your smartphone. DeX lets you access all your apps in resizable windows, drag and drop files, and use all the standard keyboard shortcuts. For mobile workers who are ready to ditch the laptop, it's a compelling way to go.
Go Mobile-Only With DeX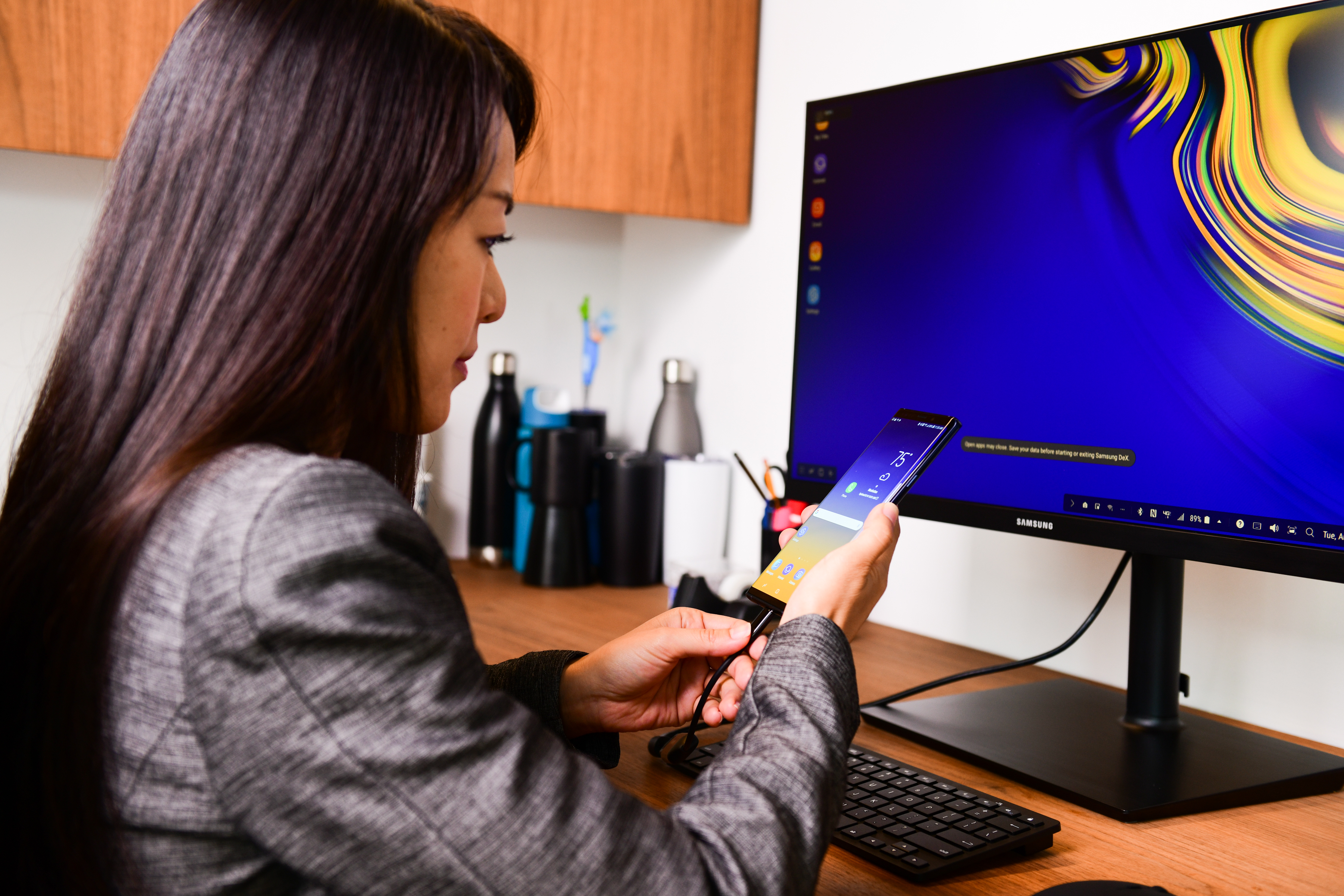 Your comprehensive guide to rolling out a mobile-only solution for your workers. Download Now
With the launch of the Note10, Samsung is making DeX even more versatile. While the original DeX was about working more productively without your PC, DeX for PC now lets you work more productively with your PC, too.
DeX for PC is an application that can be installed on both Windows PCs and Macs. Once installed, just connect your phone to your laptop via a USB cable and you can now access DeX alongside your regular desktop.
The key idea behind DeX for PC is to merge your mobile and desktop experiences. You can easily access messages, take calls and check smartphone notifications right on your laptop screen. It's also great for quickly transferring photos, videos and other content between devices.
4. Native Microsoft
The Note10 delivers another productivity boost through the close integration with Microsoft's Office suite and cloud services. Not only does it come with Office Mobile, Outlook and OneDrive preloaded, but you just need to link your Microsoft account once for seamless access.
The Office Mobile suite lets you access PowerPoint, Word, Excel and more while on the go, and is even more powerful when combined with DeX. Outlook for Android gives you a focused, smart email inbox that highlights the most important communications and information. Lastly, OneDrive is a native cloud storage option on the Note10, so your can access all your files and content across devices.
The net result is greater productivity. You can work anywhere, seamlessly, using the familiar Office suite. Whether firing up an email in Outlook or taking notes on a PowerPoint deck, you can perform all of these tasks and more on the go, just as you would if you were working with a PC.

5. Intelligent, All-Day Battery
Now that you can be just as productive on your phone as you would be on a PC, you may be wondering just how much battery life you have available to power all this mobile multitasking. The Note10 and Note10+ incorporate powerful batteries, but equally as importantly they leverage intelligent power-saving technology to ensure you can stay productive all day long.
First introduced on the Galaxy S10, these adaptive battery life management features learn how you use your Note10, automatically optimizing power usage to support the way you work and live. Additionally, new super-fast charging makes it possible to get hours of productivity from just a few minutes of charging. Whether you're working late or traveling for business, you'll still have the power you need to stay connected.
6. Pro-Grade Camera
When inspiration strikes, you don't want to miss the moment. Capture, edit and share incredible photos and videos with a camera setup that can do it all.
The Note10 and Note10+ both feature three rear-facing cameras, including a 2x optical zoom and an ultra-wide, 123-degree lens. The Note10 also includes a time-of-flight camera for depth sensing applications. Super Steady helps you capture smoother video and sharper photos, while a new zoom-in mic feature uses directional microphones to focus in on your subject and reduce background noise.
The Note10's pro-grade camera setup is built to perfectly record everything you need, whether you're wrapping up an off-site retreat or just brainstorming ideas for a new initiative on the way home from the office. Edit on the go, annotate and add text onto video with ease and precision using the S Pen. Now with the Note10, the camera is much more than "just a camera." It's a creativity enabler.
7. Work at the Speed of Business
As the pace of business accelerates, we're all feeling the pressure to work more productively than ever before. In the midst of all this rapid change, wouldn't it be nice to have technology adapt to the way you work rather than demanding that you adapt to it?
The Note10 devices deliver the speed you seek with the very latest 7nm chip and a full quota of RAM — 8GB on the Note10 and 12GB on the Note10+. Even better, they feature neural network processing that learns how you like to work and optimizes performance over time. The more you multitask, the faster it gets. The device evolves alongside you, supporting your productivity no matter what changes come your way.
8. Defense-Grade Security
Peace of mind is essential when it comes to the security of your business data. You shouldn't have to wonder whether the files on your device are safe and secure, and thanks to Samsung Knox, you don't have to. This defense-grade mobile security platform encrypts all data by default, using a government-certified encryption module. The most sensitive data can also be completely isolated in a separate ultra-secure folder.
But security isn't just about hardware. Samsung has worked closely with the leading mobile device management (MDM) solution providers to enable full integration of the Knox APIs. This means IT can put in place more effective mobile security controls using their preferred MDM and respond faster to emerging cyber security threats.
Samsung also offers its own affordable cloud-based enterprise mobility management solution, and services like Knox Configure to customize mobile devices for specific business needs.
9. Always-On Support
As your company is reaching toward its next level of growth, solid technical support and trusted mobile technology expertise can help it scale. From deployment to customization, Samsung keeps your company moving forward with Samsung Business Services. Technical issues won't be a problem again, as Samsung ProCare augments your IT team with direct access to enterprise mobility experts. Your business can keep focusing on what matters most while Samsung provides direct support for every Samsung hardware- and software-related issue.
10. Hyperfast 5G
Your business already moves fast, and it's poised to receive a turbocharged boost as 5G arrives nationwide. Now with the Note10+ 5G, you can search at the speed of thought, stream with minimal lag and share and download large files in near-real time. What's more, you can store, manage and process near-limitless data in the cloud with ease using the Note10+'s 5G connection. Whether you're finalizing a proposal in PowerPoint or sharing a timely video clip from a conference, you can rest assured it will reach its destination in short order — and you can get back to the other pressing items on your to-do list.
Learn more about the next-level power of the Galaxy Note10 and take advantage of special business pricing. You can also explore Samsung's full range of devices and find your company's best fit by taking this brief assessment.