Tremors and slow movement are common Parkinson's symptoms, and early research has shown that keyboard data — including characters pressed, keystroke latency and key hold time — can accurately detect early Parkinson's disease (PD). However, drug-induced parkinsonism (DIP) displays similar symptoms, but requires an entirely separate treatment process.
Applying technology to help properly identify DIP was the challenge that won team KeyWatch a Samsung Breakthroughs That Matter award in the category of Rare and Orphan Diseases at the recent MIT Hacking Medicine D.C. Grand Hack held at Samsung's D.C. Solutions Center.
Getting It Right
"Misdiagnosis is a major challenge with DIP and impacts 10 to 15 percent of the parkinsonism population, which can be significant when you start to look at the overall veteran population," said Hoyt Gong of the challenge his team was looking to solve.
How Smart Are Your Clinical Communications?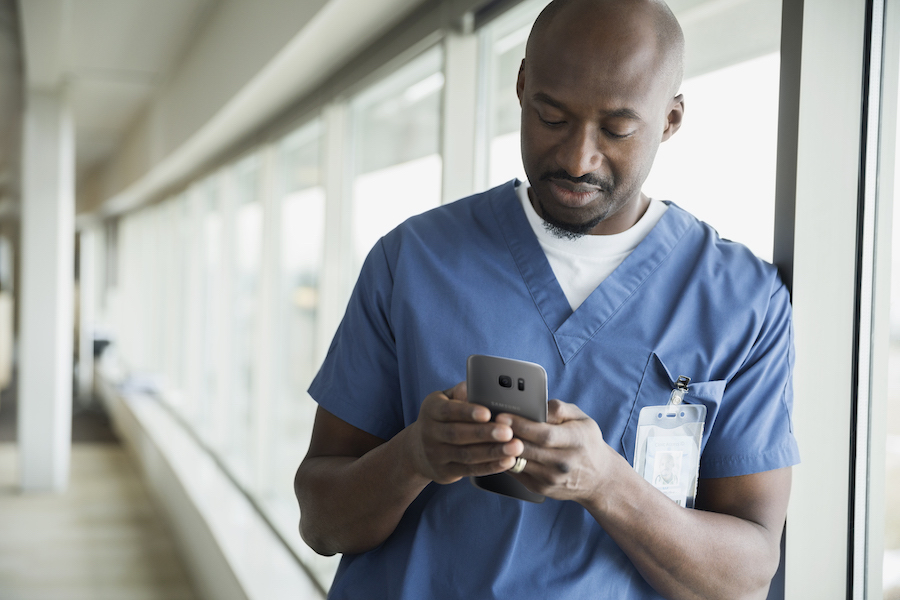 Take this quick assessment to evaluate your hospital's technology use and get personalized advice. Download Now
The KeyWatch team of Gong, Michelle Hsieh, Kevin Li, Jackie Peng, Vicki Lu and Sophia Lin applied this understanding to create a prototype that uses an everyday keyboard along with a wearable Samsung Gear S3 smartwatch to aggregate diverse datasets and deliver continuous and quantitative monitoring of parkinsonism symptoms. To then make this valuable information easily accessible, the solution features a Chrome extension that collects and stores these data points so they can be visualized and used by physicians for dynamic diagnosis, treatment and dose titration.
"The ultimate power of the KeyWatch prototype is that it enables physicians to more accurately monitor parkinsonism symptoms and intervene with the correct critical treatment path more quickly than ever before," said Lu.
Beyond the Prototype
Beyond the MIT Hacking Medicine D.C. Grand Hack, the team is looking to further the prototype by working with neurologists and clinicians for additional feedback and development. The hope is that the KeyWatch project can add to the field of study around a rare disease such as DIP and set a precedent for managing other drug-induced diseases.
"I am honored to be able to join this team and participate in this [MIT Hacking Medicine D.C. Grand Hack] event," said 12-year-old Lin, one of the event's youngest participants and KeyWatch team member about her overall experience. "It was a great opportunity for me. As a middle schooler, I learned how to do research, how to implement great ideas and how to do teamwork in this project. By observing other teams' presentations, I also learned a lot that I would never be able to learn in the classroom. It is a very exciting experience and it encouraged me to continue my interests in STEM."
Rewarding Innovation
Samsung Breakthroughs That Matter award winners were chosen based on which innovations most effectively embraced Samsung's Galaxy Note9, Gear S3, software development kits (SDKs) and the Samsung Knox platform to create a transformative digital health solution with the potential to improve veteran care quality and access. Winning team members received a Note9 smartphone and ongoing access to Samsung Developer Program mentors and resources to continue the development of their solution after the D.C. Grand Hack concludes.
Other winners in the MIT Hacking Medicine D.C. Grand Hack included team CrowdAid in the category of Access to Healthcare for a solution to crowdsource funding for uninsured veterans, and team SAIF in the category of Mental Health and Professional Burnout for an artificial intelligence (AI) solution to detect mental and emotional distress and arrange early intervention. Past Samsung Breakthroughs That Matter award winners include teams Simulacron and Match Perch.
The MIT Hacking Medicine events aim to energize, infect and teach healthcare entrepreneurship and digital strategies to scale medicine as a way to help solve problems worldwide. For more information and upcoming events, visit hackingmedicine.mit.edu.
Get your free guide to optimizing mobile communication in a hospital setting. Looking for inspiration to improve population health management? We spoke with Suzanne Shirley from the Veterans Health Administration (VHA) about innovation and private partnerships.