We recently had the honor of hosting the MIT Hacking Medicine D.C. Grand Hack at our Samsung D.C. Solutions Center, together with the Veterans Health Administration (VHA) and Massachusetts Institute of Technology (MIT). It was amazing to see some of the leading minds in healthcare, academia and industry come together with the singular goal of improving veteran care.
One of the inspirational individuals who helped guide this collaborative event to success was Suzanne Shirley, entrepreneur in residence, U.S. Department of Veterans Affairs (VA). I sat down with her at the event to discuss in more depth why events like the MIT Hacking Medicine D.C. Grand Hack are so critical, and how industry and government can work together to drive innovative solutions that address the VA's most challenging healthcare needs.
Balcik: The VHA has the monumental task of caring for a broad population at 1,250 healthcare facilities serving over 9 million veterans a year. What are some of the greatest challenges VHA faces in serving this mission?
Shirley: The VA is the largest integrated healthcare system in the country, which means we need to find new ways to treat an extremely diverse population — whether it's treating veterans in urban or rural communities, delivering care in hospitals, outpatient clinics or at home. We know that we're in a unique position to help transform the way America delivers healthcare and we're rising to that challenge by collaborating with industry and academia to design cutting-edge solutions to some of the toughest challenges we face.
Balcik: Tell us a little about how VHA is fostering an innovation ecosystem and how it's become a part of the organization's DNA.
Shirley: The VHA continues to lead innovation in healthcare by participating in research with affiliate universities throughout the United States. Our innovation ecosystem consists of three portfolios that are collectively tasked with cultivating, scaling and diffusing internal solutions designed and developed by frontline staff, while also engaging in public and private sector collaborations and partnerships that accelerate innovation and enable us to provide better care and a better patient experience.
How Mobile Solutions Improve Patient Experience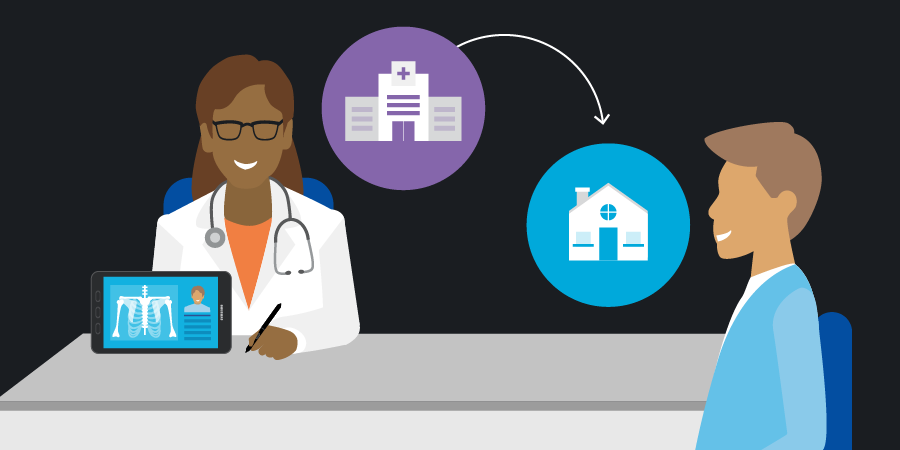 Get your free guide to enhancing the patient experience with mobile technology. Download Now
The first portfolio is the VA's Innovator's Network, which is made up of 36 participating medical centers and, through pitch competitions and internal accelerator programs, invests in the cultivation and scaling of internal innovation. To date, the Innovators Network has supported the development of an incredible portfolio of VA innovations in prosthetics, assistive technology, treatment of spinal cord and traumatic brain injuries, mental health, substance abuse, suicide prevention, surgery and more. The second is the Diffusion of Excellence Initiative, which then looks to spread innovation and best practices throughout the enterprise.
The third portfolio, Strategic Initiatives, serves to establish national scale partnerships with industry that infuse the enterprise with cutting edge technology and private sector innovation. Together, these programs truly embody what sets us apart from other healthcare systems. As a value-based organization, we constantly ask ourselves, "Does this solution improve the lives of the veterans we serve?" For those that do, we've created a pathway to develop and refine them and to scale and deliver them in a more efficient and effective way than ever before. Through the innovation ecosystem, we are redefining patient care.
Balcik: You have a very interesting role at the VHA. Can you explain what the position of Entrepreneur in Residence encompasses and how you help further innovation at VHA in this role?
Shirley: My role as Entrepreneur in Residence is a year-long fellowship within the innovation ecosystem. A large focus of my fellowship this year has been to establish academic and industry partnerships that allow for public/private sector collaboration in solving some of the VHA's toughest challenges. This particular partnership with MIT and Samsung has created opportunities for communities in cities across the U.S. to come together and tackle challenges like access to care, rehabilitation and veteran suicide. The solutions that have come out of these events have already led to local VA Medical Center pilot studies and national scale collaborations with leaders in industry and academia that improve care for our veterans. I am continuously inspired and humbled by the dedication these communities show in helping us improve the lives of veterans everywhere.
Balcik: What do you hope to accomplish near and long term with hackathons and the D.C. Grand Hack specifically?
Shirley: The VA is uniquely poised for innovation, but some of our best qualities are also our greatest limitations. For example, the vastness of our system can be good for scaling but bad for agility; our comprehensive longstanding electronic health record offers rich data resources to better understand pathologies and treatments, but so often we lack the ability to utilize the data to its full potential. We are, without a doubt, the best at caring for our country's veterans, but we can't do it alone. Engaging fresh perspectives, bringing together bright minds and cutting-edge technology, and facilitating open exploration of challenges and solutions is how we will continuously redefine veteran care.
Balcik: Samsung is proud to collaborate with VHA and MIT. What does Samsung uniquely bring to the table and why is working together with industry so important?
Shirley: Samsung and VA have partnered on this series of Hack and VA appreciates their support of healthcare innovation and our nation's veterans. By providing hack teams cutting-edge mobile solutions and mentorship support throughout the event, Samsung has enabled participants to explore and push the boundaries of what's possible when you combine technology with fresh thinking.
See some of the innovations in healthcare information technology already emerging from Samsung's partnership with MIT and the VA. Explore how displays are easing pain points and transforming clinician and patient experiences in this free white paper.