The increasing sophistication of desktop monitor technology is taking costs and clutter out of workspace planning. The latest such advancement has included a multitasking keyboard, video and mouse (KVM) switch right inside the display.
A KVM switch is a small hardware device that allows computer power users to view and control different computers using just a single keyboard, display and mouse.
This is particularly valuable at workstations — and gaming setups — that have different PCs or other devices feeding into one desktop screen. Although some multitaskers can simply run numerous applications off a single PC, there are circumstances when different devices are needed for different tasks.
Without a switch, users are reaching in behind monitors, plugging in different devices or fiddling with a series of controls and settings to get the desired input on a screen — hopefully at the proper resolution.
A new breed of desktop displays — like Samsung's CJ890 Series 49-in. curved monitor — includes the KVM switch, allowing users to toggle between computer inputs and controls with a single button.
Cutting Costs and Clutter
The costs and capabilities of external KVM switches vary greatly. Although it's possible to source entry-level devices for less than $50, that price range will deliver consumer-grade technology, which probably won't meet the operating needs and reliability levels required by desktop IT teams in most organizations.
The Complete Guide to USB Type-C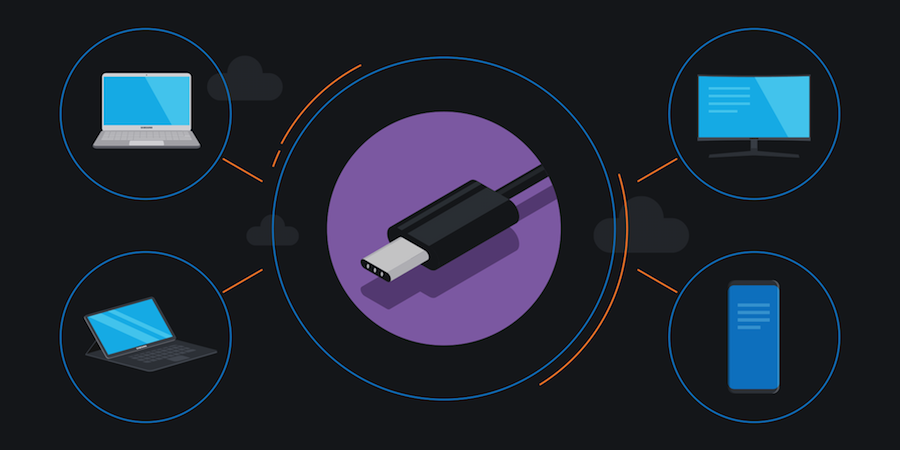 White Paper
Learn how to clear desk space, streamline workflow and save time and money with USB-C connectors. Download Now
With a built-in switch, that cost is gone, and over a larger enterprise rollout, the savings prove significant. Trimming even $150 per KVM unit out of a capital budget for 100 workstations would represent a savings of $15,000.
An equally important benefit is how incorporating the switch in the display declutters a desktop workstation. Even messy people appreciate fewer objects on their desks, but the more tangible rationale is that workstations are shrinking as business owners try to reduce commercial leasing and office build-out costs.
While a KVM switch is relatively small, it's still more "stuff" at a desk where space may be at a severe premium.
Integrated switches are also IT support-friendly. Generally, the fewer distinct devices they have to manage, the fewer potential points of failure they face. That's particularly true when the inputs for computing devices are plugged in at installation and then left alone, because a switch handles changing inputs.
Working Efficiently
PC power users are all about working efficiently — using keyboard shortcuts and tools like switches to quickly work with a variety of applications. The KVM switch allows a multitasker to jump not only between applications, but between computers.
This makes a difference in fields where super-powerful PCs are needed for medical and seismic imaging, 3D graphics or video editing. More conventional applications — like word processing, spreadsheets, email, social media and other office collaboration — run separately off more conventional desktop or laptop PCs.
Going Wide
Built-in KVM is attractive, but there are other arguments for using an extra-wide screen like Samsung's curved 49-in. monitor.
First, costs and space are further saved by having full USB-C support also built into the display. That removes the need for a separate docking station, as the display can operate as the hub for a keyboard, mouse or other peripherals.
Second, an extra-wide screen does not break operator views into two or more zones, bisected by the frames of two or more monitors that are joined together to create large visual desktops. An extra-wide monitor provides a seamless view.
Third, besides looking nice, research has shown that big curved monitors are also genuinely easier on users' eyes. The curve places information at the edges of the display at roughly the same distance from the viewer as the information in the middle. That immersive setup means users don't have to focus and refocus as they scan the screen, thus reducing eye strain.
Don't Overlook the Details
It's reasonable to assume most people in workplaces wouldn't know what a KVM switch is, and are far more intrigued by size, shape and color qualities of a screen.
But details matter, and having built-in KVM capability could make a difference both on productivity and budgets, and save workstation space that's increasingly hard to come by.
Wondering how employees can become multitasking power users with their desktop workspaces? Download this free white paper to find out. If you're planning your next workspace design, don't just think big — think ultra-wide.