Modern manufacturing stands on the cusp of a new industrial revolution: Industry 4.0.
This new approach requires manufacturers to fundamentally rethink how they operate. Smart factories are leveraging a whole host of radical new technologies to increase productivity and drive revenue, including Industrial Internet of Things (IIoT) data from embedded machines, access to cloud and hybrid computing, artificial intelligence (AI), machine learning and augmented reality (AR). And the ability to harness these technologies begins with mobility.
Forward-thinking manufacturing companies are using mobile devices as the platforms through which plant management and workers can access these cloud technologies with ease — and at scale — to create an agile, responsive and truly collaborative environment.
Since mobile devices are the gateway to Industry 4.0, companies still working from legacy desktop computers or green screen terminals are reading the writing on the wall: move to mobile or risk irrelevance. Embracing mobile devices comes with a particular challenge, however. How can organizations transition to an all-mobile computing strategy without disrupting productivity?
At Samsung, our answer is to adopt a solution that's the best of both worlds: Samsung DeX powered by the new Samsung Galaxy Note10. Together, they deliver the untethered advantages of mobility while allowing team members to dock their phone for desktop work as needed. Now workers can access desktop functions with integrated Microsoft Office, OneDrive and gallery sync.
Equally important, the new Galaxy Note10 empowers manufacturing companies to fully embrace the promise of Industry 4.0. Enterprises can leave creaky desktop applications and old paper-based workflows behind and access new, lean technologies faster, more easily and more securely.
Mobile Helps You Keep a Pulse on Manufacturing
Manufacturing plant managers need complete visibility into each and every aspect of the manufacturing process, from supply chain logistics to enterprise asset management (EAM) to customer order fulfillment. Transparency leads to more streamlined operations and dramatically increased productivity as problems get noticed — and resolved — faster.
Going mobile-only with Samsung DeX and a Galaxy Note10 can help plant managers achieve this level of visibility, allowing them to shift seamlessly between mobile and desktop tasks. This is a vision achievable today if manufacturing operations leaders look carefully at their workflows and invest strategically in innovative mobile applications.
Modernize Your Factory With Mobile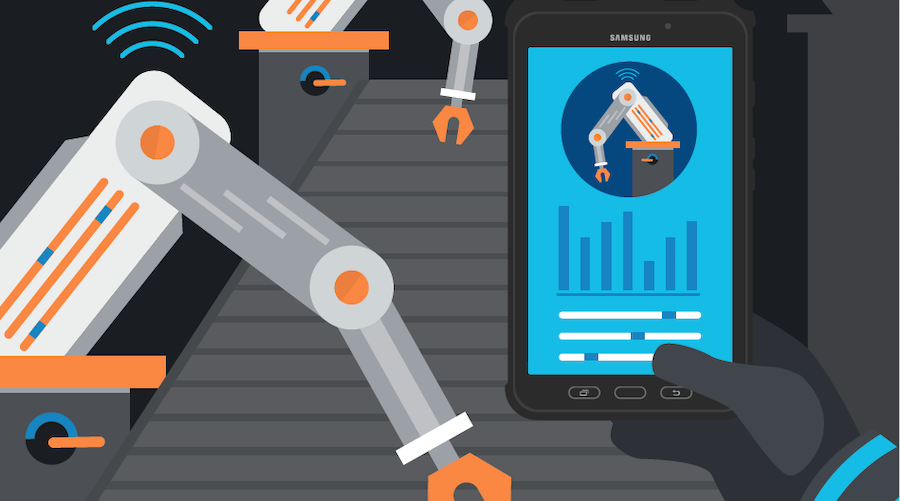 White Paper
Get your free guide to the mobile technologies that will accelerate your smart factory journey. Download Now
To understand how, let's take a closer look at a potential use case. Imagine a plant manager completing an inspection of various production stations, taking notes on the go with their Note10 and S Pen. If, for example, the manager discovers problems with a motor at a particular station, they can scan the barcode of the equipment and retrieve complete work histories related to that particular piece from the asset management application.
The manager can further investigate the matter by taking photographs of the malfunctioning machine and use overlaid images enabled by an AR application to get at the root source of the problem. With the power of 5G, the Note10 enables near real-time interactivity that the plant manager can leverage to access AR apps or livestream tutorials as needed — no more antiquated pencil and paper solutions. With the S Pen, the manager can take notes or circle an element in the photo and share it with a technician immediately. Whereas a repair work order might traditionally warrant a long trek back to the main office, such capabilities are now enabled onsite.
When needed, the plant manager can also use Samsung DeX to connect the Note10 to any HDMI-compatible display, a keyboard and mouse and in seconds be working on a mobile-powered desktop. They can order parts, update spreadsheets or write an email to a supplier with a familiar desktop experience that is powered by her smartphone.
In this mobile-only environment, plant supervisors no longer need to be tethered to their desktops or check into the office after every floor visit. In addition, advanced, secure 5G connectivity through the Galaxy Note10 delivers even more impressive productivity wins.
More Reasons to Go Mobile-Only
There are many more arguments to be made for manufacturing companies to switch to mobile-powered computing with Samsung smartphones and DeX. Here are a few:
Streamline device management: By reducing the number of devices that IT has to manage, you'll reduce your technology costs significantly. Managing a fleet of Samsung smartphones with mobile device management (MDM)/enterprise mobility management (EMM) tools allows company-wide updates to be automatically rolled out and simplifies troubleshooting, repair and replacement — which means not only will you spend less, but your IT team will be able to focus on innovating instead of just troubleshooting.

Maximize security: A security breach — whether of professional, employee or customer data — is one of the worst things that can happen to any company. This is especially true in manufacturing, where sensitive financial data regarding corporate accounts is passed back and forth, and patents may be in development. You can keep that information safe with Samsung's smartphones, built from the chip up with Samsung's Knox defense-grade security paltform. Devices come equipped with an impressive arsenal of security features, including TrustZone-based Integrity Management Architecture and advanced biometric sensors. Knox on the Galaxy Note10 encrypts all data by default, using a government-certified encryption module. Knox also secures 5G-derived hotspot connections.

Make innovation laser-focused: Now that your devices are safe and easily managed, your company is equipped to more readily innovate. By investing in mobile apps as the primary drivers of workflow innovation, you'll pave the way for your company to be a technological leader.
Manufacturing is undergoing a shift toward digitization to improve efficiency, and the move to mobile-only is an essential step toward reaping the rewards of this digital revolution.
Discover seven ways mobile devices improve task management in this infographic, or download a free guide to the mobile technologies that will accelerate your smart factory journey.