In 2019, we've seen industries transform: from enabling seamless customer and associate experiences in the bank branch to creating ground-breaking medical therapies. At the heart of these innovations are companies that invest not only in their technologies, but in the visions of developers and solutions engineers who want to change the way business is done.
The annual Samsung Developer Conference opens its doors to inspire, educate, showcase and celebrate a community of people who are devoted to building and innovating. Developers for enterprise applications have an incredible opportunity to put their stamp on how businesses operate and what they can accomplish. SDC19 will help you understand how to bring your visions to life.
Still not convinced? Here are eight reasons to attend this year's Samsung Developer Conference, October 29-30 in San Jose.
1. Experience the Art of the Possible in Creating Business Apps for Samsung Devices
Learn how Samsung technology key differentiators are at the core of innovating enterprise applications beyond the ordinary and be exposed to the art of the possible in business app development. Hear developer experiences first-hand as B2B partners demo their solutions and share what went into creating them. Dive into how Samsung technology key differentiators are at the core of innovative business app development.
2. Witness How a Wearable Solution Can Transform Customer and Associate Experiences for the Better
Get behind-the-scenes insights into how Samsung tech is enabling financial institutions to innovate rapidly, including insights from HSBC's Head of Innovation for Retail Banking and Wealth Management, Jeremy K. Balkin, on how they are enhancing the customer and employee experiences at their flagship retail bank "branch of the future" in New York City. In a first-of-its-kind pilot, HSBC frontline staff are using customized Samsung smartwatches to enhance customer service by making in-branch communications more seamless and efficient between team members.
Customize Wearables in the Workplace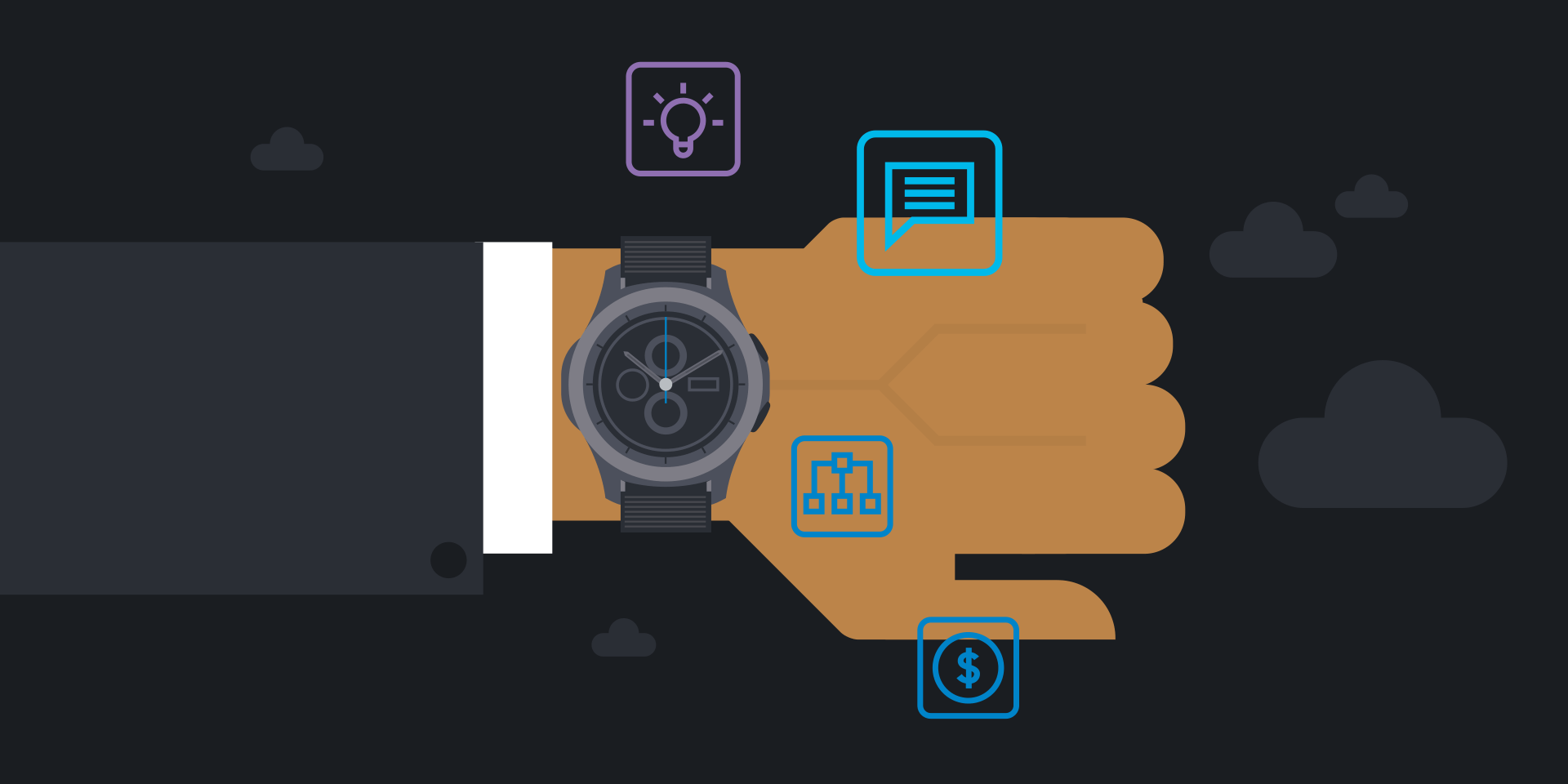 Learn how to develop new and innovative wearable apps tailored precisely to your business needs. Download Now
3. Developer's Insight: OEM — Building Your Business on Samsung
Take a deep dive into how businesses are accelerating the development of products and solutions by using the advance customization capabilities of Samsung's smartphones, tablets and wearables. Learn why enterprises are taking the original equipment manufacturer (OEM) device integration approach to customize, secure and manage services, products or solutions while keep component costs down. The discussion will draw on real world examples of how Samsung partners are creating solutions from Healthcare and Fitness to Retail through device customization.
4. Jump Start Your Move to Developing Apps for Business With the B2B App Development Launchpad
Join a crash course in B2B app development that covers all you need to know, from app life cycles to revenue generation. Make a mental shift from thinking of your mobile device as a toy to thinking of it as a tool. I will be sharing everything you need to know to develop for vertical markets, understanding the total addressable market, where to find resources and how to identify opportunities for app development, project definition, pricing, routes to market and so much more.
5. Search Uncharted B2B AppDev Opportunities With 5G
Explore how 5G technology will change the way we connect, communicate and compute — and what that means for developing innovative applications for B2B.
6. Transforming Business With DeX
Peak behind the curtain to learn how one of Samsung's differentiating technologies, Samsung DeX, led the way to a complete experiential transformation for the customers and employees of a major multinational company. See how Samsung has innovated and changed the way mobile power users can effectively use the compute power in the palms of their hands to transform how business users get things done.
7. Unlock App Potential and Disrupt and Entire Industry
Learn how Samsung's latest mobile tech is being used to solve healthcare challenges and disrupt the industry with John Wilson of Medtronic. Tap into Samsung's development ecosystem and multiuse platform, and take your creative application solutions to the next level.
8. Open the Door to Building for the New Way Business Is Done
Taher Behbehani leads a spotlight session with special guests to demystify how application development influences industrial evolution and share how today's talented developers and most innovative enterprises can come together to drive impact and change.
Ready? Grab your spot today and use the code SDC19-SER-B2B to register as a paid partner and attend SCD19 at 50 percent off the ticket price — and get a complimentary pair of Galaxy Buds on-site! I'll see you there!
Prepare for the conference by reading up on developing new and innovative business apps for wearables in this free white paper. Learn more about device customization using Knox Configure in this special episode of Samsung Business Television.