Key technologies for the future — such as 5G, the internet of things (IoT), augmented reality (AR), robotics, machine learning — are making waves because of their potential to not only create unique consumer experiences, but also revolutionize how companies do business. The forecast for manufacturing is especially promising: In just over 10 years, revenues from digital factories will clock in at $375 billion, says ABI Research.
Future digital factories will leverage these groundbreaking technologies to deliver unprecedented efficiency in all aspects of manufacturing operations — from inventory management to employee training to machine maintenance. But before they can do so at scale, companies need to test-drive the technologies and see how they can work together. Samsung's 5G Innovation Zone, located at Samsung Austin Semiconductor, is a test bed for such experiments. Marrying Samsung's 5G-enabled network equipment and AT&T's 5G wireless technology, the Innovation Zone evaluates where and how the digital factory can incorporate advanced technologies.
The promise of 5G
Whether in AR, industrial IoT or robotics, computing power and wireless connectivity are the brains and the beating heart of future-forward technology. Till now, companies have relied on Wi-Fi and 4G LTE, but they'll need something better.
To fully realize these technologies' potential, the smart factory of the future will need faster, lower latency connectivity. 5G is the answer, the foundation on which to build digital factories.
Modernize Your Factory With Mobile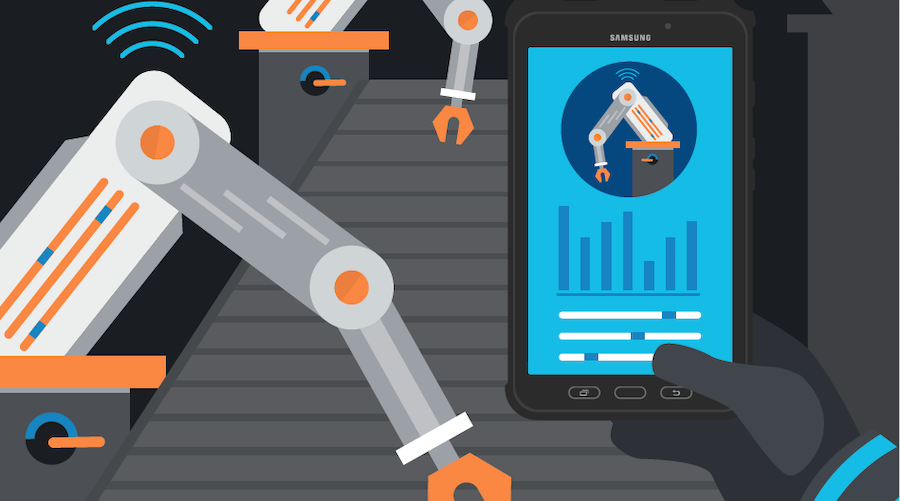 Get your free guide to the mobile technologies that will accelerate your smart factory journey. Download Now
5G reduces lag and therefore plays an important role in delivering computing at the edge. Edge computing empowers intelligent machines to make split-second decisions instead of relying on the distant cloud and worker intervention.
Samsung's 5G Innovation Zone is a crucible in which these revolutionary technologies can be validated. Engineers can use the Innovation Zone to solve potential problems and gain insight into the future of smart factories. "This collaboration with Samsung Electronics America and AT&T will help us test how a 5G network can improve mobility, performance and efficiencies within our plant," says Dr. Sang-Pil Sim, president of Samsung Austin Semiconductor.
5G in manufacturing
With the implementation of 5G in manufacturing, expect to see the following gains:
Improved training: Workers already use AR for walkthrough tutorials in remote on-site locations. Expect 5G-enabled AR headsets to ramp up worker training for critical repairs, even routine procedures. Higher processing speed will allow all participants to engage equally.
Increased safety: Production-zone sensors and cameras can alert personnel to safety issues, including regular ones, such as when they should wear a hard hat.
More robust supply chain management: Sensors, cameras and radio-frequency identification (RFID) tags can improve efficiency up and down the supply chain, creating a digital supply network. They can find defective products faster, know when inventory is running low, create automatic purchase orders, slice and dice production to accommodate specialty orders and improve overall customer service. 5G in manufacturing allows for transparency across the supply chain — to suppliers and customers alike.
Greater use of collaborative robots: Collaborative robots — "cobots" — which work alongside employees on the production floor, can be pressed into service in many use cases. 5G can deliver the bandwidth and computing power these cobots need.
In manufacturing, 5G is the thread that stitches these patchwork technologies together so they can work in tandem. The future may see even more promising use cases, says Mo Katibeh, chief marketing officer (CMO) of AT&T Business: "Just like the LTE world gave rise to Airbnb, Waze and the gig economy, 5G is going to give rise to an entirely new set of startups" that will "create applications that none of us have even dreamed up yet."
These promising applications will have their genesis in 5G, which is set to accelerate adoption of the digital factory in manufacturing. And the Samsung 5G Innovation Zone will lay the groundwork.
How will your business get a slice of the 5G pie? As you strategize, consider integrating Samsung's 5G phones.