Field workers frequently find themselves in tough work environments, from working in the pouring rain to climbing or crawling into tight, dark, dusty spaces. The technology they use also takes a beating, but the right equipment — such as rugged tablets — can allow these field workers to be more productive.
According to VDC Research, the rugged tablet market is expected to reach almost $1 billion by 2022, growing by a compound annual growth rate (CAGR) of 5.7 percent. The Windows 10 and x86 processor architectures have traditionally led in market share, but Android is now making inroads due to its support for enterprise workloads. Rugged tablets are set to become core equipment in the field worker's toolbox, as businesses seek to create more seamless digital workflows in industries such as utilities, public safety, transportation, logistics, manufacturing and the military.
For these industries, and for field workers in general, rugged devices offer a number of advantages. Here's a look at how rugged tablets are improving productivity and streamlining operations in a variety of industries:
Transportation Industry Gains Logistics and Performance Insights
Ruggedized mobile devices have changed the operational landscape for the transportation industry. Tracking drivers' location hours of service (HOS) has historically been challenging and problematic. Transportation fleets need more insight to improve fuel efficiency and compliance and track proof of delivery.
21 Tests the Galaxy Tab Active Pro Survived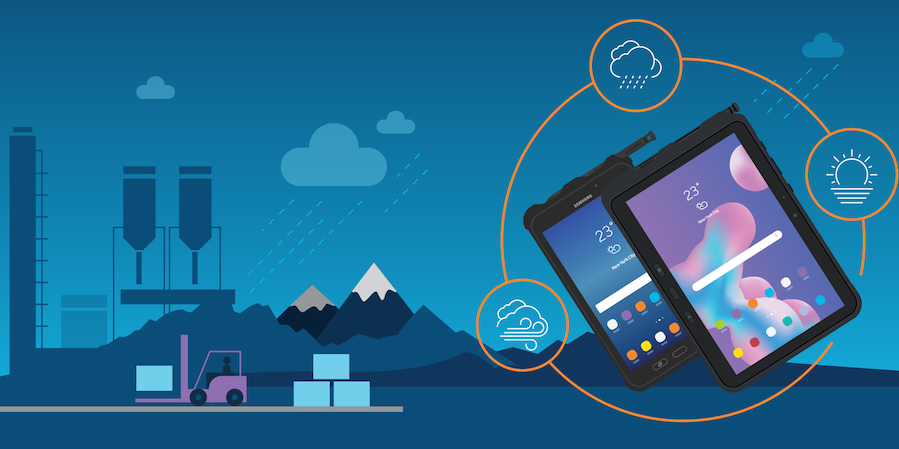 White Paper
See a full rundown of the MIL-STD-810G testing Samsung's rugged tablets passed in this infographic. Download Now
Today, rugged devices not only allow fleet managers to track HOS, driving habits and behavior behind the wheel, they also make it easy for drivers to complete Electronic Visual Inspection Reports and other tasks around the truck. A rugged tablet such as the Samsung Galaxy Tab Active Pro can handle the elements, including rain and dust, as well as the vibrations of the road. And with biometric security — plus a motion-sensing and capacitive-touch S Pen — drivers can conveniently use the device while wearing gloves.
What's more, with LTE and Wi-Fi capabilities, the device can be used for navigation assistance, with real-time updates on road conditions, approved routes and geofence to direct trucks to the correct entry gate and loading docks. All of this enhances driver productivity and reduces fuel costs by avoiding excessive idling and route-finding.
Airlines Take Off With Rugged Tablets
Maintenance is a critical cost component for airlines. Flight delays are costly. By using maintenance, repair and operations (MRO) software, airlines and maintenance contractors can better manage the process across their fleets. To support a digital MRO solution, a rugged mobile device needs to withstand drops, shocks, vibrations, rain, dust and freezing temperatures.
When passenger safety is at stake, security is also critical. A rugged device such as the Galaxy Tab Active Pro can deliver enterprise-grade security and added peace of mind. With Samsung Knox, the entire Galaxy tablet line is protected from the chip up. Devices can also be "locked down" with Knox Configure to ensure they're used only for their intended purpose. Access can be blocked when the tablet is outside a designated area.
Even on commercial airplanes, an environment less exposed to the outdoor elements, airlines are finding that rugged tablets for in-flight entertainment and point of sale (POS) systems are often a better choice than consumer devices. Rugged devices are better able to handle the constant bumps and accidental impacts of in-flight usage, thus limiting financial hits from out-of-order tablets and passenger frustration when devices aren't working.
Warehouse Management Seeks Rugged Devices
Warehouse management and operations have used mobile devices to help with a number of tasks, including inventory tracking, consolidation and shipping. But more warehouse managers are now looking to upgrade their legacy mobile solutions for greater flexibility.
The Internet of Things (IoT) offers new potential for sensor-equipped devices to make warehouse operations truly smart — allowing for fast shipping at lowered costs.
Rugged devices built to work in harsh environments are increasingly appealing to warehouse IT decision makers. According to Ivanti and VDC Research, nonrugged devices have a failure rate of 19.8 percent, compared to rugged devices' 3.8 percent. Device failure costs an average of 30-40 minutes' worker downtime.
Enabling Asset Management in Any Environment
Tracking assets and equipment in enterprise is a constant challenge. That goes double for businesses with extreme environments, heavy-duty manufacturing or large remote workforces. Often, the wear and tear on expensive capital investments is even higher for them, and consumer-grade technology can't stand up to conditions in the field.
For smarter asset management, the Tab Active Pro paired with IBM's Maximo Anywhere solution lets enterprises equip their workforce with tools that better track equipment and reduce the cost and complexities of daily operations — even in extreme heat, cold or other inclement conditions.
Protecting Public and Private Data
Public safety agencies have embraced handheld and wrist-worn devices, including smartphones and tablets in the field. While many devices now feature IP68 certification, indicating a level of protection against water and dust, most are still vulnerable to drops. The Tab Active Pro has been tested against the MIL-STD-810G standard in addition to IP68 certification, ensuring the durability and ruggedness needed for public safety use cases. And with solutions like Knox Platform for Enterprise (KPE) containerization and biometric authentication technology, first responders can be confident that sensitive data remains accessible to those who need it and protected from those who don't.
As the number of mobile workers continues to expand across industries, more will be turning to field worker technology to improve worker productivity, lower costs and improve data collection and insights. Rugged devices that can handle being in the field are a critical component.
Learn how the Samsung Galaxy Tab Active Pro can help solve your toughest business challenges. If you need a more compact rugged smartphone, consider the new Galaxy XCover Pro.