The global pandemic has created an urgent need for brick and mortar retail to make sure their frontline team members and customers feel safe in stores — and make shopping more convenient.
Offline retailers have an advantage over online retailers in that offline shoppers can have a direct physical relationship with a brand. Six months ago, brick and mortar retailers focused on creating immersive experiences to treat retail locations like a massive physical website where shoppers could self-educate, play and shop using Samsung display solutions.
Now, retailers must shift the way they offer these immersive experiences while keeping shoppers safe.
Health and safety first
Physical retail locations must keep the health and safety of employees and customers top of mind, but they cannot abandon the immersive shopping experience that customers crave. Business operators need to ask themselves several questions before moving forward with Safe Shopping Solutions (S3):
Do we want the S3 solutions to be invisible to shoppers, or do we want front-facing solutions they can interact with?
Do we want to control store access based on body heat tracing or have a digital guard manage access?
To avoid internal conflict, businesses must honor their brand's core belief structure. Brick and mortar retailers must choose between standalone single-function solutions or an ecosystem with more digital functions and mobility options, plus reporting and alerts for on-site staff and corporate support assets.
Enhance the buyer's journey with digital signage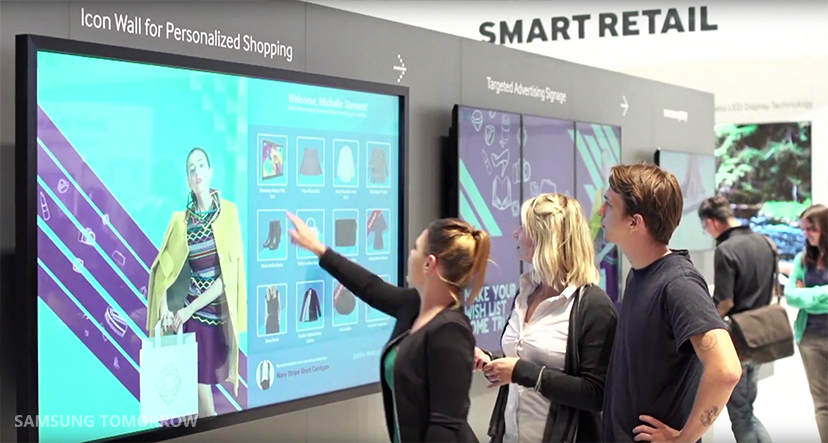 Get your free guide to the what, where and how of digital signage in retail environments. Download Now
New era of technology
Trends show shoppers have largely embraced and adopted more online convenience at offline brick and mortar retail locations to shop safely. The new wave of "click and pick" or "click and collect" options, including curbside pickup and dropoff, grew 37 percent in Q2 of 2020.
As a result, retailers must speed to market to meet demand. The ability to build off current retail displays allows physical locations to take advantage of existing investments and support services from Samsung.
Curb appeal
Retailers must be able to bring solutions to the curb that protect the last mile of the shopper's experience. Curbside solutions include high-bright displays, lockers and software that adds the convenience shoppers expect. Brick and mortar locations should be able to close their inside lobby and still operate business at the curb — the same way online shopping offers 24/7 availability.
Curbside displays can inform, direct and control retail environments. Monitoring body temperatures, social distancing practices and crowd control should be core abilities of S3. Placing frontline service teams at entryways puts those team members and shoppers at risk. An invisible safety solution that informs consumers and drives action with Samsung displays is an efficient long-term approach.
All industries are adapting to a new normal. Businesses need to prioritize the health and safety of their workforce and consumer base, and the best way to do that is by deploying immediately impactful digital signage solutions.
Learn more about enhancing the buyer's journey in physical retail locations in this free white paper. And discover 7 ways you can drive ROI with Samsung Pro TV.