In addition to longtime factors like price, selection and convenience, health safety is a consideration for consumers who are deciding where they want to shop and use services.
Amid the public health emergency, business operators who see customers every day are using smart digital display technology to control store access and communicate with customers about steady changes and updated shopping processes.
The buyer's journey — the routine of shopping and using services — looks very different now than it did when 2020 began. Let's walk through how display technology is helping businesses and their customers manage the new normal.
Outside
Outdoor-ready displays in sidewalk enclosures or mounted in windows start communicating with customers from the time they roll into the parking lot. Engineered to be vividly visible even in the glare of direct sunshine, high-brightness displays:
Communicate opening status and any changes to store hours or available services, like order-ahead and curbside pickup, as well as home delivery
Meter appointment-only access, instructing customers to wait in their vehicles until their name appears on-screen
Manage buyer expectations, such as by displaying the status on high-demand items that may be out of stock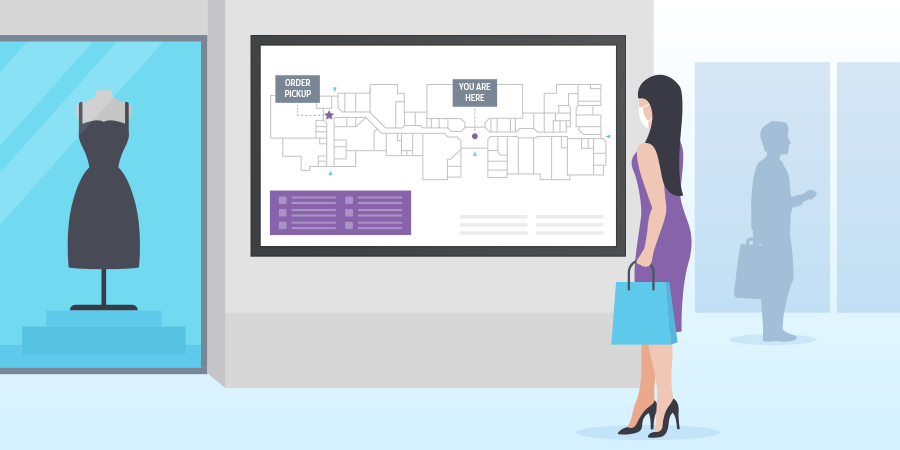 Entryway
Controlling business access and reading customer body temperatures is time-consuming and potentially costly, but displays positioned at entryways can largely automate these tasks, reducing unplanned operating costs and letting staff focus on their core duties.
Digital transformation solutions for retail
Learn how to unify an omnichannel marketing strategy from the storefront to the point of sale in this webinar. Download Now
Sensors — and even camera systems driven by artificial intelligence (AI) — can function as gatekeepers so staff members don't have to. This technology automatically measures store lineups and crowd density so that screens can act as shopper stoplights and communicate helpful information like estimated wait times to those standing in line. Shoppers are less likely to abandon a line if they have a clear sense of how long they have to wait.
Infrared thermal camera systems are being used to measure body temperatures of approaching customers, displaying "OK" or "High" signals on screens and relaying high temperature flags to assigned staff, who can then intervene and manage the situation.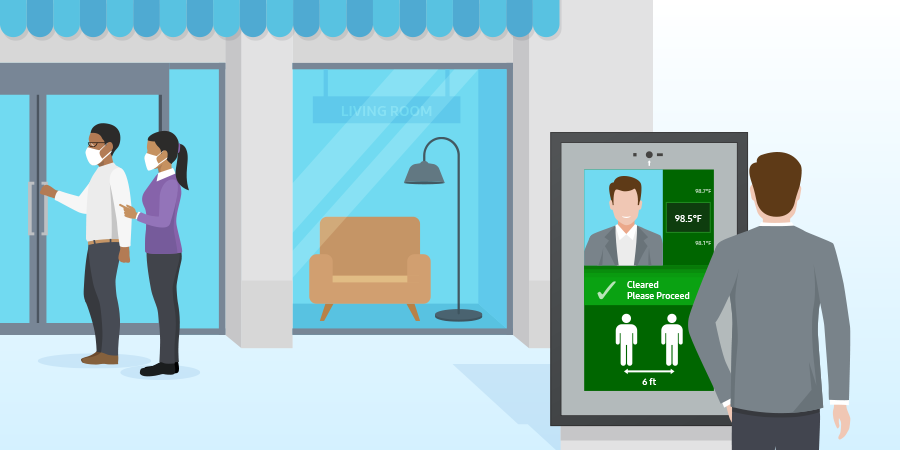 Shopping
Many larger stores may feel unfamiliar, with some areas blocked off and the aisles now organized to guide people through so they stay safely apart. Camera-based sensors can use artificial intelligence (AI) to measure distances between shoppers in real time and display messages or cues on screens in aisles to encourage people to spread out.
Some one-on-one service counters may be replaced by touchscreen ordering systems, with sanitizer nearby to allay safety concerns. For stores worried about the upkeep of cleaning touchscreens or shopper resistance to touch systems, voice assistance can guide guests through product lookups and other questions.
Customer service may become driven by on-screen video calls with remote advisors. In the same way consumers are now talking to their doctors remotely, they can get on-the-spot expert advice on everything from bank loans to paint colors.
Screens can also promote alternative shopping services like order-ahead and guide customers to in-store pickup locations.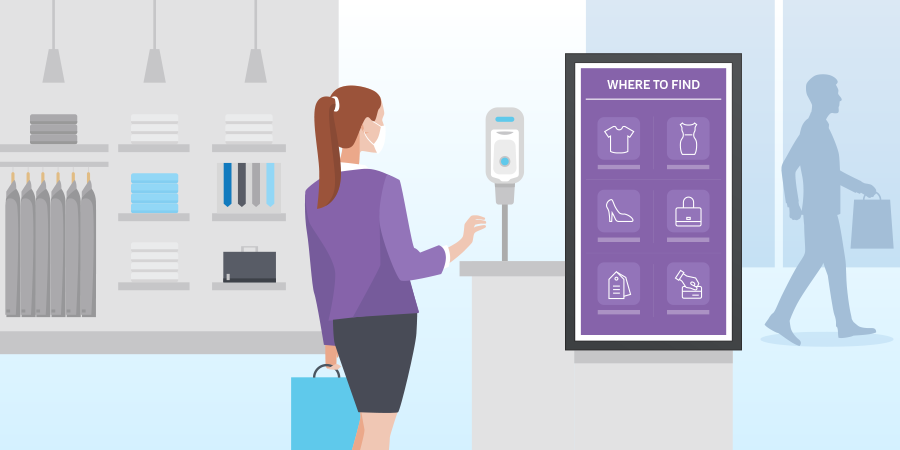 Transactions
While self-service checkout is widely popular in grocery stores, much of retail will always require staffed payment counters. To keep workers safe, many of these counters are being moved behind glass barriers and separated up to 6-ft. from shoppers.
It's effective for safety but tough on communications. Displays at transaction points effectively communicate any necessary checkout steps and payment restrictions. With the right software and data development, checkout screens can easily be paired with store systems to display prompts, thank shoppers for their business and encourage them to return for upcoming sales and product launches.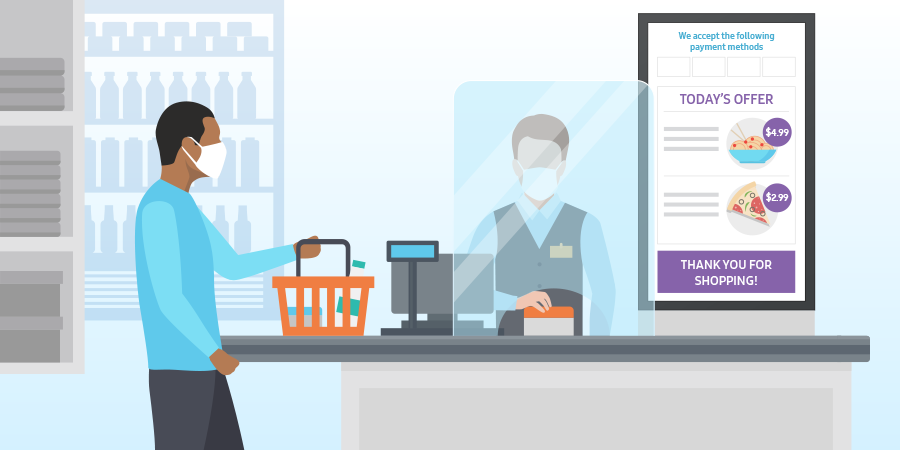 Reassurance everywhere
Throughout the buyer's journey, from entry to exit, screens are the ideal platform to make shoppers feel comfortable about being there — and about coming back.
Store messaging can outline the procedures put in place to keep staff and shoppers safe and healthy. A printed sign can tell shoppers that the store is regularly sanitized, but digital displays can show them with engaging video, images and graphics.
Back to business
Change can be unsettling, but you can reassure shoppers with clear communications about what's different about your business and why. The coming changes will be steady, and the most effective way to stay on top of them and quickly effectively relay them to customers is with digital signage.
Learn more about the buyer's journey and how the new normal will impact retailers, employees and consumers alike with this free webinar. And see how Samsung's MagicINFO content management system can streamline your digital signage project.