The size and fully immersive shape of a curved desktop display will amaze gaming enthusiasts, but for avid esports players, these displays' underlying specs are what deliver next-level experiences.
Truly curved screens like Samsung's new Odyssey monitor series all but hug users with visuals that fill their field of view and boast the processing and graphics power to easily keep pace with the fastest high-twitch action games on the market. Odyssey monitors also offer unmatched color reproduction, making every pixel in every scene visible and rich.
The options for the new series range from screens starting at 24 inches all the way up to a behemoth 49-inch Odyssey G9 monitor, all designed to meet the varied setup needs and budget expectations of any gamer.
Immersive and ergonomic
Curved displays debuted in the consumer TV market, but they've since found a home in the desktop display arena — for business and particularly for the consumer market. The immersive possibilities for curved displays are greater when the viewer is in close quarters and hyperfocused on what's happening on screen.
Samsung has been a leader and innovator in the curved display market for several years, but the Odyssey series marks the display giant's full entry into gaming monitors. Years of research and development as well as marketplace experience have enabled engineers to produce monitors whose curvature matches that of the human eye.
The technical measure for that radius is 1000R — a curve that equalizes the focal distance of the visuals on the outer edges of the display with the visuals at the center. On a conventional, flat widescreen monitor, the content at the edges is farther away than the center, forcing viewers to steadily focus and refocus their eyes as they scan the visual canvas.
Display technology is evolving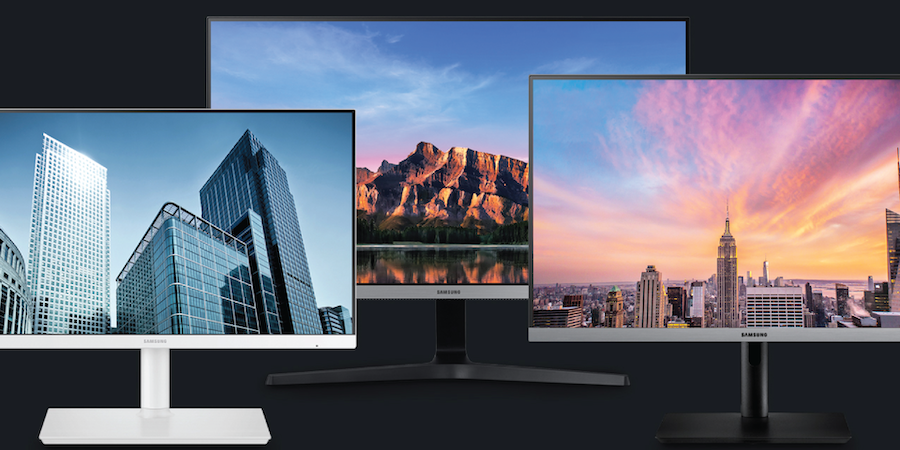 Learn how monitor color technology and refresh rates support your fast-paced, creative workplace. Download Now
By equalizing the distance, Samsung's first 1000R gaming monitor reduces eye strain by as much as 87 percent. That benefits users for any intense, focused computing activity — but particularly when players are hyperfocused during marathon gaming sessions.
The immersive curve also assists peripheral vision, making it easier on players' upper backs and necks by not forcing them to swivel their heads to view all the screen action. Odyssey monitors come with swivel, tilt, pivot and height adjustments, ensuring players can tweak their setup to maximum comfort for full evenings in a virtual combat zone.
Finally, a large curve that wraps around a player's field of view minimizes distractions and allows the player to be fully immersed in every gaming world.
Next-level video game performance
With high-intensity games, seeing every video frame matters — so the monitor needs to keep up with all the action in a battle.
What makes the difference between flawless, super smooth gaming and sessions plagued by dropped video frames and screen errors? Two factors: refresh rate and response time.
Refresh rate is the number of times a monitor updates with new images each second. Viewers may see a solid visual on a screen, but the screen is imperceptibly changing — as rapidly as 240 times a second on a high-end gaming monitor. The higher the refresh rate, the smoother the delivered visuals.
Super high refresh rates are not critical for office activities like word processing and spreadsheets, but they can make a huge difference at home for players engaged in some of the most actively played PC games on the market, which support refresh rates of 240Hz.
Odyssey monitors have a 240Hz refresh rate, which removes any visual latency issues like dropped video frames or screen tearing. Players can focus instead on the digital task at hand.
The Odyssey screens also have 1-millisecond (ms) response rates — the measure of time it takes for a pixel to change colors. A monitor can only refresh as quickly as the LCD display can make those rapid-fire color changes. Some office desktop monitors may have a response rate as slow as 16ms, and many gaming monitors offer "fast" response rates of 4ms — a far cry from the Odyssey's 1ms rate.
The monitors are G-Sync and FreeSync Premium Pro compatible — synchronizing with the graphics processor in the gaming device.
All of that matters for fast-paced visuals, where a combination of super-fast refresh rates and pixel response times end any softness or ghosted on-screen images, providing accurate, crisp visuals even in the most chaotic action sequences.
Striking visuals
Seeing every detail in high-paced games can be the difference between battling on in a firefight or being taken out by an opponent.
On conventional monitors, darkened or super-bright scene elements may be hard to view, as the underlying technology is unable to reproduce all the colors put in by game designers.
Samsung's Odyssey monitors use QLED technology — a color filter integrated in the display that brings out the deepest blacks and the full range of potential colors, with none of the (image retention) burn-in risks inherent in other premium display technologies like OLED.
The monitor series also supports high-dynamic-range (HDR) technology, so every pixel is visible and has picture-perfect depth — whether in a darkened rainforest or a blinding polar wasteland.
With Odyssey monitors, the visuals extend beyond the screen surface — thanks to fully customizable Infinity Core lighting sleekly built into the rear of the monitors. Multiple colors and patterns allow gamers to customize their Infinity Core lighting to complement their personal setup.
Passionate players
Esports and gaming are passions for millions of people of all ages. Any desktop can do the basics, but for gamers who want to get beyond ordinary setups, the technology is out there to enable new levels of performance, immersion and fun.
Learn more about refresh rates and color technology on monitors in this free white paper. And discover eight gaming monitor trends to watch in 2020.