For first responders, the creation of the FirstNet public safety wireless network has been an enormous win. Police, firefighters, emergency medical services (EMS) and extended users can all rely on FirstNet's national mobile broadband network to prioritize their lifesaving operational needs and ensure communications get through in times of crisis.
FirstNet's secure, dedicated wireless service is provided by AT&T, which has continued to expand service coverage and capacity over the past several years. According to FirstNet, when the network is fully built out, it will extend coverage to 2.74 million square miles, covering 76.2 percent of the continental United States and the District of Columbia. FirstNet has also added new services, like FirstNet Push to Talk (PTT), to support mission critical communications over the broadband network.
For public safety agencies wanting to benefit from FirstNet, there is an ever-expanding choice of smartphones and tablets available. FirstNet Ready™ wireless devices have to be able to receive Band 14, the section of the 700MHz radio spectrum reserved for public safety communications (which not all devices can do).
Samsung's public safety team has led the way in expanding its FirstNet Ready portfolio. Today, well over a dozen of its mobile devices are available for FirstNet subscribers, including its new rugged smartphone and tablet lineup, powerful flagship devices like the Galaxy Note20 and S20, and more affordable choices like its Galaxy A series.
Here's a rundown of the FirstNet devices available from Samsung and how they can benefit first responders:
Military-tough smartphones
For first responders who need their smartphones to be military-tough, Samsung offers the Galaxy XCover Pro and the Galaxy XCover FieldPro. The Galaxy XCover Pro has been tested against the U.S. Department of Defense's MIL-STD-810G standard, meaning it can endure being dropped 26 times from nearly 4 feet up and being shaken for hours.
That's not all: The XCover Pro will keep running in temperatures as low as −40 F and as high as 176 F, at altitudes up to 15,000 feet and in environments rife with humidity, icing, salt spray and solar radiation. It's also IP68-certified for dirt and dust resistance, and up to 30 minutes underwater.
Migrating to FirstNet®: The definitive guide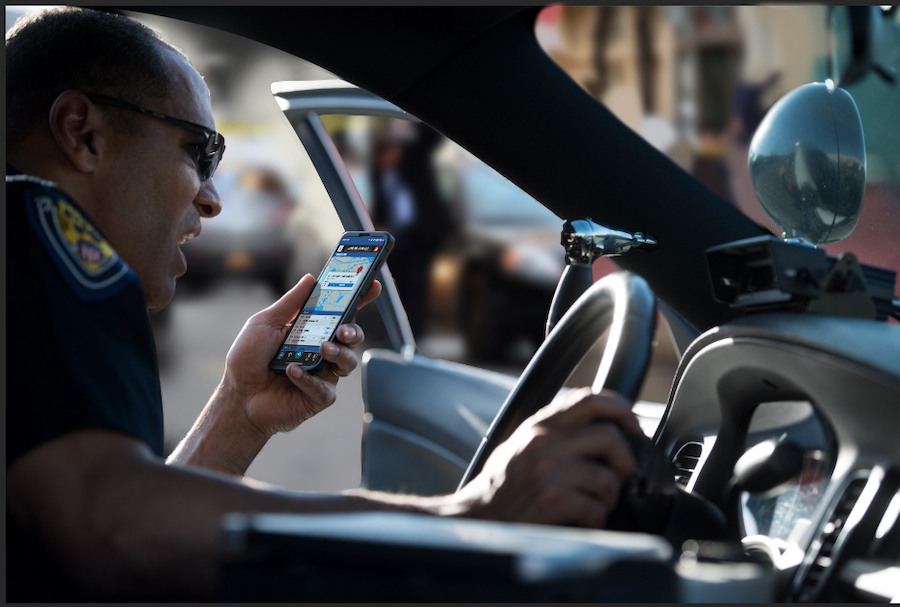 Get a comprehensive guide to migrating to FirstNet®, the network dedicated to public safety. Download Now
In addition to its proven toughness, the XCover Pro is user-friendly. It features a 6.3-inch high-resolution display and tactile programmable buttons that support quick access to key apps or PTT communications, even while you're wearing gloves. Powered by an impressively long-life battery, the XCover Pro can supplement conventional land mobile radios (LMRs), while supporting direct mobile access to the computer-aided dispatch (CAD) and records databases.
The Galaxy XCover FieldPro is the first Samsung device to support the FirstNet Push-to-Talk service. With a smaller 5.1-inch high-resolution display, it is also MIL-STD-810G tested and IP68-certified. The FieldPro is equipped with a one-touch programmable Emergency PTT button that can send an SOS or share your location in a single tap.
The FieldPro comes includes two swappable long-life rechargeable batteries, a pogo pin charger, a FirstNet PTT eartube headset and a belt clip case — providing first responders with complete functionality at a budget-friendly price point.
PC replacements with FirstNet connectivity
Departments may also opt for a Samsung flagship smartphone equipped with Samsung DeX, which provides first responders easy access a desktop computing experience just by connecting the phone to a monitor and keyboard.
Samsung phones equipped with DeX also allow first responders to achieve in-vehicle computing without a laptop or a mobile data terminal. Your department then needs fewer devices and this lowers hardware costs, while FirstNet provides users with fast, reliable connectivity to core agency applications — in their vehicles or at a desk.
The Galaxy S20, S20+ and S20 Ultra are Samsung's flagship smartphones. All of them provide exceptional performance and DeX functionality in a sleek, user-friendly package. The baseline Galaxy S20 features a 6.2-inch high-resolution screen, a 10MP user-facing camera and three outward-facing cameras — 12MP wide, 64MP telephoto (with 3x optical/30x digital zoom) and 12MP ultrawide. It can shoot full-motion video in 8K resolution, play back audio in brilliant stereo sound, and connect via Wi-Fi, Bluetooth and secure near-field communications (NFC). The S20+ does all of this with a 6.7-inch display, while the S20 Ultra goes a step further with a 6.9-inch display.
The Galaxy Note20 and Note20 Ultra build on the S20 line, but add the utiliity of an advanced electronic stylus. Both DeX-capable smartphones feature Samsung's S Pen, which enables note taking, form completion and other user-friendly data entry options in the field. Like the S20, the Note20 features a 10MP user-facing camera and three outward-facing cameras — 12MP wide, 64MP telephoto (with 3x optical/30x digital zoom) and 12MP ultrawide — along with a 6.7-inch display. The Note20 Ultra includes a similarly impressive camera package plus a 6.9-inch display. Both models can shoot full-motion video in 8K.
Samsung's Galaxy S20 FE is a more affordable DeX-capable smartphone that incorporates key features from the S20 flagship range. It boasts a large 6.5-inch display and triple outward-facing cameras — 12MP wide, 8MP telephoto (with 3x optical zoom) and 12MP ultrawide, plus a 32MP user-facing camera and full-motion 4K video. This highly capable yet value-priced device still supports Samsung DeX for in-vehicle computing.
Affordable smartphone options
To ensure that every first responder can communicate using FirstNet, Samsung offers a line of affordable FirstNet smartphones with its Galaxy A series. These devices feature long-life batteries that stay powered through the longest of shifts.
The Samsung Galaxy A11 is the most affordable smartphone in this category. It's ideally suited to support voice, text and data communications, plus dedicated applications such as CAD, situational awareness and electronic records. Despite its lower price, the Galaxy A11 features a large 6.3-inch display, three outward-facing cameras — 2MP depth, 13MP main and 5MP ultrawide — and an 8MP user-facing camera. It also offers 32GB of onboard memory that can be expanded to 512GB with a microSD memory card.
The Samsung Galaxy A51 provides a larger screen, more storage and a more advanced camera system than the A11. It features a 6.5-inch display, 64GB of onboard memory (expandable to 512GB using a microSD card) and four outward-facing cameras — 5MP depth, 48MP main, 12MP ultrawide and 5MP macro — plus a 32MP selfie cam.
The Samsung Galaxy A71 incorporates the A51's multicamera system with a larger 6.7-inch display and more onboard memory (128GB, expandable to 512GB using a microSD card). Providing more headroom than the A11 and A51 — including an advanced Octa-core processor and 6GB RAM — the A71 still remains an affordable FirstNet option for budget-conscious first responder agencies.
FirstNet-enabled tablets
Some first responder roles are better suited to tablets, due to their larger form factor and wider screen. Samsung makes no fewer than four FirstNet-enabled tablets:
The Galaxy Tab Active Pro is a rugged, MIL-STD-810G-tested and IP68-compliant 4G tablet purpose-built for the toughest of field conditions. It features a 10.1-inch touchscreen display, DeX capability and an S Pen stylus, making note taking and form fills easy. Agencies can customize the programmable buttons to their most critical or frequently used functions, and the enhanced touch features allow first responders to use the device while they're wearing gloves. The tablet's 7600mAh battery can support continuous video playback for up to 15 hours.
The Active Pro also comes with a 13MP front-facing camera and an 8MP selfie cam. The 13MP front-facing camera can be used in conjunction with augmented reality (AR) software to overlay information on top of what the camera sees.
The Galaxy Tab S7 and the Tab S7+ 5G are powerful tablets with performance that meets the unique needs of first responder commanders, both in the field and at the office. The S7 features an 11-inch touchscreen, while the S7+ expands that to 12.4 inches. Both are Samsung DeX-enabled, so they can serve as laptops when connected to external keyboards, and as desktop computers when connected to an external monitor or TV. The S7 and S7+ also work with the S Pen for easy note taking. Unlike the Tab Active Pro, however, they're not ruggedized, so it's recommended that they be paired with a protective case for field use.
As for memory, the S7 and S7+ can be purchased with either 6GB or 8GB RAM and up to 512GB storage. Both tablets offer dual 13MP/5MP outward-facing cameras and an 8MP user-facing camera.
The Samsung Galaxy Tab S5e offers many of the same benefits as the Tab S7 but at a lower price point. This super-thin tablet features a 10.5-inch touchscreen, a 13MP front-facing camera and 8MP user-facing camera and a choice of 4GB or 6GB RAM and 64GB or 128GB internal memory, expandable to 512GB using a micro SD card. This device is also Samsung DeX-enabled and can be used in laptop mode with the addition of a keyboard.
Finally, the Samsung Galaxy Tab A is a reliable entry-level tablet that's ideal for data capture in the field or running key applications. This value-priced device features a 10.1-inch display, an 8MP outward-facing camera and 5MP user-facing camera, as well as 3GB RAM and 64GB of internal memory, expandable to 1TB using a microSD card.
No matter which solution — or combination of solutions — you select for your agency, you'll get Samsung Knox defense-grade security built in, as well as Samsung's renowned enterprise-focused customer service to help you every step of the way.
Get the free, definitive guide to migrating to FirstNet, or discover how Chicago Police Department improved situational awareness and data access by going mobile-first.