Property experts often say the three most important factors in real estate sales are "location, location, location." But the house hunting experience has changed amid COVID-19 — for agents and customers alike. As the founder and CEO of social viewing platform Groopview, Delmon Newton and his team have responded to these changes with a new mantra: "opportunity, opportunity, opportunity."
Looking around Philadelphia, for example, where the company is based, Newton says, "There are tons of hidden gems here. You just need to find them."
Searching for the right home has become more difficult, however, since social distancing and ongoing concerns about COVID-19 have changed how real estate agents and potential buyers interact.
Choose the right phone for your growing business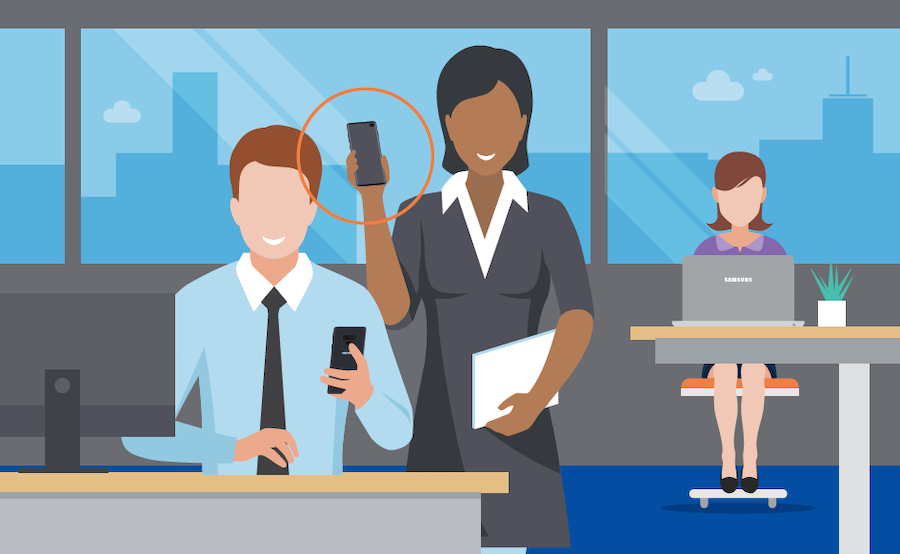 Get your free guide to matching the right smartphone with your business and employee needs. Download Now
"The pandemic has caused a lot of sellers of properties to not want buyers traipsing through their homes," Newton explains.
Groopview has responded to that challenge with QuickShow, an app that allows buyers to conduct virtual tours using 5G connectivity from Verizon and 5G smartphones from Samsung.
QuickShow changes the house viewing experience
Groopview and its QuickShow application were among the 5G use cases explored during Verizon + Samsung: Work Reimagined, a virtual symposium that took place on May 20.
Using QuickShow on a Samsung Galaxy S21 5G, a real estate agent can provide a live walkthrough for potential buyers, presenting the property in high-resolution streaming video. What makes QuickShow unique, however, is the way it employs the smartphone's front and rear cameras simultaneously, so the buyers can see both the agent and the view of the home. This capability, known as Director's View, helps agents replicate an in-person house viewing and maintain the personal connection with buyers that is so important to closing sales.
Virtual tours can even include multiple stakeholders, such as other family members weighing in on their prospective home purchase, sharing their thoughts with the agent as they collectively move from one room to the next.
BlueJeans, Samsung DeX and the new workflow
QuickShow is just part of a mobile-centric workflow for the real estate agent. If a buyer reaches out after a showing to make an offer on a property, the agent can come back to their home office and connect their Galaxy S21 smartphone wirelessly to a monitor, powering a desktop-like experience with Samsung DeX.
Within DeX, the next step is sending the buyer an invite to connect in real time via BlueJeans videoconferencing, and then pulling up the contract using Microsoft Office. All of this is powered by the smartphone — no laptop required.
"I can have a contract over to a seller within half an hour," says Belinda Johnson, an agent with Keller Williams Realty in Philadelphia. "There's no reason for us not to be able to capture an entire property with its full character using this application."
According to Newton, this seamless viewing experience is made possible by combining of the Galaxy S21 5G and Verizon's 5G network, which delivers lower-latency speeds and greater capacity. Thanks to this innovative solution, realtors and buyers can focus on being mentally present at their virtual tour and getting a full view of the property they're considering.
"We predict that there will be real estate agents all over the country who will follow this process as the new way of closing deals," says Newton. "That's the goal."
Get a full recap of the Verizon + Samsung: Work Reimagined event here. Every business can benefit from mobilized workflows, but different smartphones suit different needs. To find the right smartphone for your business, consult Samsung's free mobile assessment.