Hospitals were already strained for resources even before COVID-19 — thanks to a growing (and aging) patient population, a shrinking workforce and decreased reimbursement from government payers. The pandemic has only worsened the financial strain, the clinician shortage and the other challenges that health organizations need to overcome to keep patients healthy and happy.
For better or worse, COVID-19 has also forced the healthcare industry to fast-forward its mobile transformation and embrace telehealth. In March 2020, telemedicine in the U.S. soared from 10,000 to 300,000 visits a week, and hospitals deployed remote patient monitoring (RPM) programs in a matter of days or weeks.
These solutions help clinicians stay connected with their patients, from near or far. The next step in mobile transformation is to connect care teams with each other and with the information they need to do their jobs.
Time for a clinical communications upgrade?
As smartphones have gotten smarter, so has hospital communications technology. With the right integrations, your clinicians can use a single device for everything from multichannel nurse communications, electronic health records (EHR) access and virtual patient consultations to remotely monitoring bedside equipment and scanning pharmaceuticals. With all the contacts and data they need at their fingertips, clinicians can get the help and data they need to treat patients effectively, efficiently and, when necessary, remotely.
That's a lot of responsibility for a single device, so you need smartphones that are up to the challenge. You also need devices that IT can manage, secure and optimize for the job — which means BYOD is almost as antiquated as the pagers some physicians still carry.
How to create a mobile-first hospital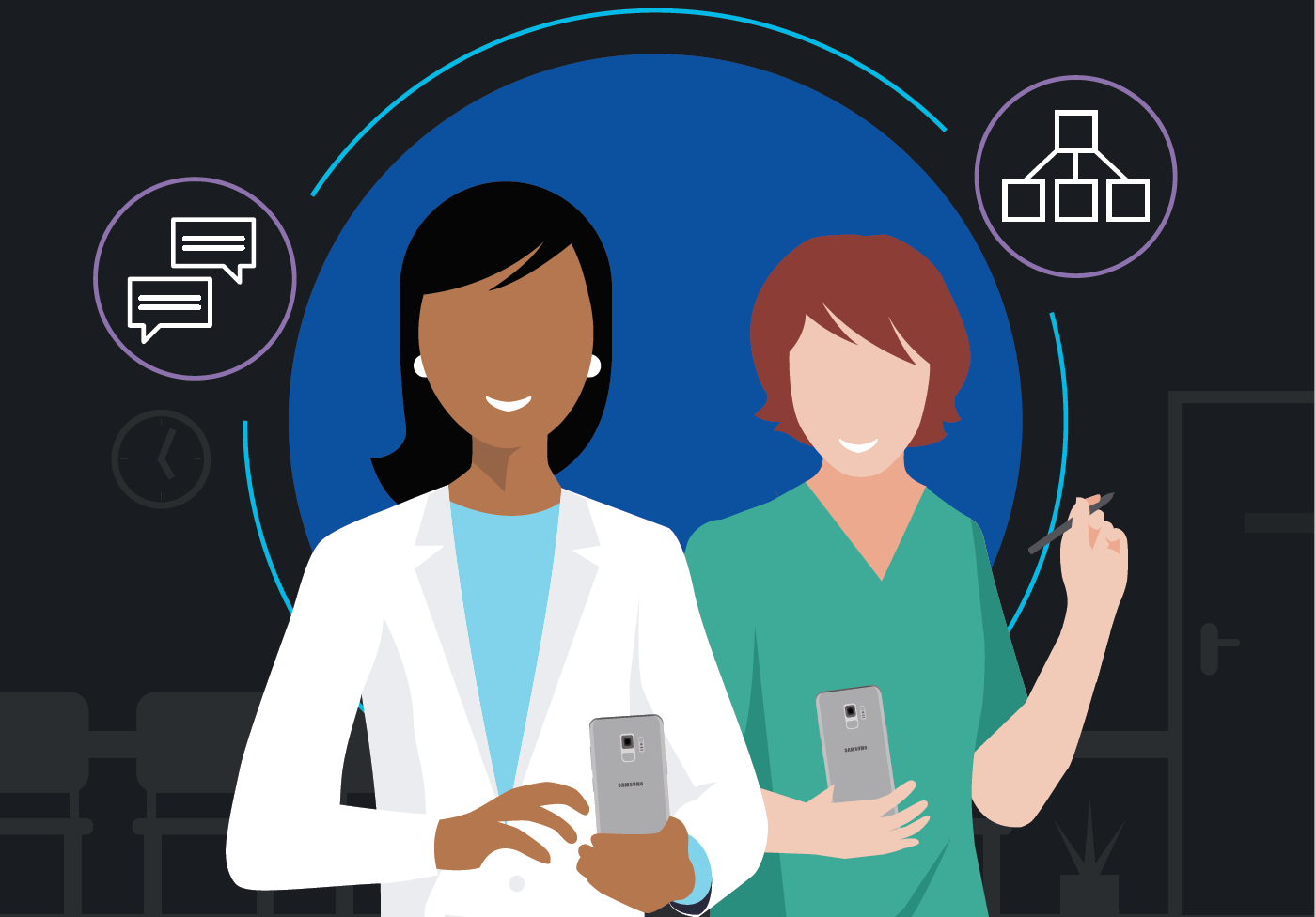 Get your free guide to modernizing clinical communications with smartphones. Download Now
Hospitals recognized the need to modernize communications even before the pandemic. In 2018, 90 percent of hospitals were making significant investments in smartphones and secure mobile communications platforms, according to a Spyglass Consulting Group survey on clinical communications trends. Sixty-eight percent of hospitals were also using middleware that lets clinicians monitor data and receive alerts generated by other hospital technology.
In other words, mobile-enabled transformation was already underway in many health systems — but it was slow moving in others. As of 2016, 90 percent of hospitals were still using pagers and paying 45 percent more than they would pay for a smartphone-based unified communications solution, according to a HIMSS Analytics study.
Creating a more connected, effective healthcare experience has been a priority for Samsung for the past decade. Thanks to unique partnerships with hospitals, researchers and top healthcare software vendors, Samsung has the deep expertise — and the product suite — to help you modernize clinical communications so your team can spend less time chasing down people and data, and more time caring for patients.
Here are a few ways Samsung can support your hospital's mobile transformation.
Find the perfect phone(s) for physician and nurse communications
You'd love to buy all your clinicians top-of-the-line smartphones, but few hospitals have the budget for that. On the flip side, if you invest in cheap phones, you'll hear constant complaints about battery life and sluggish apps, and they might not have the power to run all the programs your clinicians need to access.
Samsung's Galaxy A Series phones and rugged Galaxy XCover Pro are the perfect compromise. As mid-range smartphones designed for work, they have the power to run multiple apps simultaneously and long-lasting batteries that can endure 12-hour shifts (and then some). They're also highly customizable, so IT can add and preconfigure the apps that clinicians need, and remove functionality they don't.
Of course, some clinicians might need more high-end devices, and physicians might demand them. Samsung offers a diverse portfolio of phones — including the Galaxy S21 and Galaxy Note20 — so hospitals can choose exactly the capabilities they need for each clinical role.
All Samsung smartphones are secured by Samsung Knox, a defense-grade mobile security platform comprising hardware- and software-based protections. They can also be unlocked for Wi-Fi-only use, meaning you don't have to buy data plans for all those phones.
Ditch desktops with Samsung DeX
When you equip clinicians with Samsung devices, you're not just giving them phones. You're giving them handheld computers that can handle all their data-sharing needs. That means no more lugging around laptops or searching for available desktop computers.
Of course, sometimes a large screen and keyboard can be helpful — like when nurses are entering copious patient notes or when physicians want to share what's on their screen with patients. Enter Samsung DeX, a Samsung exclusive that provides a desktop computing experience without the computer. Instead, hospitals install a monitor, keyboard and mouse in patient rooms, at nurses' stations and in other employee common areas. Clinicians simply connect their Galaxy smartphones to a monitor via HDMI — or wirelessly share to a monitor without the need for a USB-C or HDMI connection — and they can then run a complete desktop experience on the larger screen.
DeX can help your organization finally make smartphones the one and only clinician computing device and fully commit to mobility.
Secure your mobile fleet with Samsung Knox Manage
Over the past three years, 93 percent of healthcare organizations have experienced a data breach, according to Black Book Market Research. On average, those breaches cost $423 per patient record lost, and healthcare providers spend roughly $1.4 million to recover from a cyberattack — more than any other industry.
Samsung has mobile security covered. All Galaxy smartphones are inherently secured by Samsung Knox, which is built into the devices from the chip up. Samsung also offers Knox Manage, a cloud-based enterprise mobility management (EMM) solution that enables IT to apply a variety of controls and protections across all your organization's devices.
This includes the ability to:
Partition company apps and data from personal ones

Prevent hospital app access over unsecure Wi-Fi connections

Require biometric or multifactor authentication to access apps

Track devices via GPS

Lock or wipe devices remotely

Provide remote IT support
Knox Manage also works with non-Samsung devices (including other Android-based, Apple iOS and Windows 10 devices), so IT can manage all your devices from a single console.
Customize devices at scale with Samsung Knox Configure
Before you deploy smartphones to clinicians, they need to be properly secured and preconfigured for each team member's role. That means IT must adjust settings, connect to Wi-Fi, add and remove apps, set protections to block unsecure apps and prepare each phone for its end user.
This is a time-consuming process, especially when you're deploying hundreds of smartphones at once. And if devices ever need a factory reset, IT has to complete the process all over again.
Or they could just use Knox Configure, Samsung's customization tool that lets IT quickly:
Customize the phone's background and icon placement

Preload apps based on user roles

Remove unnecessary apps

Lock down unnecessary settings and functionality
After IT has created a Knox Configure profile for each role, they can push it to an entire fleet of smartphones at once. Then all they need to do is power each device on, let it download the Knox profile and hand it off to the user. If a device ever needs a factory reset, the profile comes right back up — no additional configuring required.
Simply put, the smartphone essentially becomes a single-purpose device that's highly useful, highly secure and, of course, highly mobile — making it ideal for physician and nurse communications. With all the challenges they're facing during these unprecedented times, communication shouldn't be one of them.
Learn to streamline communications and create mobile workflows in our free white paper, or take a three-minute assessment and get a tailored recommendation to improve your clinical communications.