Light-emitting diode (LED) technology has been around in early forms since the 1980s. It used to be a big-ticket option for high-profile display projects, but in the last five years, LED has become the go-to technology for a wide variety of jobs that prioritize attention-grabbing digital visuals. Designers and marketers have a variety of options for making an impactful visual statement, but direct view LED technology is unique — enabling that big statement to be always in motion and instantly changeable.
Once limited to Times Square and flashy sports stadiums, LED displays are now being used both outdoors and in, for diverse scenarios from high-end clothing stores to promotions and branding messaging on parking garage walls. Worldwide, the LED video display market increased its revenue 34.7 percent in 2019 and experienced a 23.5 percent quarter-on-quarter growth in Q4 2020, driven by spiking demand for fine pixel pitch (FPP) products, according to research firm Omdia.
The big drivers for direct view LED adoption are:
Lowered costs, driven by manufacturing advances and the miniaturization of key components
Technological advances in pixel density, color quality and durability — allowing LED displays to rival flat-panel quality
New design flexibility, with modular design and technical properties that allow displays to be deployed at any scale, in just about any shape, to be used on surfaces as varied as ceilings, floors, windows and even rounded corners
Technology marketers often use the term "direct view LED" to distinguish from flat-panel LCD display technology, which uses white LED light arrays to illuminate TVs and commercial displays from the rear or from the edges. With direct view LED displays on the other hand, the light chips are front and center. MicroLED technology is an emerging technology that transfers micrometer-scale LEDs into LED modules, resulting in a bright, colorful display that is comparable with OLED.
These days, LED is just about everywhere. Here's a look at how four vertical markets are seeing wide adoption of these large, seamless digital canvases:
LED at work
The wall-filling capability of direct view LED technology is being employed in workplaces in two very different ways.
Commercial property owners are making eye-catching display walls the focal point of their lobbies — using displays like Samsung's The Wall to showcase digital artwork that attracts and retains tenants and draws in curious passersby. The initial capital investment may be higher than more conventional lobby finishes like marble or granite, but you can change a digital display wall completely — at any time — just by running a different creative file.
Your ultimate video wall guide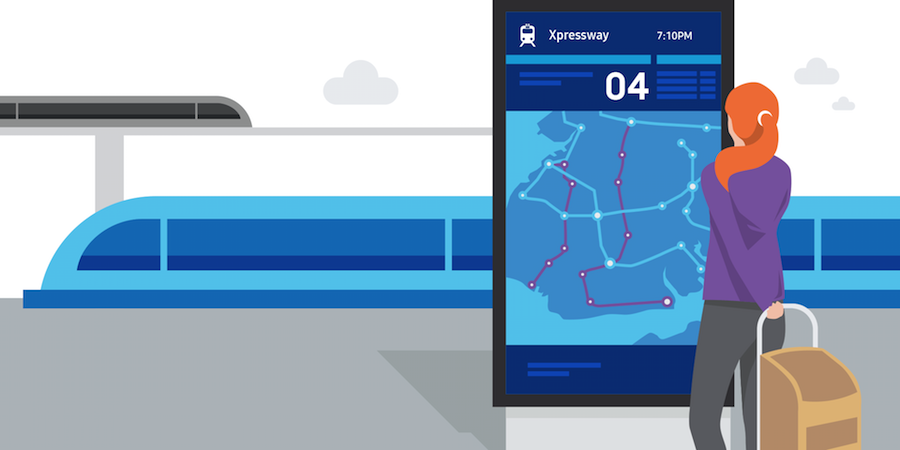 Learn how to build the optimal video wall for your business. Download Now
LED is also seeing heavy business adoption behind the scenes, with control rooms and network operations centers switching out LCDs and projection systems for super-bright, seamless LED walls crisp enough to show super-fine detail and with enough lighting power to be used with interior lights on and natural light flooding in. Corporations are adopting Samsung's The Wall in boardrooms and auditoriums to ensure every attendee can easily view presentations.
Sports and entertainment
Large LED scoreboards and ribbon displays are staples in the seating area of just about any major stadium or concert venue, but LED is now expanding to all parts of these venues.
FPP LED displays are being used for branding, events promotion and sponsor support in public concourse areas. While the initial capital costs are certainly higher than print posters and large-format light boxes, the return comes in the ability to change messaging for each event. No need to rush around to change sponsor messaging; those changes can be made with a few clicks.
Major venues are also adding big LED screens to their facades, serving as event promotion and livestreaming the game to fans who didn't score tickets.
In-store excitement
Walk into a flagship location of a major retail brand — from fashion to electronics — and there's a good chance you'll see direct view LED displays being used as feature walls, driving the brand and alerting shoppers to new releases.
LED's modularity allows store designers to work with a venue's physical characteristics, even running odd-shaped ribbons along bulkheads and wrapping around 90-degree corners. Some retail designers have started going fully digital for store entryways and facades so that they're changeable on demand.
Can't-miss advertising
Digital billboards are common along highways, and they already cover Times Square. But LED is now being heavily used by media companies in other crowded environments, from airports and train stations to busy city intersections and plazas. Media companies have transitioned from printed material to LED because digital allows them to add rich, full-motion media, run multiple scheduled campaigns at once and make their investments an attraction.
In Seoul, for example, a Samsung screen that wraps around the corner of a building in the city's main shopping district has generated global buzz due to its jaw-dropping anamorphic public art pieces that run in rotation with paid advertisements.
LED displays have transitioned rapidly from niche to mainstream, and as the technology's popularity grows, LED displays will become ubiquitous, both indoors and out.
Learn more about outdoor-ready digital signage in this free white paper. And discover other innovations in digital signage and video walls.