For modern financial service firms, work no longer just happens in the office or at a desk. It's become essential for your employees to have flexibility in a rapidly evolving environment, including the need for improved mobile productivity. However, that flexibility brings challenges when you need to provide responsive, secure mobile technology that can increase productivity in the office, at home and on-site with a client.
Your workers are always connected and expect mobile connectivity when carrying out their jobs. Financial services firms are also facing a war for talent, with digital-first workers increasingly citing tech capabilities as an attraction to a specific firm. According to Harvard Business Review, over 80% of financial services executives believe employee experience directly impacts customer experience.
Though many financial firms such as advisory firms and investment banks are calling workers back to the office, it's often on a hybrid basis or with allowing workers to stay at home even one day a week. With so many still at home, even occasionally, security for financial firms carries an even greater priority than before. For bank branch employees and insurance field agents, improved mobile solutions can increase productivity and service levels.
Whether your employees are wealth managers, bankers, or field workers, such as insurance claims adjusters, Samsung provides a broad and versatile range of devices that work together to improve worker productivity while offering the information security you need — all powered by the open and flexible Android operating system. That's why Samsung's fleet of easy-to-deploy mobile devices and multi-layered security can help to empower your workers to deliver superior customer service. With seamless capabilities like Samsung DeX, S Pen compatibility, and next-level integration of Microsoft and Google Cloud tools, they have a network of seemingly unlimited possibilities at their fingertips wherever they go – whether those employees are in a retail banking branch, at a client site, at their desk, or anywhere in between.
Technology for flexible in-office solutions
In today's digital-first world, even traditional office and branch-based workflows demand more flexibility. Today's customers and clients are always on and connected at home, at work, on the go and when visiting a branch or office, and thus they expect a connected experience from financial services firms. Here's how — with the right technology — they can provide that seamless, connected customer experience.
Shop special offers
Find out about offers on the latest Samsung technology.
See Deals
Speak to a solutions expert
Get expert advice from a solutions consultant.
Talk to an Expert
Retail banks
While mobile technology for online banking has become a mainstay, the retail branch experience is just catching up, with employees expected to do more and meet customers on the branch floor. Bank executives are looking for tellers to morph into universal bankers, greeters and associate bankers who can provide immediate and personalized service to customers anywhere in the branch. But legacy systems and peripherals often keep those workers tethered to their desks for transactions. What if they could be provided a single, multifunctional device? A device that enables them to scan and verify IDs and checks, allows customers to enter their pin securely, and provides universal bankers with a desktop-like experience at or away from their desk?
A Samsung Galaxy Tab Active Pro, for example, can provide bank associates with the ability to clock in for work through HHP as well as scan customer IDs and pull up account details for in-person assistance. It also replaces the in-person customer experience with a self-check-in option using a thin client PC and POS/pin pad device — all at about a quarter of the price.
Wealth managers
With the rise of hybrid work, more financial and wealth advisors need to be ready to serve clients in and out of the office at a moment's notice. The Galaxy Z Fold series features Bloomberg and other apps optimized for Fold, along with a multi-window experience that allows advisors to access stocks and manage meetings, all in a single view. Your advisors can research their client's portfolio before a client visit, then easily sign documents digitally at the client's office. Afterward, they can use flex mode at a café to catch up with colleagues in the office through a video call.
To achieve a complete desktop experience from anywhere, there's Samsung DeX, a PC-like experience powered entirely by a Galaxy phone or tablet. Samsung DeX connects a mobile phone or tablet to a bigger screen, keyboard, and mouse, enabling your employees to interact with multiple apps simultaneously. They have the ability to email, text, organize business files, and access business productivity apps, further supporting a wealth manager's client engagement.
On-the-go and client-site solutions
For insurance claims adjusters, work rarely takes place in an office. For instance, insurance claims adjusters must often work out of their car with equipment that is not optimized for on-the-road, field-ready solutions. The claims process can also be cumbersome, with the need to carry and work across multiple gadgets and devices, including a laptop, mobile phone and MiFi.
What's next for the future of finance?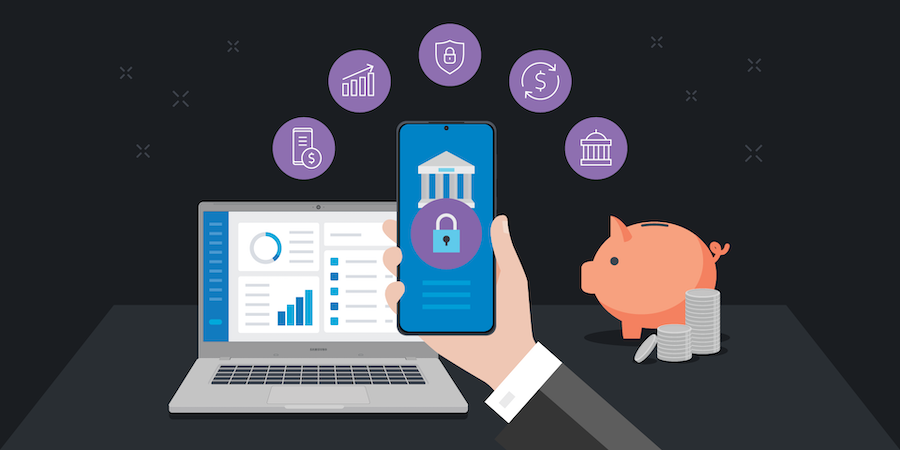 Samsung surveyed 1,000 finance professionals about the future of mobile tech. Here's what they said. Download Now
Mobile devices such as the Galaxy Tab Active4 Pro can provide greater flexibility for on-site work. The Active4 Pro provides access to 5G, pictures, video, optimized productivity tools and apps. The device is antishock, holds up in extreme weather conditions, and can help your adjusters map routes as they travel from site to site.
Through Samsung DeX, an adjuster can enjoy full mobility with a rugged touchscreen monitor, a keyboard with a touchpad connected to a Samsung smartphone or tablet, free OS updates through Android, and a shorter one- to two-year average hardware recycle program — all for about an average cost of $1,500.
One Samsung for a multi-device and expansive screen experience
Samsung Galaxy mobile phones and tablets are productivity powerhouses to help employees complete various financial services tasks. They allow employees to view, review, collaborate, and get things done on one device, whether in the office, in transit, or visiting a client. Samsung provides an end-to-end solutions package, including device, accessory, solution, service, and tech support.
Financial services firms must ensure security and regulatory compliance. Android's core security foundation, combined with Samsung Knox's hardware-based and advanced real-time protection, addresses today's most demanding security challenges. And our flexible platform and comprehensive set of Android Enterprise management APIs address every use case from locked down to open use. That's why Samsung's fleet of easy-to-deploy mobile devices and multi-layered security can help to empower your employees to deliver superior customer service.
For a full overview of all Samsung technology solutions for the Finance industry, please visit this page. And sign up for a Samsung Business Account to get exclusive offers, including volume pricing discounts, on our Rugged devices, as well as our newest devices like Galaxy S23 series, Galaxy Z Fold4 and Galaxy Z Flip4.