For wealth managers, the pace and competitive nature of the industry demand mastery over a range of skills and technologies. On one hand, you have to manage your current client relationships, and on the other, focus on growing your base — both of which mean meeting clients wherever they are. That's why it's essential to employ technologies that help you be as productive while on the road, as you are in the office.
Engaging effectively with these prospects and clients means you must develop superb communications strategies and techniques. Of course, you also need to be current with financial products, earnings-per-share data, market data, regulations and trends.
These client demands, combined with the rise of remote and hybrid work, make having mobile devices that can serve your needs wherever you are, more important than ever. Financial employees value access to technology that makes hybrid and remote models more seamless and productive — and nearly 7 in 10 say they're ready to jump ship to get it, according to Samsung research.
Time is of the essence. If you're regularly pulling up real-time reports, charts, and market and portfolio data, you need to have robust processing power, a convenient form factor and flexibility to work wherever you need to. In other words, you need tools to provide timely, powerful access from any location — tools like the latest Samsung Galaxy Z Fold5 foldable mobile device or Galaxy Tab S9 tablet.
Galaxy Z Fold5 and Tab S9 solutions
Galaxy Z Fold5 is the most advanced foldable yet, enabling mobile productivity like you never thought possible. The Fold5's 7.6-inch, expansive display and multi-window experience, along with the portability of a phone and optional S Pen, all combine to create the ultimate mobile phone for business.
Shop special offers
Find out about offers on the latest Samsung technology.
see deals
Speak to a solutions expert
Get expert advice from a solutions consultant.
Talk to an expert
The Galaxy Tab S9 lineup of tablets combines PC-like performance with innovative multitasking features that make for a powerful productivity tool, whether on the go or at a desk connecting to a monitor. You can use the Galaxy Tab S9, S9+ or S9 Ultra with the touch interface or the S Pen.
Here's what a typical day might look like as you use your Galaxy Z Fold5 or Tab S9 in the field and the office:
Starting your day
Start the day with your Galaxy Z Fold5 to catch up on headlines during your train commute. With the S Pen, you can circle key points, make notes on news articles and items of interest, and then push them to team members via email on the way into the office.
Maybe one of your colleagues even wants to jump on a quick video call. With a traditional smartphone, this can be a challenge while on the go: It's tricky to take notes and hold your phone at the same time. But with the unique, foldable form factor of Z Fold5, you can simply place the device in Flex Mode, and keep one hand free for note-taking right on the same device. With the optional S Pen, you can handwrite notes directly on the lower half of the screen in Samsung Notes, while keeping the video visible on the top half.
Galaxy Z Fold5 makes all this multitasking easy with Multi-Active Windows and personalized app pairings in the Edge Panel. It's even easier to split your screen simply by swiping from left to right with two fingers to open a second window. For example, check your calendar while emailing, or message someone while reviewing a PowerPoint presentation. Working while in transit is so much easier when you don't have to toggle back and forth between apps.
Arriving at the office
You meet with team members to discuss the day's ideas, strategies and schedule. To get ready for client meetings, you use your Tab S9 with an attached keyboard to draft detailed plans, update presentations and track market movements. The device can also be used for any other number of tasks that may come up on any typical morning in the office — such as taking client video calls while monitoring key financial indicators, answering a few more emails and reviewing analyst notes.
Lunchtime ideation
While presenting to a client at a local restaurant using your Tab S9, you talk through several products and visualize potential outcomes with a personalized strategy. You use the S Pen to accentuate key points. Able to see the data in a clear way, even while meeting outside of the office, the client comes away impressed and schedules a follow-up meeting. On your way back to the office, you monitor U.S. equity markets and forward recap notes to your team using your Fold5.
On both Z Fold5 and Tab S9, you're running Android apps and have all the security and flexibility of Samsung's Knox security and device management platform, built into the devices from the chip-level up.
Afternoon in the office
Back at the office, you multitask with analytics applications, spreadsheets and email using Samsung DeX, a mobile-powered computing platform that allows you to use your Galaxy device to power a complete desktop experience. Samsung DeX lets you use any Tab S9 device as both a tablet and a desktop PC by connecting it to a monitor, keyboard and mouse (via USB-C, HDMI cable or wirelessly connecting to a Miracast-enabled display).
What's next for the future of finance?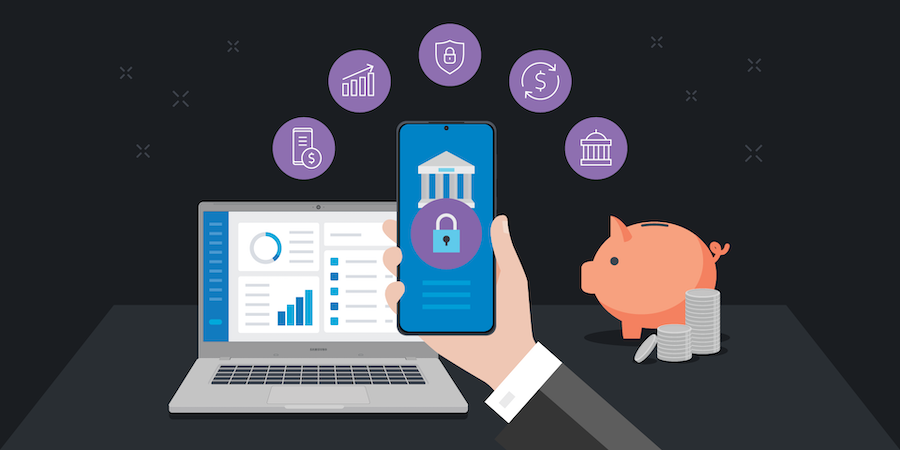 Samsung surveyed 1,000 finance professionals about the future of mobile tech. Here's what they said. Download Now
You can also use DeX by connecting your Tab S9 device to the book cover keyboard, turning it into a powerful laptop-like solution. The built-in DeX button on the keyboard cover makes it easy to jump right into your work.
After-hours analysis
News events can create turmoil in the markets and potential volatility in some of your clients' portfolios. While riding to the restaurant in traffic, you open your Z Fold5 to address emails, answer messages and collect real-time analysis. You assess the sell-off as an overreaction and perceive a buying opportunity. The client is impressed by presenting the most up-to-date information and requests more information. Heading home, you use your Tab S9 to write a summary report, answer emails and set a reminder to share this info with your colleagues.
Increasing productivity
Equipping yourself with Galaxy Z Fold5 and Tab S9 can help you, as a wealth manager, handle every challenge that comes your way.
With remote and hybrid work on the rise, having an effective work setup wherever you may be logging in from has never been more important. Laptops might be the primary office companion for some, but tablets offer a new world of features for those looking to tackle productivity outside the office.
For both devices, the ability to take notes, underline key points, mark up articles on the fly and share them with a few taps is a game-changer, thanks to the S Pen.
Working with Z Fold5 and Tab S9 on the go and in the office adds up to more productivity and optimized efficiency for wealth managers who desire an edge over the competition.
Sign up for a Samsung Business Account to get exclusive offers, including volume pricing discounts, on Galaxy Z Fold5 and Galaxy Z Flip5 today. And as you set up your new device, make sure you secure the personal and work data on your mobile phone using this free guide.