The financial services industry is at a pivotal point in its evolution. Against new technologies, evolving investment preferences, and other drivers of change, human dynamics are reshaping global business and society, transforming the economy from one led by businesses to one led by customers.
Even in unstable times, these firms must compete for workers. In addition, workers have evolved to digital-first work while customers have increased their expectations. Given the competitive market in financial services, knowledge workers need to stay up to date regarding industry info, analyses, and deliverables.
To cope, financial firms must appeal to a changing workforce and address those talent gaps by attracting high-skilled workers, training employees with technological skills, and adopting new work models. Samsung devices as an option in your firm's choose your own device (CYOD) program can help attract and retain the talent of tomorrow.
A strategic partnership with Samsung puts your employees' needs at the center, and that helps you leverage mobile innovation to its fullest to maximize engaged productivity while keeping you compliant and secure.
Samsung and Android Enterprise can be your active partner in harnessing the rapid change in financial services through open innovation that drives engaged productivity — all while protecting your data.
Engaged employee productivity
By including Samsung devices in CYOD programs, you'll provide your teams with the digital tools necessary to help them perform to their fullest potential.
Shop special offers
Find out about offers on the latest Samsung technology.
See Deals
Speak to a solutions expert
Get expert advice from a solutions consultant.
Talk to an Expert
The numbers show happier employees can provide better customer service. According to Harvard Business Review, over 80% of executives believe employee experience directly impacts the customer experience.
Samsung offers your employees an expansive screen experience across the Galaxy S23 series, Galaxy Z Fold series, Galaxy tablet portfolio, and the Samsung DeX experience, powered by Android. In addition, employees can choose from the most extensive portfolio of premium innovative devices with differentiated productivity features like S Pen, foldable phones with large screen UI, multitasking, and Flex Mode — all enabling seamless ways of working wherever and however they need to work.
The expansive screen experience allows financial services employees to juggle multiple apps at the same time or see the details of a single app, like Excel, with ease, helping them be more productive. Your workers can use S Pen to sign documents on the go. The Galaxy Z Fold4 mobile phone opens to provide additional screen space and offers a multi-window experience, providing screen space that rivals a small tablet. Galaxy tablets can stand alone in the office or the field, then connect to a computer monitor through DeX for a full desktop experience.
Through DeX, employees can connect a mobile phone or tablet to a bigger screen, keyboard, and mouse for a PC-like experience. DeX can help your team continue conversations that begin on a tablet that, for example, is being used to collect sign-in information, pull up account info and more — on a full-size display. DeX can also aid with presentations, and overall continuity from one device to another to aid overall workflows — especially while interacting with clients.
Providing the choice of Samsung's premium digital tools in your CYOD program shows commitment to your team and their productivity.
What's next for the future of finance?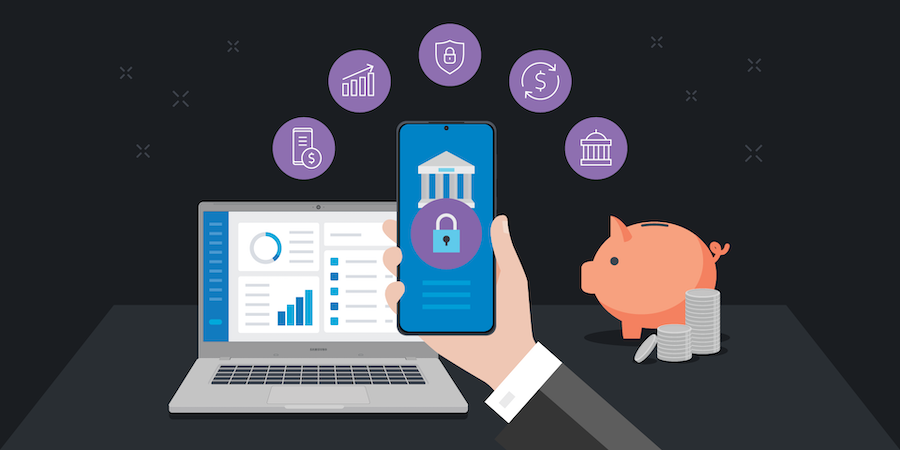 Samsung surveyed 1,000 finance professionals about the future of mobile tech. Here's what they said. Download Now
Android work profile provides clear separation and privacy to keep business data safe and personal data private and protected. Digital well-being tools like Focus Mode help employees tune out distractions, and Turn Off Work Mode makes it easy to disconnect from work when they're done for the day. Employees can feel comfortable using their Samsung phone for both professional and private purposes — they may not even need to buy a personal phone.
Open innovation to meet evolving business needs
Our robust, open platform allows for faster, simpler, and deeper technology innovation that enables you to adapt to evolving business needs with devices that foster employee collaboration and elevate the customer experience.
By choosing Samsung, you're partnering with global mobility experts providing best-in-class R&D, open architecture, and multi-industry expertise. Samsung and Android Enterprise is your active partner in harnessing the rapid change in financial services through open innovation that drives engaged productivity — all while protecting your data.
Samsung and Android Enterprise are pushing the boundaries in all areas of technology, including 5G, AI, augmented reality (AR), virtual reality (VR), blockchain, and robotics. In addition, our global mobility experts have best-in-class research and development expertise in financial services. Samsung and Android Enterprise developer communities offer a wide pool of talented experts who will help develop and build solutions tailored to your business needs.
Implementing a CYOD device lets financial services firms provide a choice to their employees while still controlling the type of device and the networks they run on. By including Samsung's innovative Galaxy lineup of mobile devices, financial services firms can stand out and attract talent in a competitive field.
For a full overview of all Samsung technology solutions for the Finance industry, please visit this page. And sign up for a Samsung Business Account to get exclusive offers, including volume pricing discounts, on our Rugged devices, as well as our newest devices like Galaxy S23 series, Galaxy Z Fold4 and Galaxy Z Flip4.