Working in wealth management has always been a balancing act between tasks like financial planning, providing investment advisory services and monitoring portfolios. As client needs and expectations become increasingly complex, however, wealth managers need to juggle multiple priorities like never before.
According to Capgemini's most recent World Wealth Report, for example, the biggest growth opportunity may be in tailoring the customer experience for specific segments. This includes women — who are slated to inherit 70% of the world's wealth over the next two generations — millennials, and high net worth individuals who amassed their fortunes from the technology sector.
Serving these emerging customer sectors will not only depend on offering specialized knowledge and insights but a level of service that is personalized, dynamic and flexible. While wealth management conversations have traditionally happened in person, for instance, an EY report found virtual consultations have become a preferred service channel for over 40% of clients, a jump from just 12% two years ago.
The same research found that failing to deliver the right experience has a direct impact on customer loyalty. Over the next three years, 45% of those surveyed said they plan to add a new provider, move money to a new provider or switch providers altogether.
These pressures are creating a scenario where PwC has predicted 16% of wealth and asset managers will either fail or be acquired by 2027. The report suggested that, beyond the global decline in assets under management, many wealth management firms are struggling with digital transformation efforts that would make their team more productive and valuable.
Empowering wealth managers with Samsung Galaxy Z Fold5
A big part of successful digital transformation is empowering employees with the best possible device to do their jobs. Samsung Galaxy Z Fold5, for instance, is packed with features and capabilities that directly address the workflows that are critical to wealth managers as they serve their clients.
Shop special offers
Find out about offers on the latest Samsung technology.
See Deals
Speak to a solutions expert
Get expert advice from a solutions consultant.
Talk to an Expert
This starts with the kind of computing performance wealth managers need, which comes through a Snapdragon 8 Gen 2 processor that lets them switch from calls to videos, heavy-duty apps, and back again.
Next, the optional S Pen enables clients to sign documents easily using applications like DocuSign. The availability of Good Notes on Galaxy devices, meanwhile, means wealth managers can do even more to digitize pen and paper workflows such as marking up or annotating documents without needing to print them.
Wealth managers using Z Fold5 also benefit from the following:
2-in-1 device innovation that enhances financial decision making
Whether they're discussing strategic tax planning, choosing insurance or charitable donations, wealth managers often need to provide context around the advice they're offering clients. Z Fold5 gives them options to do so, regardless of where those conversations happen.
When they unfold Z Fold5, for example, wealth managers can enjoy a 7.6-inch expansive screen, which makes it easy to access and review complex financial documents. In fact, Z Fold5 allows you to showcase up to four applications at a time via multi-active windows, and Flex Mode Viewing lets you watch or present a video at the top of the screen with related apps and content at the bottom.
Z Fold5 is also highly portable, which means when it's folded wealth managers can easily initiate a quick video call or regular phone call with a client who needs help making an important investment decision.
A Galaxy Connected Experience to streamline workflows and foster collaboration
Nothing should get in the way of a wealth manager responding to a client's urgent question or request. In practice, though, there can be a lot of friction when you're managing several devices at any given time.
Z Fold5 overcomes that via the Galaxy-Connected Experience. Instead of having a video call drop or missing a text message, wealth managers can move from listening on their Galaxy Buds with their smartphone to a device like a Galaxy Tab S9+ with complete continuity.
Using Samsung DeX, wealth managers can also instantly connect to a monitor at their client's office or home, which means they don't have to carry a laptop with them at all times.
Excellence in wealth management is also a team sport, as documents and information need to be shared with a variety of stakeholders. Z Fold5 simplifies the process of sending financial files and related content using Quick Share or Link to Windows.
What's next for the future of finance?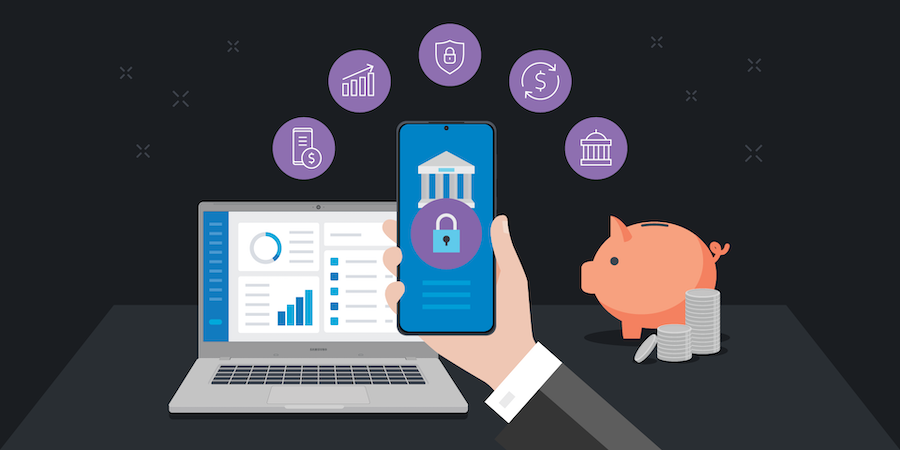 Security that brings peace of mind and builds client trust
High net worth individuals never want to worry their private information or financial data will fall into the wrong hands, and they deserve to work with wealth managers who are in a position to keep it safe from cyberattacks.
Enter Samsung Knox, which gives those using Z Fold5 access to security from the chip up. This is a layered approach to data protection that starts at the hardware level and is always on, even when your device is running.
Wealth managers can tap into an even more comprehensive set of cloud-based solutions with the option of Knox Suite. This includes tools to secure, deploy, manage and analyze your devices, as well as Knox Guard to defend against fraud.
Experience the benefits of a powerhouse mobile device
Galaxy Z Fold5 is a powerhouse mobile device that will let wealth managers tackle new growth opportunities, provide a level of service that reduces customer churn, and allow them to spend more time on the areas where they can offer the greatest value — like sharing financial knowledge and guidance that help high net worth individuals make the most of what they have.
For a full overview of all Samsung technology solutions for the finance industry, please visit this page. And sign up for a Samsung Business Account to get exclusive offers, including volume pricing discounts on Galaxy Z Fold5.