The Samsung Galaxy Tab Active4 Pro is a rugged tablet designed for frontline workers on the go. With a durable protective case and shatter-resistant screen, Tab Active4 Pro has been put through a series of durability tests based on the U.S. Department of Defense's MIL-STD-810H standard to prove its toughness. It's also IP68-certified for dirt, dust, and water resistance.
But despite its rugged exterior, Tab Active4 Pro packs some serious smarts, including Samsung DeX — a powerful mobile computing platform that lets the tablet power a PC-like experience on an external monitor. The DeX platform is built in, so you just connect the tab to a monitor that is compatible and pair a keyboard and mouse for an intuitive desktop environment.
Having DeX on Tab Active4 Pro is ideal for frontline workers who occasionally need to complete reporting or other productivity tasks. They'll no longer need a separate laptop or desktop computer and can use their tablet throughout the day. In addition to simplifying workflows, this device consolidation can result in significant cost savings.
Organizations can combine Tab Active4 Pro with DeX in a variety of scenarios, from showing information to colleagues in the office, to mounting their tablet in a vehicle or (within sectors such as retail) setting it up as a mobile checkout station.
Here's how Samsung DeX works on Tab Active4 Pro:
Using DeX on the Tab Active4 Pro
For any display with an HDMI input, you can connect Tab Active4 Pro via an HDMI-to-USB-C adapter or cable. You can also connect wirelessly to displays that support Miracast, including most Smart TVs and monitors.
First, power on your display, and go to the Sources menu.
Then, select the HDMI port where you've connected the cable. For wireless DeX, select Screen Mirroring on Samsung tablet.
Now, on your Tab Active4 Pro, pull down the quick panel menu from the top of your screen, and tap the DeX option.
Your tablet will now search for available displays to connect with wirelessly. When you see your display listed, tap it.
DeX will now launch on the external display, giving you a desktop-like interface to access all your mobile and web apps.
Shop special offers
Find out about offers on the latest Samsung technology.
See Deals
Speak to a solutions expert
Get expert advice from a solutions consultant.
Talk to an Expert
If you're just sharing or viewing content, you can navigate within DeX by using your tablet as a touchpad. Pull down your notifications menu and tap the touchpad option.
Pair a Bluetooth keyboard and mouse
For productivity work in DeX, you can pair a Bluetooth keyboard and mouse.
First, open your Bluetooth settings from the quick panel.
Then, put your keyboard into pairing mode, following the manufacturer's instructions.
Now, select the keyboard's name on your Galaxy device's Bluetooth screen.
Repeat these same steps for your mouse.
Samsung DeX gives you a desktop-like experience to work across multiple apps simultaneously. Key productivity apps like Microsoft Office are optimized for DeX. You can even drag and drop files and right-click on items to pull up context menus. VDI clients from Citrix, VMware, and Amazon are also optimized for DeX, so you can run your virtual desktops, too.
You can also continue to use your Galaxy Tab Active4 Pro while it powers the DeX experience on your external display, effectively giving you two screens.
Added benefits
With the rugged Galaxy Tab Active4 Pro featuring Samsung DeX, frontline workers can stay productive on the go — and when they return to their home office.
What's the best tablet for your business?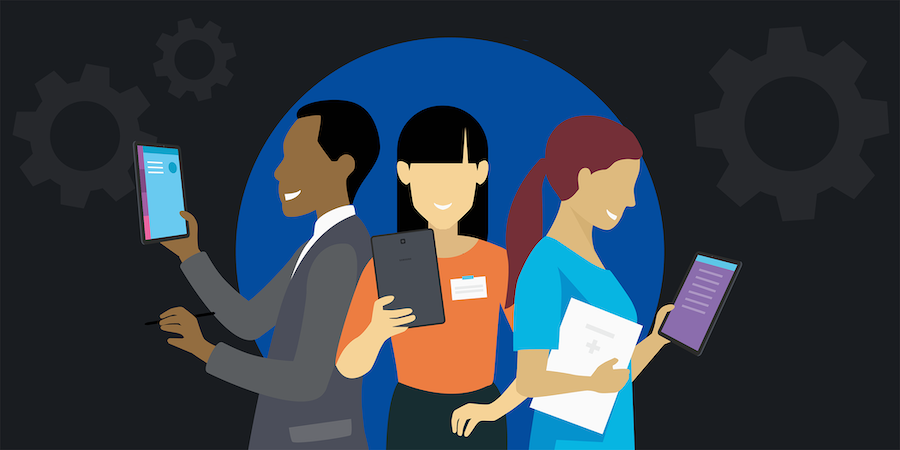 Take this quick assessment to see which Samsung tablet would best support your business needs. Download Now
Because it is running on the Tab Active4 Pro, Samsung DeX provides full connectivity to the web via Wi-Fi 6, or 5G if you have a carrier-connected tablet. The Tab Active4 Pro also supports CBRS for organizations that run private networks for real-time warehouse management and asset tracking.
The bottom line: With the Tab Active4 Pro and Samsung DeX, frontline workers can access desktop functionality whenever they need it. Then, they can disconnect the Tab Active4 Pro to do field work in the most demanding of weather and working environments.
Learn more about how the Samsung Galaxy Tab Active4 Pro can support your toughest business challenges. Not sure rugged is right for your workforce? Take our quick, free assessment to find out.