Today's mobile field workers are data-centric, wirelessly connected or using 5G as they work in tough outdoor environments — where they can benefit from rugged tablets that are equally tough and capable, like Samsung's new Galaxy Tab Active4 Pro.
Equipped with a 10-inch high-resolution touchscreen, the rugged Galaxy Tab Active4 Pro supports frontline workers with an advanced S Pen for note-taking included in the box and a programmable key that can provide one-touch access to key apps. It can even be used with gloved hands in Enhanced Touch mode.
Galaxy Tab Active4 Pro is compactly designed and built to meet military and industry standards for ruggedness and resistance to dirt, dust and water. Whether you're looking for a rugged in-vehicle telematics solution for your fleet, a tablet for warehouse scanning and inventory management or a collaboration tool for field service teams, this new tablet can deliver the employee and customer experience you need.
Here are 10 field-ready features that make Galaxy Tab Active4 Pro perfect for frontline workers:
1. Military-grade durability
Galaxy Tab Active4 Pro meets the U.S. Department of Defense's MIL-STD-810H ruggedness standard. Being military-grade means Galaxy Tab Active4 Pro operated normally after 22 tests. These included being dropped 26 times from 5 feet onto plywood and being exposed to temperatures ranging from −40 F to 176 F for several hours. The tablet has also survived being blasted with harsh rain, salt spray and solar radiation — and exposed to pressure simulating altitudes up to 15,000 feet.
Shop special offers
Find out about offers on the latest Samsung technology.
see deals
Speak to a solutions expert
Get expert advice from a solutions consultant.
Talk to an expert
Now with Corning Gorilla Glass 5, the tablet's touchscreen provides scratch and damage resistance up to two times better than competitive aluminosilicate. And it's purpose-built to be usable while wearing gloves or working in wet conditions.
In addition, Galaxy Tab Active4 Pro and its accompanying S Pen are IP68 compliant, meaning they have been immersed in 5 feet of water for 30 minutes at a time, and functioned normally afterward, and are similarly protected against sand and dust particles.
2. Smart connectivity
Multiple connectivity options are essential for today's mobile workforce. Galaxy Tab Active4 Pro includes amazingly fast 5G connectivity, so field workers can stay in touch even in remote areas. 5G also offers lower latency and greater accuracy than previous-generation network technology.
When frontline workers need seamless roaming between an office in a warehouse or coverage in crowded areas, Wi-Fi 6 connectivity ensures apps and key features won't falter.
3. Citizens Broadband Radio Service (CBRS)
A private network can offer the responsiveness, scalability and security required for field work. Galaxy Tab Active4 Pro helps by supporting CBRS, a band of radio-frequency spectrum that serves as the foundation for these kinds of dedicated networks.
Connected to CBRS, Tab Active4 Pro can also be used by private enterprises for purposes such as remote asset tracking and real-time warehouse management.
4. Barcode scanning
Couriers, technicians and warehouse staff all need to check barcodes to get more product information.
Instead of having to use a dedicated scanner, you can now use Galaxy Tab Active4 Pro, which offers barcode scanning readiness via an improved 50MP/8MP dual lens camera and 6nm processor. With tools such as Knox Capture, you can scan multiple barcodes in a sequence — or even multiple barcodes at a time — for maximum productivity.
5. mPOS ready
Working from anywhere sometimes means being able to accept payments from anywhere. Field workers can seamlessly switch from using Galaxy Tab Active4 Pro as a tablet and turn it into a mobile point of sale (mPOS) terminal, facilitating secure payments through Samsung TEEGRIS and near-field communication (NFC). The 10-inch screen makes it easy for customers to read contracts, and they can use the S Pen stylus to sign off on a purchase before paying a payment.
6. A programmable key
It's common for frontline workers to access one or two apps or functions many times during the workday. For quick access to these apps, Galaxy Tab Active4 Pro has a programmable physical key on the side of the device with two user options: press or press-and-hold. Just configure your apps of choice to the button following the simple setup process, and the quick-access key provides a shortcut for your workers' most common tasks.
Enterprises can also use Samsung's Knox device management tools to configure the programmable key to specific actions within apps, such as initiating a push-to-talk (PTT) conversation, for an entire fleet of devices.
7. Wireless DeX
Galaxy Tab Active4 Pro is enabled with Samsung DeX, letting you power a desktop computing experience on an external display. To use DeX, just connect Galaxy Tab Active4 Pro to any display with an HDMI input (using an HDMI-to-USB-C adapter or cable). Displays equipped with Miracast, such as Samsung Smart Monitors and TVs, can connect to the tablet wirelessly. You can also add a Bluetooth keyboard and mouse, allowing users to access all of their mobile and web apps in a fully realized desktop setting.
Another option is mounting your tablet to an mPOS solution from a Samsung partner such as Targus. With Samsung DeX, the Tab Active4 Pro can then function as a checkout kiosk in retail stores.
8. Flexible power and charging
Galaxy Tab Active4 Pro comes with a long-lasting 7,600mAh battery that can keep field workers powered up throughout their shift. This removable battery is field-swappable and recharges quickly using durable pogo pins that work with drop-on charging units.
What's the best tablet for your business?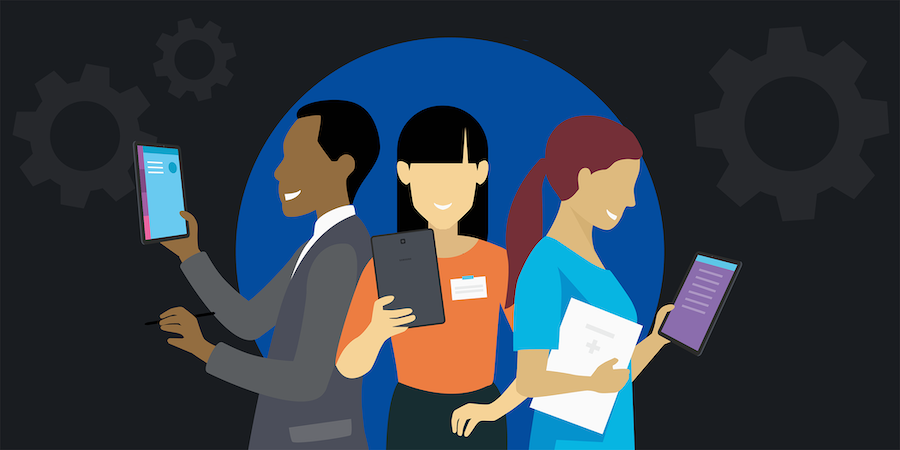 Take this quick assessment to see which Samsung tablet would best support your business needs. See the tablets
Galaxy Tab Active4 Pro even works in No Battery mode when it's connected to a dedicated power source. In a vehicle, you can plug Galaxy Tab Active4 Pro directly into a power source and operate safely with the battery removed. No Battery mode is great for fixed kiosk deployments as well.
9. Knox security and biometric ID
Galaxy Tab Active4 Pro is protected against cyberattacks by Samsung Knox, Samsung's defense-grade mobile security platform. The tablet also supports biometric authentication with facial recognition and a built-in fingerprint scanner. Then there's Knox Guard, which allows you to remotely lock and even wipe devices whenever they're connected to the network.
10. Enterprise Edition
Galaxy Tab Active4 is Enterprise Edition-ready out of the box. With Galaxy Tab Active4 Enterprise Edition , you get a one-year free license to the entire Knox Suite, three years of monthly product life cycle assurance, and five years of quarterly security maintenance releases. Using all the tools included in Knox Suite, including the Knox Manage enterprise mobility management (EMM) solution and Knox Platform for Enterprise, you can easily enroll, manage and update hundreds of devices as if they were one.
Explore Samsung's full range of rugged devices can support your workers anywhere. Or, get your free comprehensive guide to rolling out a mobile-only solution for your workers using Samsung DeX.