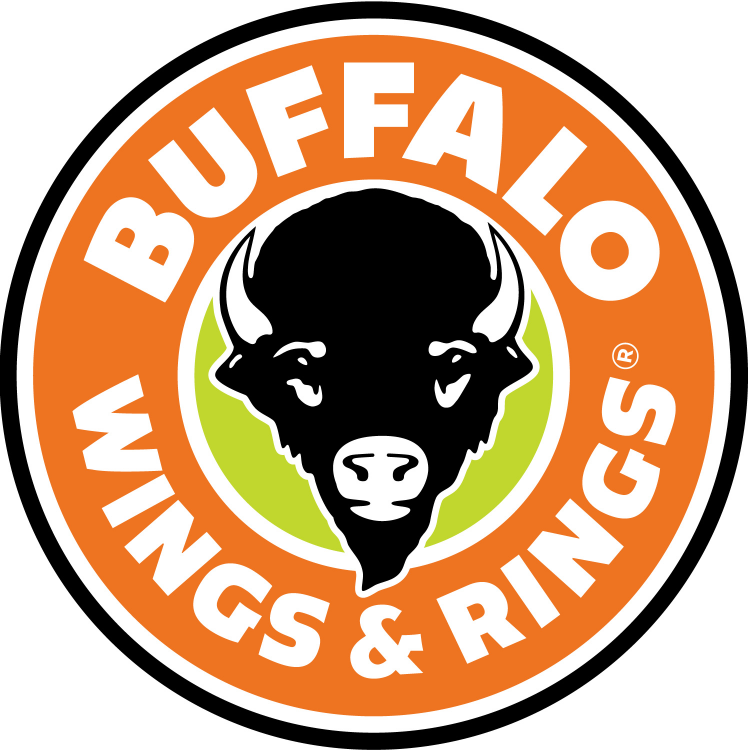 The Challenge
Timely delivery of food and attentive waitstaff are two hallmarks of excellent customer service in restaurants. Buffalo Wings & Rings Restaurant, a full-service restaurant in Mason, Ohio, had been using a POS system to track how long it takes for an order to go from the POS to the dinner table, but the restaurant lacked visibility into the timing and performance of tasks on the dining floor. Buffalo Wings & Rings needed a solution that would ensure waitstaff checked in with customers within expected time frames, thus improving their table turnover ratio while increasing customer satisfaction.


The Solution
Buffalo Wings & Rings Restaurant deployed a smartwatch solution powered by the Hipaax TaskWatch platform to its servers and managers at the start of every shift. TaskWatch, a zero-code custom smartwatch platform on the cloud, sends notifications to users' smartwatches when certain tasks need to be performed. The watches ensured that waiters greeted guests within 45 seconds of being seated and alerted them to refill drinks and offer upsells. The smartwatch and TaskWatch solution also reminded managers to visit each table within five minutes after food was served.


The reminders on the watches lowered table turnover time from 67 to 62 minutes.
The Results
Deployment of the smartwatches significantly boosted staff efficiency and overall restaurant service. The reminders on the watches lowered table turnover time from 67 minutes to 62 minutes, which helped the restaurant serve nearly an additional 10 tables for every 150 tables seated. In addition, waitstaff reported greater tips due to improved customer service and faster table turn time.


"No matter where they were in the restaurant, [waiters] always knew that a table had been set and they had to be there in 45 seconds."
– Ed Carlin, General Manager, Buffalo Wings & Rings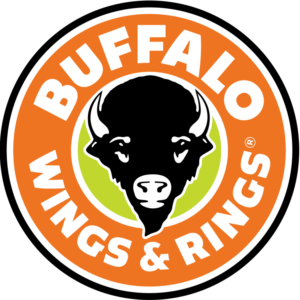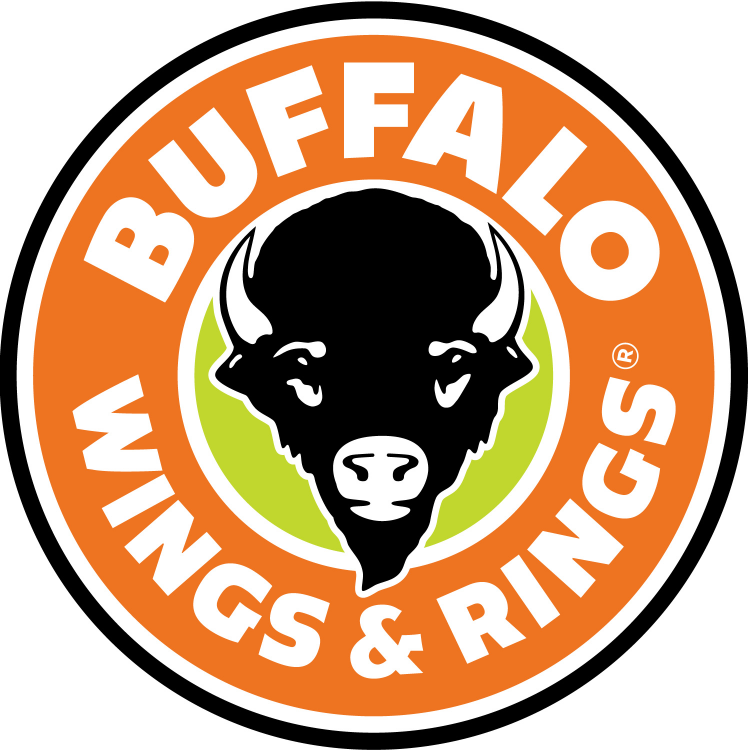 With 59 domestic and international locations, Buffalo Wings & Rings opened their first restaurant in 1984 in Cincinnati, Ohio. With 50+ TVs, brightly colored dining rooms and chef-inspired recipes, they are focused on providing the ultimate sports dining experience for the whole family.
They franchised in 2005, and expanded their international growth by opening a location in Dubai in 2014. They are still rapidly growing, and in 2016, they were recognized by Franchise Business Review as one of the top 40 Food Franchises.
The Challenge
Ensuring Staff Perform Tasks on Time
In the restaurant industry, table turnover ratio is a critical performance metric. The faster guests eat, pay the bill and leave, the more tables the restaurant can seat and the more revenue it can produce. However, rushing guests can result in sub-par customer service and reputational damage. Many restaurants need a system that can ensure tasks are being performed at optimal times to strike the right balance between superior and fast service.
At Buffalo Wings & Rings Restaurant, speed is an essential part of its customer experience. Servers are expected to greet diners within 45 seconds of being seated at their table, and managers are required to greet guests roughly three minutes after the food is delivered. While management knew how much time passed between the receipt of food orders and delivery to the waitstaff, they weren't sure of how quickly the waitstaff met customer service expectations. Buffalo Wings & Rings sought a means to better track and analyze customer satisfaction and ensure those benchmarks were being met.
According to Buffalo Wings & Rings general manager Ed Carlin, like at other busy restaurants, staff is challenged to optimize service at peak periods. As waiters can juggle up to six tables at a time, it can be difficult for even the most experienced waitstaff to remember when to ask about drink refills, check back in with guests and ensure new tables are greeted on time.
Carlin says that while the goal was to greet customers within 45 seconds of being seated, "it wasn't always happening." Hosts would notify servers that the table was set, but the distractions of other orders, guest requests and frequent trips back to the kitchen often made it difficult to touch tables in a timely fashion. The staff also found it increasingly difficult to refill drinks as quickly as needed. "They really needed a system that would give reminders to help keep their memory straight," says Carlin.
The restaurant had been using its POS to track how long food takes from the point it's entered into the POS by the server to the time it comes out of the kitchen. Carlin says that although they're conscious of their goal to have food out within 12 to 15 minutes during peak hours, a lag existed in how long it took waiters to receive customer orders and get them to the kitchen. "The server might have to stop by two or three other tables, refill drinks, and there could be a few minutes before they get the order in. We simply didn't know how long that was taking," says Carlin.
The Solution:
Automated Notifications to Improve Restaurant Service
In June 2016, Buffalo Wings & Rings initiated a pilot program to learn, understand and highlight the value proposition of integrating smartwatches into its restaurant operations. The restaurant selected Hipaax TaskWatch, an enterprise platform for task management that can enhance productivity and enable businesses to support a hands-free workforce while managing operations through real-time dashboards. TaskWatch notifications were delivered on the Samsung Gear S2 smartwatch, a wearable device that works over a Wi-Fi network without the need for a paired phone. Samsung Gear S2 enterprise wearable devices can be custom configured and managed remotely by IT administrators for ease of deployment.
Carlin acquired 16 watches and deployed them to staff and managers at the start of each shift. During this time, the restaurant had a staff of around 80, with roughly 15 people using the watches at any given point in time. Each watch had a designated user ID so servers were able to identify their respective watches.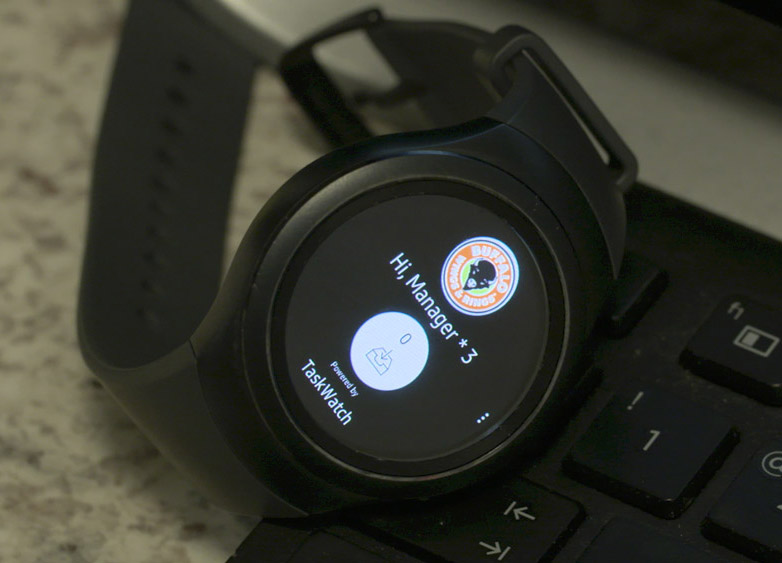 The smartwatches allowed users to send each other real-time notifications when food and drink orders were ready, tables need to be cleaned or seated or it was time for a manager to greet the guests. The system tracked the time involved in these tasks and sent instant notifications, so servers knew exactly what they needed to do and when they needed to do it. The mission of the TaskWatch pilot was to:
Improve overall customer service.
Reduce the likelihood that servers would forget tasks.
Alert servers when tables were seated.
Remind servers to refill drinks.
Notify servers of appetizers and upsells to recommend.
Ensure that managers visited tables within five minutes of guests receiving food.
The workflow was controlled by the host, who would log into the tablet each time they seated a table. From there, the appropriate server received a notification that one of their tables had been seated, and an automatic time-delayed series of tasks were then pushed to them. According to Carlin, this immediately helped eliminate the problem of busy waiters not realizing that new guests have been seated, reducing the need for the host to leave the front of the restaurant and notify the waiter. "No matter where they were in the restaurant, [waiters] always knew that a table had been set and they had to be there in 45 seconds," says Carlin.
During a typical shift, servers were also notified when to check for drink refills, what appetizers to push and when to return to a table. Three to five minutes after each table received its food order, the manager on duty would be reminded to do a table visit to engage in a brief conversation with guests and ensure their order was to satisfaction.
The Technology:
Samsung Wearable Tech
Designed for mobile productivity, The Gear S2 gives you access to important notifications at a glance.
The Result:
Improved Customer Experience, Higher Revenue and Tips
After having the system in place for three months, Carlin reports "significant impacts" in a number of areas, including:
Improved customer experience due to assured completion of tasks.
Faster customer service resulting from a more efficient and timely workflow.
Higher daily revenues from faster table turnover.
Quick resolution of customer requests and service-related issues.
By the end of the pilot, waitstaff reduced average table turnover time by five minutes, because of efficient service and faster delivery of the bill. Being able to clear tables faster produced a tangible return on investment by allowing Buffalo Wings & Rings to serve more customers during a day. With the smartwatches in use, waiters served an additional 10 tables for every 150 tables seated. "It doesn't sound like a lot, but shaving five minutes off each table added up. It incrementally added up to checks that otherwise wouldn't be there in the course of the day. And that has had a direct impact on revenue," says Bharat Saini, CTO of Hipaax.
The pilot also yielded other benefits, including improved service and the assurance that managers visited each table and greeted every guest at least once during their dining experience. Through better service and guaranteed interaction with management, Carlin says, there was a "noticeable" improvement in customer experience, loyalty and tips for waiters.

"I think it has helped a lot, not only with the servers, but with the managers also, forcing us to go to that table more times than we normally would if we didn't have a watch to tell us." – Ed Carlin, General Manager, Buffalo Wings & Rings
Carlin says the smartwatches provide a "framework" that allows managers to focus more on the overall customer experience without having to spend their time constantly reminding waitstaff to perform tasks. When the pilot was initiated, the watches sent the servers back to the table every 12 minutes. They eventually started sending the servers back every eight minutes and found that more tasks, and issues, were being addressed sooner. "It forces the server to go back to the table more than they normally would, so they can solve those little problems, instead of finding out later," says Carlin.
Carlin says in the near future the restaurant may engage in further applications to make incremental improvements in service and sales. The watches have not only boosted service and revenues, but made the restaurant's workflow more effective and efficient. By assuring tasks are completed in a timely fashion and waitstaff are involved in all steps of the service process, the technology has the potential to be a game-changer for the food service industry.