Healthcare happens on the go — nurses at patient bedsides, physicians conferring with health teams and patients trying to follow care protocol at home after being discharged. Mobile devices like tablets and smartphones allow healthcare providers and their patients to stay connected all day and night. Mobilizing patient care with nursing and physician technology can empower your clinicians and improve patient outcomes. Enhance your patient care practices with these nine best practices of mobile in action:
1. Provide Speedier Check-in
You may have heard this one before: A patient enters a health facility and is handed a clipboard with multiple forms attached. They fill out those forms and hand them back to registration personnel. Those personnel then manually enter the information into their electronic health records (EHR) system. Then, because of HIPAA laws, those papers are shredded to ensure privacy. In a connected world, how inefficient is this process? Mobile tablets make the whole procedure faster, simpler and more secure. The patient uses the tablet to check in, and the information is uploaded seamlessly to the EHR database — no manual data entry, no paper shredding.
2. Improve Care Team Collaboration
Good patient care depends on health team collaboration. With a focus on updating hospital technology, health facilities turn to real-time messaging platforms such as TigerConnect to improve the patient experience. Messaging tools help clinicians quickly tend to patient needs. For example, a nurse can be at a patient's bedside, viewing the most recent lab results. The nurse can use TigerConnect on a mobile device to ask the physician a question about those labs, and then get a response and act in real time.
3. Securely Access Real-Time Patient Data
Better workflow means better patient care. Mobile devices augment clinician workflow by allowing care teams to take notes as they do their rounds or meet with patients. By viewing lab results or collecting vital statistics in real-time on their smartphones or tablets, physicians and nurses can base decisions on the most current information. And when using HIPAA-compliant devices and apps, they can rest assured that private health information is secure.
How to Create a Mobile-First Hospital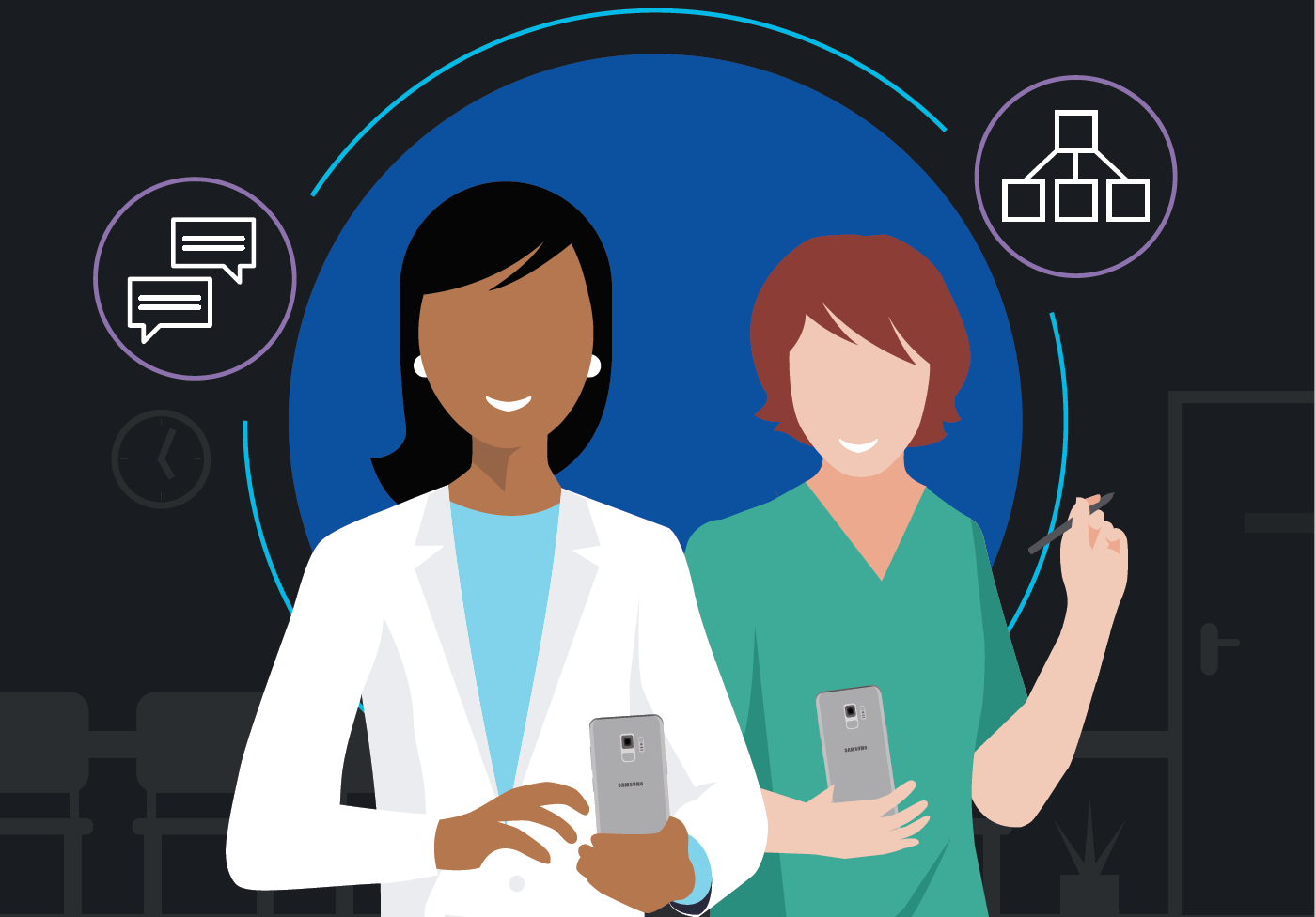 White Paper
Get your free guide to modernizing clinical communications with smartphones. Download Now
4. Continued Access to a Desktop Experience
As necessary as smartphones are in a physician and nurse's arsenal, some tasks are simply performed easier on a desktop. Samsung DeX allows clinicians to dock their smartphones to create a desktop-like experience with a keyboard, monitor and mouse. This seamless shift from the mobile to desktop environment simplifies workflows for physicians and nurses who are constantly on the move.
5. Streamline Notifications and Alerts
Wearables can be crucial tools for monitoring and transmitting patient vital signs, such as heart rate, glucose or even activity levels. When made available to clinicians, this data can be useful in reducing hospital readmission rates. Care teams can receive mobile alerts if vital sign data reaches a specific threshold, allowing them to act at a moment's notice.
6. Support Accurate Medication Administration
Getting the right medication in the right dosage to the right patient is an essential clinical task. To prevent errors, health facilities are embracing medication administration technology that allows mobile devices to scan bar codes. A provider uses a mobile device to scan a patient wristband and medication bar code, ensuring a patient/medication match. Connectivity also allows real-time record updates, logging what was administered, when and by whom.
7. Improve Patient Education
Physicians and nurses create care plans, but patients must follow through once they leave the watchful eye of their care team. Smart TVs located in patient rooms allow a patient to watch educational videos about their condition. Using tablets, nurses can review discharge instructions and give patients access to on-demand educational content describing their condition.
8. Reinforce Security Policies
Despite the best efforts of hospital technology teams to educate employees about security policies, mobile devices can still get lost, stolen or misused. Many turn to defense-grade security options like Samsung Knox, which allows IT administrators to monitor and secure data, as well as configure and provision multiple devices. With Knox Mobile Enrollment, IT can remotely set or change mobile security policies, prevent unauthorized installation or removal of apps and even remotely wipe company data if a device is lost or stolen.
9. Reduce Readmission Rates With Remote Patient Monitoring
Medicare readmission stats are alarming. Nearly 20 percent of Medicare discharged patients are readmitted within 30 days, and an estimated 12 percent of those are potentially avoidable. If even 10 percent of these readmissions could be prevented, Medicare could save $1 billion. Health facilities are turning to remote care management powered by tablets to engage patients and drop their readmission rates. One organization used patient telemonitoring to reduce their readmission rates to 8 percent — compared to 24 percent nationwide. Learn more how mobile technology is improving the quality of patient care.