Today's business and IT leaders have already witnessed how smartphones and tablets have empowered their office-based employees to be more effective on the go, but they also know that it's well past time that they delivered this same mobile productivity for their front-line field workers.
Field-based workers themselves are demanding mobile devices and apps to replace the paper-based processes they've used until now. They understand better than anyone just how much more they could accomplish if they had the right mobile solutions in hand. Accordingly, many businesses are looking for a tablet that will fit the bill.
There's a catch, though. To work well in an industrial setting or out in challenging field environments, a tablet has to be rugged, reliable and deliver long battery life. Picture a worker trying to log the details of a service call on a shiny new tablet in the middle of a heavy rainstorm. Or dropping their device on the tarmac and having to deal with a broken screen during an emergency response.
Until recently, the only rugged tablets available were sluggish, bulky and expensive. With the Samsung Galaxy Tab Active family of rugged tablets, businesses now have powerful solutions that are purpose-built for mobile productivity in real-world work environments beyond the office walls — from plants and mills to utilities and logistics warehouses.

Enabling Mobile Productivity in the Field and Beyond
With the release of the Galaxy Tab Active2 in 2017, businesses finally gained access to a rugged Android tablet that enables mobile productivity in the field and can be trusted for mission-critical operations. Wherever workers need to ensure timely deliveries or coordinate incident response in real time, even in inclement weather or dark and dusty conditions, they could now accomplish these tasks and more using the compact 8-in. Tab Active2 and its accompanying S Pen.
Get Your Ultimate Guide to Customizing Tablets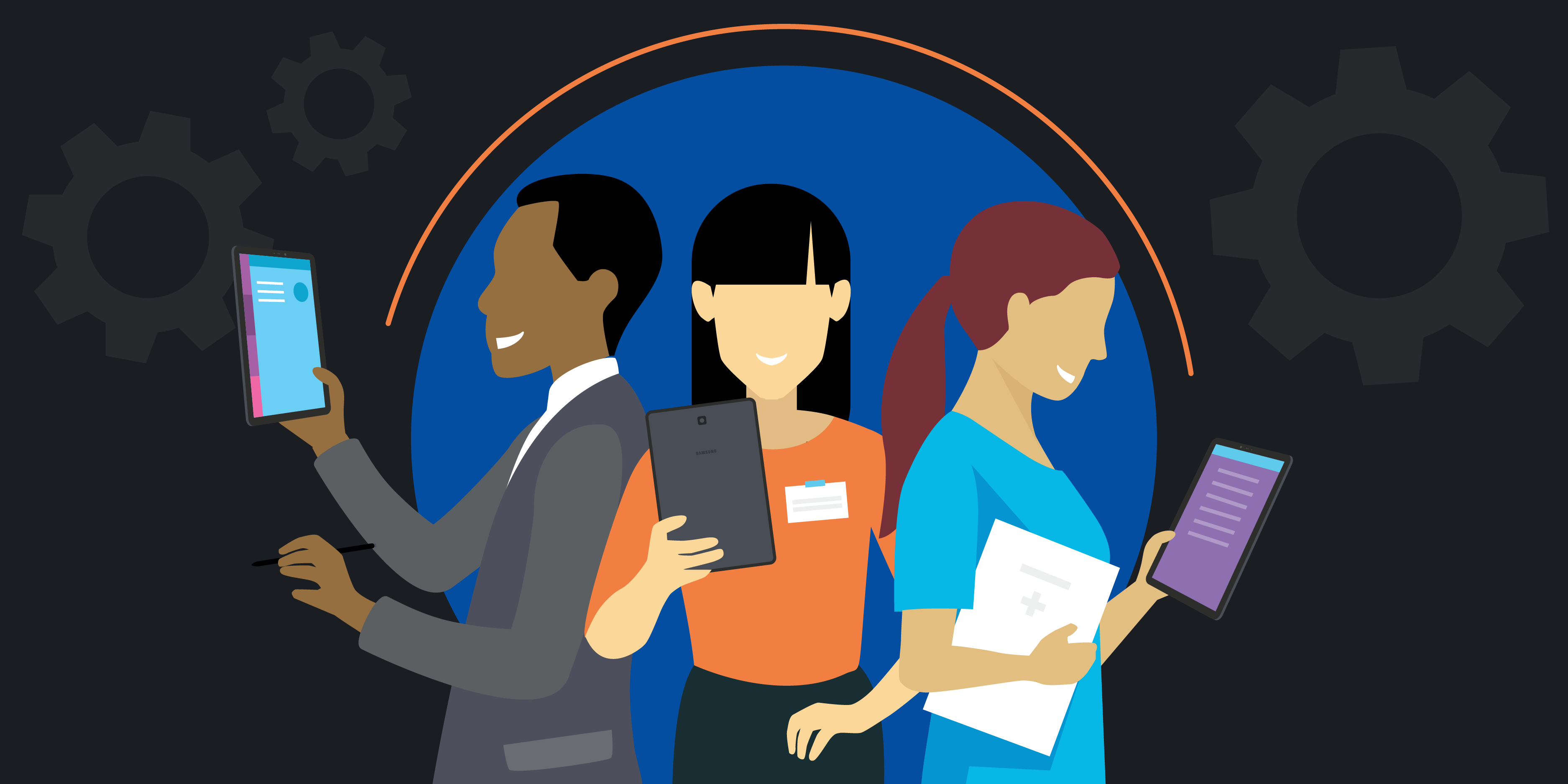 White Paper
Learn how to customize tablets for your unique business needs using Samsung Knox Configure. Download Now
That said, Samsung is always looking for ways to raise the bar of mobile productivity even further. Many of our customers have told us that they needed a rugged device with a larger screen that could serve as a true laptop replacement when they do need desktop productivity. Our customers also needed longer battery life to support workers across multiple shifts and, of course, top-notch security is a must as well. They need all of these features at a budget-friendly price point, too.
Introducing the Galaxy Tab Active Pro
Having carefully listened to this customer feedback, we're pleased to introduce the Galaxy Tab Active Pro. This next-generation rugged tablet comes with a larger 10.1-in. screen, long-lasting battery life and defense-grade security from Samsung Knox. It also supports Samsung DeX, allowing field workers to connect their tablet to a monitor, keyboard and mouse when returning to the office to power a full desktop computing experience.
Samsung DeX is the next evolution of mobile computing. It allows businesses to consolidate endpoint devices because one tablet or smartphone can be used for both mobile work and desktop computing. As well as reducing device acquisition costs and management, it's more efficient for workers. Less switching between devices, less booting up and logging in. With DeX, your apps just adapt to the bigger screen and you keep on working.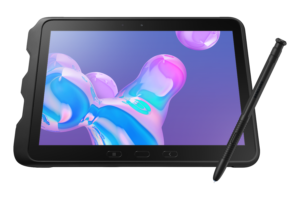 Built to Take on Everything
The Tab Active devices are built to stand up to real world challenges. Both the 8-in. Tab Active2 and the new 10.1-in. Tab Active Pro withstood 21 tests outlined under the MIL-STD-810G standard. MIL-STD-810G testing includes drops and vibrations, salt fog and blowing dust, heat and humidity, ice and low-pressure altitude. This military-grade testing is in addition to the typical IP68 certification for water and dust resistance.
We also looked carefully at how field workers would interact with the device. The Tab Active Pro comes with a programmable button, giving your employees instant access to exactly the business apps they need without having to waste time searching for them. And, with Enhanced Touch, mobile workers can be just as productive with their gloves on as they are without them — even in blustery winter conditions.
When a worker is resolving a service issue in an underground tunnel where conditions are rough, they need a rugged tablet they can rely on. They can write quick observations with the S Pen while wearing gloves, saving the time it would take them to remove their gloves whenever they wanted to do something on their tablet. That way, they can close out their tickets even faster.
Power for Hours
Battery life was another key focus. With up to 15 hours on a single charge, the Tab Active Pro will keep going until the job is done. For operations where devices are shared across shifts, the battery is replaceable so you can quickly switch to a new one and get going. Durable pogo pin connectors make it fast and easy to drop it onto a charging station.
Our customers expect reliable, long-term value from their mobile technology investments, which is why the Tab Active Pro comes with four years' worth of guaranteed updates via the Samsung Maintenance Release (SMR) program. All of these benefits are available at a lower cost compared to traditional rugged tablets, giving businesses exactly what they need at an affordable price.
Supporting True Mobile Productivity
Each business has its own unique requirements, which is why the Galaxy Tab Active Pro is designed to support a wide range of use cases.
For field-based workers, always-on connectivity is essential. With an unlocked 4G LTE version available, your team can stay connected with high-speed wireless data wherever they're working.
Capturing high-resolution photos and video in the field is a key requirement across multiple industries. The Tab Active Pro's 13MP auto-focus main camera makes it easy to record detailed field reports or even scan documents and share them with colleagues. An 8MP front camera means your team can videoconference from the field with ease.
Sales associates working the shop floor can also take advantage of this tablet's built-in near-field communication (NFC) capabilities to save time and deliver better customer service. If a customer wants to see more detailed information about a specific product, the sales associate can simply tap the NFC tag for that product and instantly pull up information on their tablet's screen. The Tab Active Pro is also mPOS-ready, so retailers can accept payments via NFC-enabled contactless credit cards without additional hardware. These enhancements reduce customer time to purchase, accelerating sales while also providing a higher quality shopping experience.
With Google ARCore onboard, the Tab Active Pro is also ready to support new augmented reality (AR) applications. Imagine, for example, an AR assistant that provided technical overlays on machinery while a field technician performs preventative maintenance.
The Right Apps and Accessories
A rugged tablet is not going to solve a business' challenges on its own — not without the right software and accessories. That's why we've spent the past two years assembling an ecosystem of application and accessories partners to help customers implement complete paperless workflow solutions that address their industry needs, whether it's asset management, barcode scanning in the warehouse, or situational awareness for first responders.
Businesses can also take advantage of a wide range of accessories, including pro-grade vehicle mounts for trucking fleets, hand straps for one-handed operation and multicharging cradles.
All of this work, and the improvements in the Tab Active Pro, aim to reduce workflow complexity so your team can get their work done more efficiently. Now, whatever the task at hand, your field workers can go fearlessly and work seamlessly using a reliable rugged tablet that can do it all.
Learn more about how Samsung paperless workflow solutions on rugged tablets can improve worker safety and productivity.