Only a few years ago, experiencing the most cutting-edge cinematic technology required a trip to the movie theater. But today, state-of-the-art visuals can be enjoyed from your living room.
Increased accessibility to this at-home technology is what lead entrepreneur and tech enthusiast Phil Trubey to seek out a replacement for his home theater's 20-year-old projection system.
The Wall for Luxury — a versatile and awe-inspiring microLED display from Samsung — was the perfect solution. As an elegant centerpiece, the video wall captures everyone's attention and immerses them in a truly unique visual experience that makes a bold statement, right at home.
Designed for the home cinema enthusiast
Trubey had a home cinema custom-built 20 years ago in his house in Rancho Santa Fe, California. The projection system had worked well, but it was due for an update.
He began looking for technology that would deliver the best performance for years to come. And in 2020, he saw a demonstration of The Wall at Samsung's Experience Center. The Wall's flawless performance and true-to-life imagery convinced him to trade in his old 146-inch screen and projection system.
Your ultimate video wall guide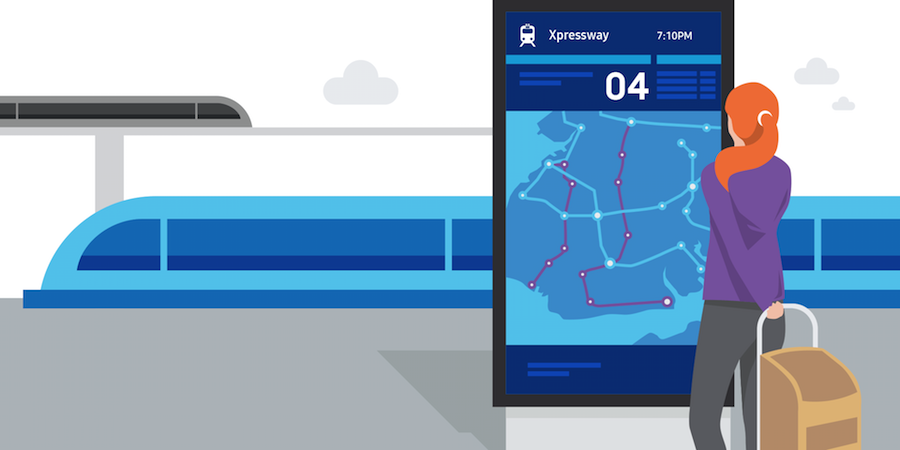 Learn how to build the optimal video wall for your business. Download Now
With The Wall's modular design, Trubey was able to have it custom-fitted to his existing home theater setup. Samsung designed and engineered The Wall to the exact same size and proportions, and then installed it.
Technology engineered for your home
Engineered to impress, The Wall for Luxury incorporates all of the latest innovations in video wall technology:
Revolutionary microLED
With microLED display technology, micrometer-scale LEDs — tiny individual pixels — are transferred into the LED modules that comprise The Wall. The diodes are tightly packed, which enhances the picture quality and results in clear, vibrant detail, even viewed from just a few feet away.
Breathtaking contrast
To deliver stunning color, a screen needs optimal contrast between dark and light. The Wall uses Samsung's Black Seal technology to create a pure black canvas behind its LEDs, for the highest possible contrast.
Because each pixel is encircled by the deepest black, reflection from nearby lights is minimized and every detail stands out. The image is always clear and sharp — whether you use The Wall in your home cinema or for displaying artwork.
Color management
The Wall's 20-bit processing provides smooth images across a greater dynamic range. Its linear grayscale is evenly distributed across the visual spectrum, for more accurate tones. Every on-screen visual looks more lifelike.
Ultra-Chroma Technology enhances The Wall's picture integrity by giving every image the narrowest wavelength of colors from each pixel. Combined with Quantum HDR and HDR 10+ technology, The Wall consistently offers optimum brightness and contrast.
Smart image processing and scaling
The Wall for Luxury introduces AI processing, which scales your content to the ideal resolution — all the way to 8K. Content is never stretched or distorted, which is the standard for most technology; instead, the machine learning capability in The Wall analyzes the content and adapts it by populating additional pixels and improving the display resolution. Whether it's a painting or a photo, a baseball game or an Indy 500 race, every frame will appear exactly as it was intended to.
Innovation that unites technology
The Wall for Luxury can serve as the focal point of your home cinema — like Trubey's — or as an incredible art gallery. Your at-home display isn't limited by size, shape or structure.
And with Samsung's white glove service, homeowners can receive help with their system's design, integration and installation, as well as ongoing support.
The Wall can be seamlessly integrated with other peripheral technology, including TV apps or audiovisual systems. The Wall remains easy to manage, with intuitive controls that are easy to set up. You take control of your content and your viewing experience.
Beauty in the eye of the beholder
With an inspired design and innovative display technology, The Wall sets your home apart, letting you share the technology with your family and friends. Together, you can experience the excitement of being at the game or watching a film like you're part of the action — all while you're right at home.
The Wall offers unparalleled visual excellence and can fit nearly any space — but it doesn't fit everyone's budget. If you're not sure which video wall is right for you, you can find the right display tech for your space, style and budget in Samsung's free, short assessment. Or, browse all the options available in Samsung's LED video wall lineup.