Years before a new car reaches the market, a creative team develops its design and aesthetics within predefined form, budget and time constraints. As model life cycles get shorter, lineups continue to expand — even as research and development budgets decrease. Manufacturers still have to add novel vehicles and compete in new markets to satisfy diverse customer expectations.
Automotive design teams and managers can now enjoy an effortless design review process with Samsung's The Wall. Underpinned by the latest microLED technology, the super-sized canvas can display and analyze the finest details of a new vehicle or product concept in true-to-life size and color.
Traditional design review holds companies back
To meet their design objectives, the team's work needs to be reviewed regularly. But during these reviews, the designers' intent is often misinterpreted by unrealistic imagery, particularly in the details.
How to plan and deploy direct view LED signage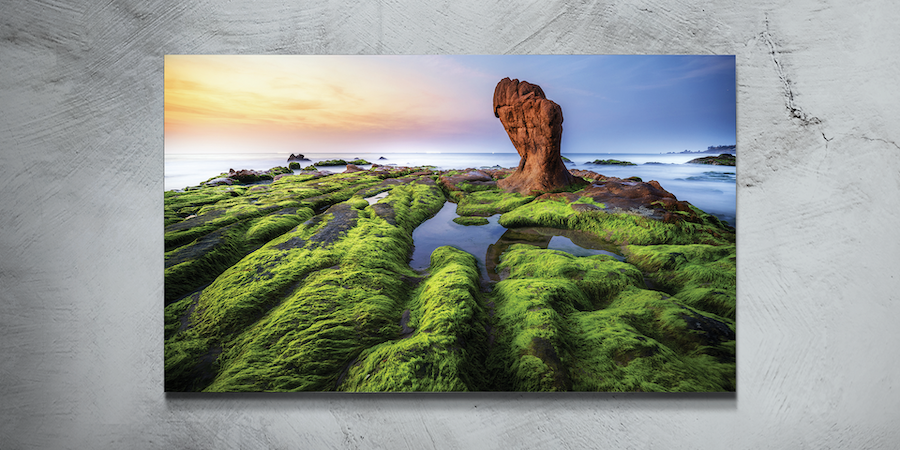 Everything you need to know about choosing your LED displays for optimal viewing indoors and out. Download Now
Compounding this ambiguity are the tools used for communication and display during the various review stages. During the 2D sketching phase, for example, feedback is mostly verbal. Later on, when modeling at 1/4 scale, feedback is given using tape on clay models to visualize the edits. Tape lines highlight critical design aspects, presenting a realistic simulation of the model as it will be manufactured. But this method's visual impact doesn't carry over when reviewing digital models using traditional projection techniques. At this stage, reviews are verbal out of necessity, and therefore lack a clear visual reference, leaving expectations ambiguous and open to interpretation.
To avoid a confusing review process — which can affect the design team's focus — you can use large-scale, precise digital signage like The Wall for Business to access realistic visual designs in the digital sphere.
Bringing design to life with microLED
Unlike projected images, The Wall's visuals are clear from any angle — even close up — thanks to microLED technology. With millions of micrometer-scale LEDs and a deep black background, the screen allows design teams to review and share lifelike digital creations in vivid, realistic color with no loss of detail.
True-to-life imagery
One of the greatest challenges of digital modeling has always been accurate detail, which stylists rely on for visual impact. On traditional display technologies like projectors, these details are extremely difficult to contextualize.
The Wall's Ultra Chroma Technology produces vibrant yet natural colors that display the vehicle design as the team intended. Ultra Chroma uses a narrower wavelength to generate RGB colors that are twice as pure, and more precise, than conventional LEDs.
Precise contrast that highlights every detail
Thanks to Samsung's Black Seal technology, which guards individual diodes against light bleed from neighboring ones, it's easy to see important details, such as the swage line formed by the crease in the side of the body. You can even distinguish minute differences between darker shades created by subtle changes in contour.
The small but critical expanse of black between The Wall's tiny LEDs lends a deep black background to the screen, creating contrast levels unparalleled in direct view LED technology. Wherever the color black appears in your design, The Wall delivers true black, rather than composite shades of gray. Unlike conventional projectors, The Wall's extra-large direct view display allows designers to study and interact with images up close, without the distraction of projector reflections or shadows.
See the design on a visual canvas free of glare and reflection
The Wall's true black background also minimizes glare from nearby light sources, which is especially helpful in large, well-lit design studios. Meanwhile, for highly reflective dark colors, The Wall uses quantum high dynamic range (QHDR) technology to consistently deliver peak color brightness.
Easy to install in any shape or size
With modular, seam-free microLED tiles, The Wall gives design teams full control over the display's size and shape, so they can optimize the location according to their needs. Its form is limitless — The Wall can be configured as a massive rectangle, a curved semicircle or an abstract shape.
With modules ranging from 75 inches all the way up to 292 inches, The Wall can be configured for up to 16K resolution in a 15,360 x 2,160-pixel arrangement.
The Wall's architecture and preinstalled features reduce the need for intensive on-site calibration, making deployment faster and less expensive. Samsung also offers turnkey service and support to further simplify your installation.
Powerful, yet easy to use
As a powerful design and review tool, The Wall is supported by intuitive, user-friendly software. Once the display is installed, there's no need for time-consuming training; the design team can get to work almost immediately.
There's also no need to continually adjust the display to match its environment. Using AI technology, The Wall offers subtle texturing and optimized dynamic upscaling capabilities that match on-screen content to the available resolution — up to 8K. Instead of stretching lower-resolution content and risking distortion, Samsung's AI processing intelligently populates additional pixels to retain sharp image quality regardless of the graphic's original resolution.
The Wall also comes with Micro HDR and Micro Motion features, which include 20-bit processing to deliver a consistent picture regardless of the display's environment. And it includes four picture-by-picture (PBP) screens, allowing for four different content sources, all of which can be displayed simultaneously in 4K resolution.
In the fast-paced, high-demand world of automotive design, manufacturers rely on extremely high-quality display solutions that allow design teams the opportunity to assess their work accurately — which requires fine differences in color, detail and tone. Traditional image projection and display solutions are often insufficient, particularly in terms of picture quality and installation flexibility. The Wall offers a flexible, super-sized display with true-to-life resolution and color — so your design team can review their work with confidence, knowing every detail is visible and accurate.
For greater control over your displayed content, get your free complete guide to configuring and tailoring real-time messaging using an integrated CMS. And for other innovative signage solutions, discover Samsung's full lineup of LED video walls — all designed to make a lasting impression on a grand scale.