Digital transformation can be a difficult endeavor in any industry, but there are some where it's arguably tougher than most. Think of the forklift drivers working in a cold storage facility, for example. While they pack items to be shipped, they may be working through near-constant temperature changes, including hot loading docks or humid areas. Digitizing tasks such as filling out forms offers obvious benefits over paper-based processes, but they have to be wary of accidentally hitting a touchscreen with a sharp tool.
The same goes for those whose job involves walking around with a tablet, such as managers at a manufacturing facility. It's easy to drop the tablet or get it too dusty to use properly.
In construction, for instance, digital transformation could unlock unprecedented productivity and data to drive insights, but vibration and shock could render tablets useless if the devices aren't rugged enough. If that happens, it means more work for IT to handle repairs. Meanwhile, critical workflows can grind to a halt, damaging customer relationships and jeopardizing revenue.
This explains why those in rugged industries — including utilities, transportation and public safety — need to ensure digital transformation is carried out with the best device for the job. Samsung has recognized this need and delivered on it with the launch of Galaxy Tab Active4 Pro.
Meet Samsung's new Galaxy Tab Active4 Pro
Designed to be ready for anything so you can do more, Galaxy Tab Active4 Pro combines rugged features with a device that's sleek, light and has the performance of a premium tablet. Connectivity options such as 5G, Wi-Fi 6E and support for CBRS, for instance, mean those in rugged industries can stay in touch at all times. Galaxy Tab Active4 Pro is also lightning-fast and fit for data-intensive applications, thanks to a 2.4Ghz processor and up 64GB of storage.
Shop special offers
Find out about offers on the latest Samsung technology.
see deals
Speak to a solutions expert
Get expert advice from a solutions consultant.
Talk to an expert
A closer look at Galaxy Tab Active4 Pro shows other aspects of the device that can give those in rugged industries the greatest possible confidence in how they're empowering their team. Here are some of the must-have rugged tablet features on Galaxy Tab Active4 Pro:
1. MIL-STD-810H tested
No one can afford to send mobile devices into the field and simply hope for the best, especially when the odds are that conditions will be harsh. Devices need to be thoroughly tested first, and there's no better bar of excellence than MIL-STD-810H.
Developed by the Department of Defence and best known for its use within military organizations, MIL-STD-810H is also known as "Environmental Engineering Considerations And Laboratory Tests." Galaxy Tab Active4 Pro's MIL-STD-810H testing, for example, verified that the device can sustain constant vibration, ballistic shots and transit drops (from 5 feet with its case, or 4 feet without the case). Other tests ensured Tab Active4 Pro can operate in temperatures as low as −40 F and up to a humid high of 176 F.
These are all important considerations for those in sectors such as manufacturing, field services and public safety. And for industries such as transportation, the testing process also confirmed Galaxy Tab Active4 Pro can withstand 15,000 foot altitude pressure.
2. IP68 certified
Those who adopt Galaxy Tab Active4 Pro can get a lot of different uses out of it, whether it's turning it into a mobile point-of-sale (mPOS), a barcode scanner or an in-vehicle kiosk.
On the flip side, Galaxy Tab Active4 Pro is also defined by what doesn't get into it. Ingress protection keeps the rugged tablet from being damaged by the elements, such as water or dust. With IP68 certification, Galaxy Tab Active4 Pro offers users the peace of mind that their device can even survive being immersed in 5 feet of water for 30 minutes, without damage to its circuitry. And when you're working in crawlspaces or in places subject to soot, Galaxy Tab Active4 Pro is equally resistant to dust. Even its S Pen is IP68 certified.
3. Display durability
The most sophisticated apps in the world won't be useful to employees if they can't see what's on their screens. It's arguably the most valuable part of the device, and Galaxy Tab Active4 Pro's 10-inch display is the biggest yet.
Beyond its size, though, Tab Active4 Pro's display is also stronger than ever. Corning Gorilla Glass 5 makes the screen resistant to accidental scratches, such as from rough handling or fall damage — common in warehouses and when employees are operating fast-moving vehicles.
4. Wet Mode and Glove Mode
Field service technicians can't take a raincheck. Wet weather would normally would make handling a tablet risky and difficult, but Galaxy Tab Active4 Pro is designed to be safe to use even when users' hands are wet or slippery.
What's the best tablet for your business?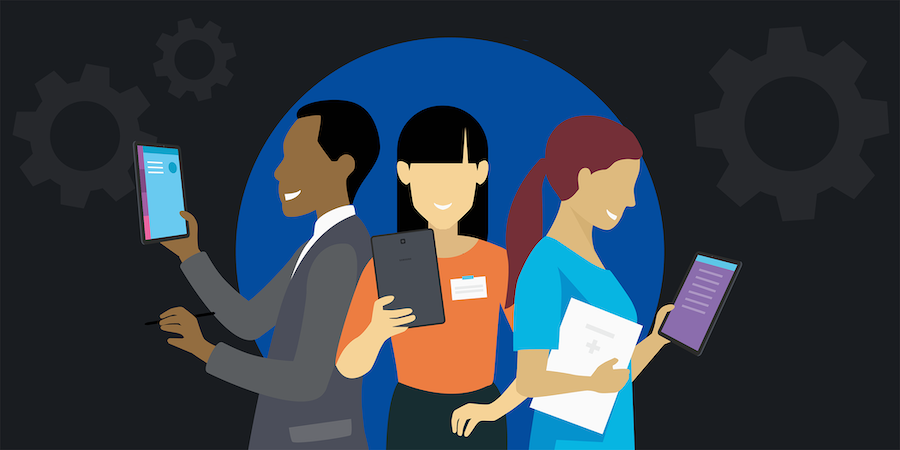 Take this quick assessment to see which Samsung tablet would best support your business needs. Explore tablets
Glove mode offers even greater advantages to the many kinds of employees whose hands need extra protection — from healthcare practitioners to mechanics. With added touch sensitivity, Galaxy Tab Active4 Pro lets employees stay safe and comfortable as they use the tablet with their hands covered.
Two programmable buttons also provide one-touch access to your most-used apps, or enable push-to-talk (PTT) communications.
5. Smart, flexible power options
Galaxy Tab Active4 Pro comes with a long-lasting battery, but those in rugged industries may need their tablet to put in even more hours. Super-fast charging is easy thanks to pogo pins that offer connectivity with USB HID-based third-party accessories — which means Galaxy Tab Active4 Pro can be charged on the go in an industrial vehicle.
Just in case, the tablet's battery is also field-replaceable. There's also No Battery mode, which gives you the flexibility to connect your tablet to a dedicated power source or fix it inside a vehicle or forklift.
As an Enterprise Edition device, Galaxy Tab Active4 Pro also offers up to five years' worth of security and maintenance updates and three OS updates, further protecting your investment.
When it comes to digital transformation at industrial organizations, Galaxy Tab Active4 Pro is ready to handle the extremes and provide a great employee experience.
Discover how Galaxy Tab Active4 Pro can upgrade your frontline operations, big and small. Or find which Samsung tablet would best support your business needs with this quick free assessment.