If you're a wealth management firm today, competition is fierce, given the rapid rise of independent advisor firms and digital solutions such as robo-advisors all vying for consumer assets. In 2021, the number of independent investment advisory firms rose by almost 7 percent, while the assets they manage jumped 16.7 percent.
At the same time, the continued strong labor market is tightening the battle for advisors and other staff. Hiring challenges are particularly acute for the wealth industry, which is looking to bring in younger workers to remain vital and attract funds from the next generation of investors. Still, the industry is aging, with the average age of a wealth manager rising to 57 in 2021, according to J.D. Power.
Customers have high expectations
Another challenge is the shifting demands of consumers, who have heightened expectations for the technical capabilities of the companies they work with. They now expect fast, personalized service from all their providers, including financial services firms. As a result, they lack patience for filling out paper forms, providing background information that's available elsewhere, or waiting days for answers to inquiries or requests. About a third of millennial and Generation X investors say they consider an advisor firm's digital capabilities before choosing an advisor, according to Refinitiv.
Shop special offers
Find out about offers on the latest Samsung technology.
See Deals
Speak to a solutions expert
Get expert advice from a solutions consultant.
Talk to an Expert
Wealth managers are indeed undergoing a technological transformation. The COVID-19 pandemic pushed many to adapt to and embrace working and meeting clients remotely. And many wealth managers leverage robo-advisor solutions as a pipeline to attract the assets of younger investors or those who don't yet need a dedicated wealth manager. Assets under management for robo-advisors are estimated to reach $1.66 trillion in 2022 and nearly double to $3.22 trillion by 2027, according to Statista.
The need for human touch endures
Still, consumers continue to seek and value advice from a human: 58 percent of investors who work with an advisor say those advisor recommendations are their most reliable source of information, according to Refinitiv. In addition, many consumers start managing their own money but seek advice when their needs become more complex.
Consumers want expert assistance, not an algorithm, when decisions matter in wealth management. About 60 percent of consumers who work with a financial advisor seek that advice after a specific life event, which includes getting married or divorced or receiving a large sum of money.
As millennials and Gen Z mature, they may also seek financial advice for important money moments. Already, 71 percent of Gen Z and 72 percent of millennials say there are financial topics they want advice on but need help figuring out how to get it, according to the CFP Board.
Technology helps advisors connect
Just as human advice can complement technology, technology can now help those advisors better serve clients, whether in-person, in transit or working remotely. Also, the right technology can support your advisors transitioning between different work environments without missing a beat or aiding customers who are home or sitting across from them in an office.
Technology can also help wealth managers attract and retain the digital-savvy workers who are vital to fill the talent pipeline for the industry's future. Eighty percent of Gen Z say they "aspire to work with cutting-edge technology" and 91 percent say "technology would influence job choice among similar employment offers." And about nine in 10 financial advisors who report the highest level of satisfaction and loyalty to firms also say the technology provided at their firms has improved in the past two years, according to J.D. Power.
What's next for the future of finance?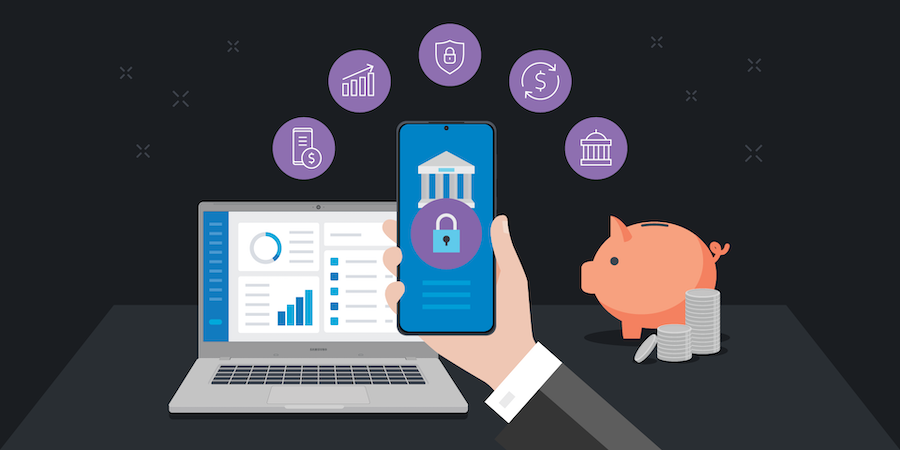 Samsung surveyed 1,000 finance professionals about the future of mobile tech. Here's what they said. Read the report
Mobile devices and other solutions can improve how you serve your clients and attract and retain staff. For example, mobile technology can deliver better experiences in face-to-face meetings, when the advisor works remotely, or in transit. These places include airports, rail commutes and Uber rides.
Additionally, Samsung has been working with partners such as Bloomberg to optimize the app experience for foldable phones to increase productivity on the go.
Tablets can stand alone in the office or the field, then connect to a computer monitor for a full desktop experience. In addition, pen tools for phones and tablets allow for note-taking or collecting client signatures, reducing paperwork and speeding transactions.
Equipped with these full-featured mobile devices, wealth managers can stay at the top of their game, wherever the day takes them — and keep one step ahead of their office-bound competition.
Learn how Galaxy Z Fold4 and the Galaxy ecosystem can support your productivity on the go. And sign up for a Samsung Business Account to get exclusive offers, including volume pricing discounts, on Galaxy Z Fold4 and Galaxy Z Flip4.